Awaiting the Arrival of My Wife and Mistress
I wait at the door thinking it shouldn't be long now I got her message as a sign she was close. She never used to be like this, not at all actually, she was much more sweet and caring. I hear her car pull up and I bow down waiting for her entrance.
A red cocktail dress with matching heels, can't say it's unusual for her but she typically waits until the weekend, not a Wednesday. I am in nothing but her favorite pink mini apron and matching pink chastity that she loves to keep me in. Her sweet voice fills the air,
"go get me my drink and fix one for yourself slave !"
I crawl off to the kitchen and prepare a couple of drinks-making mine nice and stiff, the only thing of mine she lets be stiff, and return to her feet as she's now sitting in her favorite chair.
Cocktail Hour with My Mistress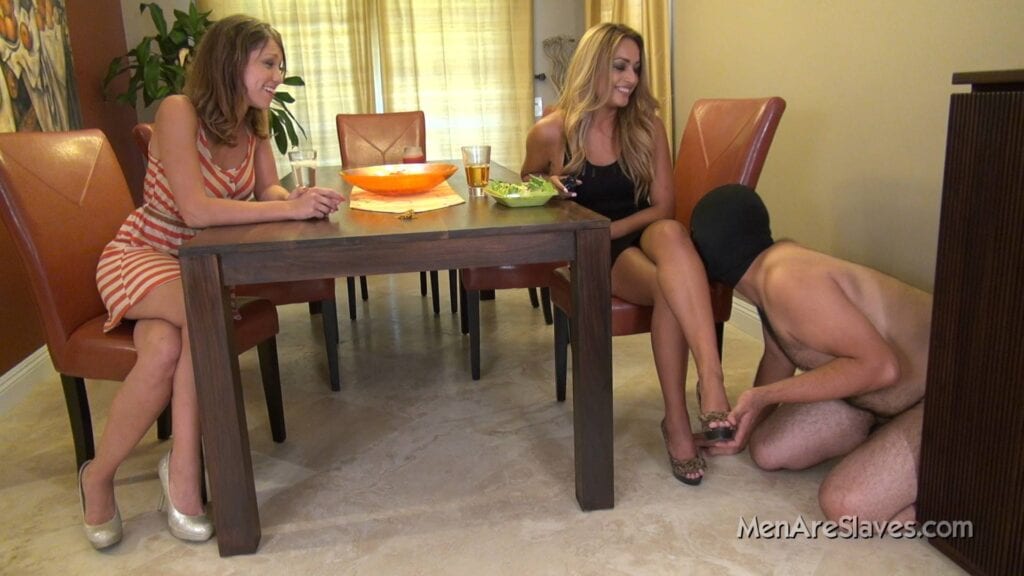 I hand her the drink and my Mistress thanks me and taps her shoes on my cage,
"He was very surprised to see me in the middle of the week, I must say the last-minute decision was a good one he filled me up well. Now bow down I don't want you seeing my perfection as I push his seed into your drink".
I bow as she stands up, my drink in her hand. I hear her slip off her underwear and see them hit the ground wet in the crotch with their mixed juices next to me as she crouches, a plopping sound comes from only what I can assume is my drink.
A few seconds later she sits down and hands me the drink, she wasn't kidding he must have left an ounce or two in her not to mention what may have slipped out.
A True "Cock-tail"
"Well what are you waiting for aren't you going to taste him"
I put the drink up to my lips just as I hear the doorbell ring.
"Damn a minute early oh well be a good boy and go get that will you"
I crawl over to the door, nervous wondering who could be there.
She has never shown me to anyone like this before but I'm sure she had this planned all along. I open the door and see two women staring at me with huge grins on their faces.
" Hey girls come on in my slave here was just about to have a nice creamy drink would you two want one"
As she talks they walk in and I recognize them.
A True Mistress Party
One is my wife's sister and the other is her best friend since they were in kindergarten both head over to the couch as I head off fixing them up a couple of drinks. I hear mumbling in the background embarrassed about my current state and the fact that they have known me as long as I've been with my wife yet they never knew our secret.
"How's it going in there"
My wife yells sternly while the other two laugh. I scurry in with their drinks as I resume my rightful place at their feet, waiting for my next orders. I have a feeling I know why they're here as my wife has been talking a lot about letting others use me, but she also has fallen in love with the idea of tying me up and fucking me with a strap-on.
Helping Fulfill her Fantasies
"Well girls you both know why you're here but this one doesn't yet, did you bring them?"
My heart just about stopped as I see her sister giggle and pull out three straps on each one larger than the previous.
"here you go sis and here you go, oh you little slave I always knew I liked you I just never knew why until now"
Her sister gives my wife the biggest one probably 11 inches, and her friend the next biggest at 10, then kept the smallest for herself which wasn't really small at all being probably eight inches and thick like the rest.
All of them were at least twice my size when I was allowed to get hard. I watch as each woman slips into theirs, a huge smile on everyone's face.
A Little Pegging for our Slave
I look around nervous but my wife reassures me,
"It's going to be ok slave this won't hurt at all, we'll even start with the smallest one and work our way up now finish your drink"
I grab my drink and swallow the salty contents gaging as it went down. Now, this wasn't my first time eating cum but it is the first time in front of an audience and not straight from my wife. Laughing they all applauded my efforts with her friend even giving me a smack on the ass for doing a good job.
"Let's all head to the bedroom" they all start walking over as I crawl on my hands and knees. "Be a good boy and get up on the bed !"
I get up there and lay on my back as the other two each grab an arm and handcuff me to a bedpost my wife looks for something in our closet.
Positioning their Sissy Slave
"Oh girls don't forget I want legs over his head"
They take my feet so my ass is completely exposed and I can really only see my pink cage dangling above my face.
"Well doesn't that just look adorable!"
Her friend says batting at my cage. My wife comes back and hands each girl something and then yells.
"Let him have it ladies" as she finishes the first stinging smack meets my ass and I cry out in pain than the next and next.
They all surrounded me and took a turn smacking my ass for what had to have been 15 minutes at least. once satisfied and my ass was nice and purple her sister got up behind me and poured some lube on my ass. I closed my eyes and waited.
Here it comes!
"Oh come on baby sis you're his first be nice and rough with him it's ok he can take it I know he loves this I bet he's hard in that cage of his already"
My Mistress was right about the spanking, humiliation, now I was loving it, apparently too much.
"oh my god, look his little clit is drooling in its cage onto his face"
I open my eyes as a drop of pre-cum hits my lips.
"You best eat that slave!"
I lick my lips as my sister-in-law rubs her silicon penis on my ass.
She pops the head in and I'm in instant pain but she doesn't wait for me to adjust she just starts drilling me.
"Wow, so fierce for a little girl I'm impressed, sis"
"Yeah you go girl oh this is so hot I may have to do this to my husband!"
A Slave's Adjustment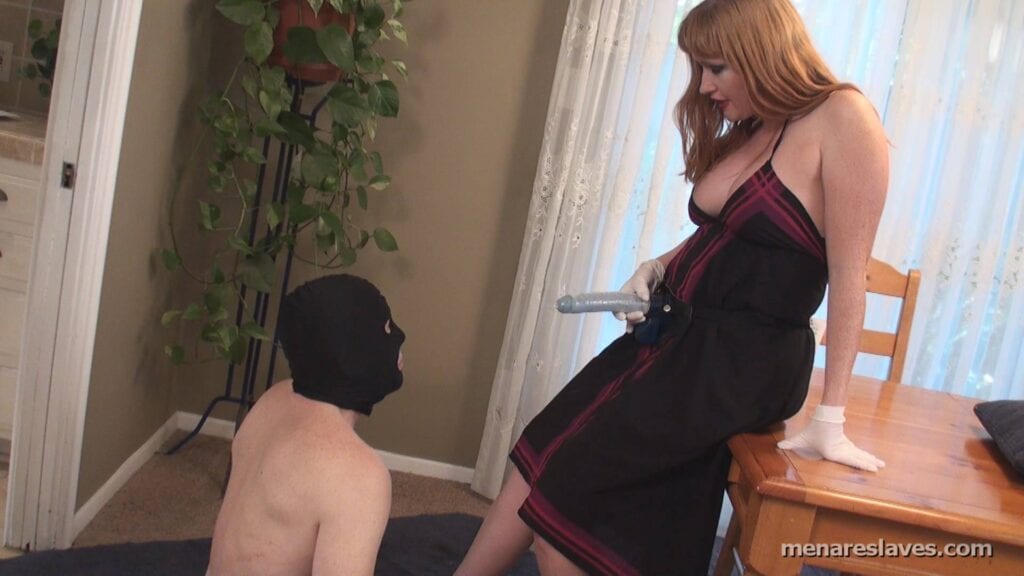 I adjust to the size, it starts feeling good actually too good and I let out a soft moan.
"Haha told you he loves it!"
My wife busts out laughing at me but this is so good that I don't care.
After a good ten minutes of pounding me she pulls out and my wife's friend not missing a beat replaces her spot and fills me more. She was rougher and bigger but I still loved every second of it.
My clit now has a constant stream of pre-cum falling right into my mouth, I eat every last drop as instructed. After a good 20 minutes, my wife goes behind her friend and rubs her back.
"How about you take a break baby and I'll handle it from here!"
She pulls out and my wife reaches down with the key in hand and unlocks my cage.
"You're going to love this slave!"
She rams in her strap on and I scream out in pain.
Finishing with my Wife and Mistress
Only being an inch bigger it was much thicker than the last two. My clit had other ideas though getting instantly hard with my wife pounding away. The other two went on each side of the bed and watched. It was not long before the pain turned to pleasure and I was lost again. All the girls laughed and my Mistress went harder when I started feeling something strange.
Before I could say anything I shot a load right into my mouth with some splattering into my eyes and the girls went crazy.
"See I told you he was a little bitch the damn thing came from an ass fucking!"
A couple more thrusts and my wife pulled out.
After I had shrunk again my Mistress slipped me back into my cage and left me there like her and the girls went back to the living room for another cocktail before they left for the night.