Prelude
Warning: This Story Contains Coarse Language, Depicts Scenes related to Femdom, being submale slave, BDSM, Chastity Play, Body Worship, Mistress Discipline, Submission and Obedience, Humiliation Play, Obsessive Compulsive Behaviors, fetish play, boot worship, anal play or pegging, slave mindset examined.
The Logic Of The Submale Slave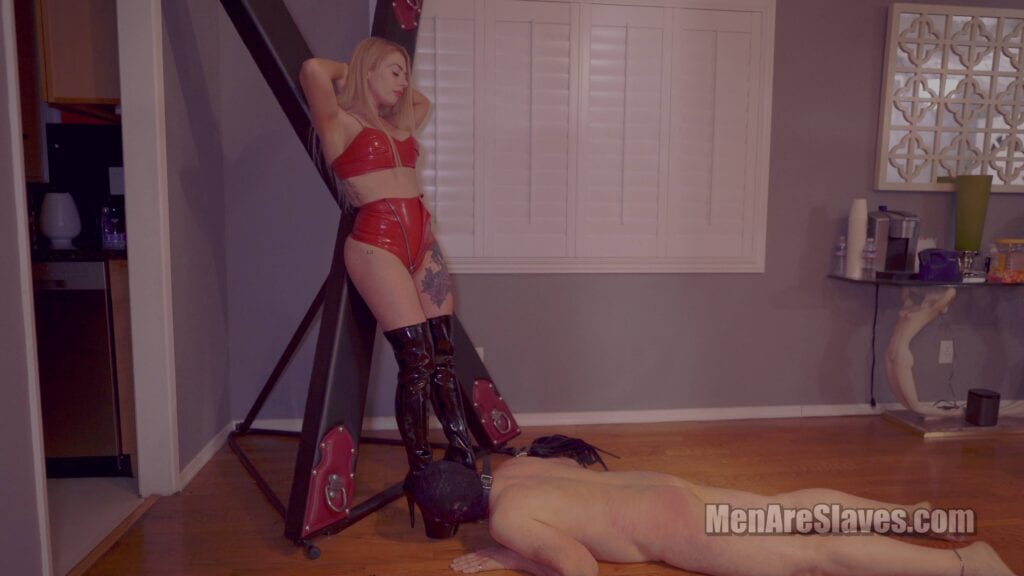 There I was hitchhiking from Mexico City to San Miguel De Allende in the land of Tacos, Cacti, and Tequila and about four-hour bus ride under normal conditions from the Estacion del Norte bus station. But hey, taking a bus would be too easy. I had limited resources (my Mistress had given me $100 dollars for expenses) and the more I suffered the closer I felt to God.
It was the logic of a submale slave that I wanted to test. The more I suffered, the more I pleased my Mistress that got wet thinking of my hardships. It is all I could still give to Her. I had betrayed and given up everything else. Being stripped of all my assets, my reputation, and my friends. I had been stripped by creditors and Mistress appeared as all lender of last resort but with usurious terms that would assure that I would eventually foreclose or get foreclosed at her whim when the timing was good.
The elite preferred assets in other people's names that they controlled, refinanced, and collected on all the revenues without owning anything. All troubles, fines, and violations could be blamed on the puppet submale slave…already discredited.
All unpleasantries like municipal violations or EPA offenses would be borne by me, the submale slave. It was the typical modus operandi of the elites to find a submale slave that faced the music and would bore the public face but they collected the cash flow. JP Morgan was just a front for the true elites that reigned from behind the curtain.
Mistress Cast A Spell On Me
I had begged Mistress to keep me in chastity the first night I met her. I had been seduced by her shiny 1920s era dress with shiny sequins. She had a feather in her hair and I was attending a benefit for The Orpheum Theatre Revival and the who's who of the town had gathered to hear the 100-year-old organ accompany a Buster Keaton Silent Film. The after-party had jazz music and champagne. I felt like she cast a magic spell over me. I was enthralled by the elegant yet generous curves of this mysterious woman.
She had learned well that to seduce you must first intrigue. While I walked to the shop, Mistress was busy talking and seducing politicians, mayors, and congresswomen. She twisted them around her little finger and there was no way you could say no to her and she had sent me to go fetch her cigarettes in the store about a mile down the road.
Total Submission To Her
Her intention was to test my Submissiveness. My eyes fell to her feet and she said,
"Good slave, good boy. Now go walk to the shop and be back quickly or I'll call you "Ye Subbie" from now on until I can think of a better name for Ye. Or maybe no name. A submale slave doesn't need a name. Give me those glasses."
She threw them to the floor and crushed them with her stiletto boots and said,
"Fuck you! You don't need to read. You don't need to talk to the people in there. You're just a nameless submale slave."
She spits in my mouth and then extinguished her cigarette on my tongue and left in my mouth and said,
"Eat it, you're my Bitch now."
On Your Knees  Submale Slave!
She pulled me to her and said,
"And buy a Playboy and bring it into me. Carry it undisguised. You're just a perv. You can go wank off if you wish and think of me putting on your chastity device. So enjoy your last day of Freedom, Subbie. Then the real fun will start. You will be so much happier." she said as she giggled.
I begged her to put me in chastity right away.
"Where is the chastity device?" she asked.
"Ok ..go get it and meet me in the 2nd-floor bathroom. There are too many people down here."
I did as I was told and ran towards the bathroom. Mistress was busy fussing with her curly brown hair. Her ass was perfect. I was breathless when I came back to meet her.
"On your knees slave," she said.
"Ok enough jerking off. You can't really get it up, just as I thought."
She put me in it and I thanked her for being my Mistress and keyholder. She said that there were a few papers I had to sign too.
Completely Devoted To Her
After, she opened my mouth and spit into mine again. She had taken out her chewing gum and put it in my mouth.
"Subbie..this mint gum used by your Mistress will improve your breath. You smell like you just licked ass crack Subbie," she said while giggling. "Have you ever been deep in ass crack subbie. Oooh..I think I hit a sweet spot. That gets you hard, doesn't it Subbie?"
"Yes Mistress," she laughed and agreed by nodding her head at me.
But tonight I should just count my lucky stars and get my subbie's ass over to that shop and back and shake that ass good and learn to walk like the Sissy that I am becoming. Eager to please, eager to obey, and eager to do anything Mistress tells me to do…
I gave her the only two keys to the chastity cage I had. Once she had control of my balls, I became much more compliant and open to listen. My ego was like it had been stripped with furniture stripper of the soul. I had to be taken down and stripped of my ego. Initially humiliated yet still eager to please Mistress all the time. Breathless and on my knees in front of her radiant beauty.