My Femdom Wife Dominates Me Tonight
My Femdom wife and I have just returned to our house after a lovely dinner. It is still early in the evening and I have no idea what she has in store for me. As I close the front door she whispers in my ear that she is going to get changed and that I should pour her a glass of Pinot Grigio.
"Bring the wine into the living room, disrobe completely and assume the position," my Femdom wife instructed me. "Stand with your legs slightly apart and fingers interlaced behind your head for your inspection," she said.
I find her wine in the fridge and pour her a glass. Returning to the living room I set down the wine and undress, wondering if I should take off my boxer shorts and reveal my hidden secret. I had decided to put on my cock ring before our dinner knowing that it would be too hard to get it on once I was in her presence. Throwing caution to the wind, I decided it would be best to follow her instructions and disrobe completely, fearing harsher punishment if I didn't.
Mistress Decides When I Wear my Cock Ring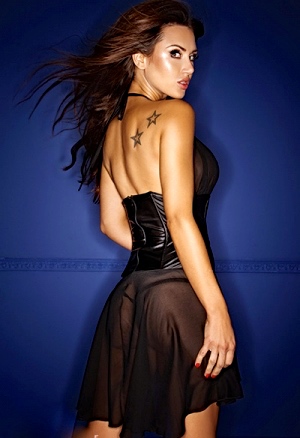 My Femdom Goddess returns, seductively walking down the stairs making sure I see her thigh-high stockings and garters gliding out from underneath her silk robe. Her stocking and garters are black with black high heels that accentuate her lovely legs and taut ass. Her robe is tied at the waist, and her breasts are high as if they are being pushed up just waiting for me to suckle her hard nipples through the black silk.
"I see you can follow some direction, my pet!"
As she turns the corner of the staircase she can see my cock ring and her seductive attitude hardens into a scowl of disappointment.
"Did I instruct you to put on any sex toys?" She hisses…
"Did you assume that I wanted that ring on you? Or did you want it on for your own pleasure?", my Femdom said.
I start to reply when she holds up her hand and says
Walking behind me, she pushes her silk-encased body against me and reaches around with her hands pinching and stroking my chest and nipples. Her right hand suddenly swings swiftly down and smacks my rock-hard cock making it bounce down to my thigh and back up to my belly.
Punished For Wearing A Cock Ring Without Permission
"You will never put on any sex toy unless instructed to do so. If I had wanted that on to keep you hard I would have told you. You will receive your punishment in due course, but not until I finish my wine."
She then swiftly wraps a collar around my neck and fastens it tightly. Next, the ball gag, making me aware that I won't be tasting any of her sweet flesh any time soon. Stepping around in front of me, she bends over to pick up her wine and makes sure I see the silk pull across her wonderful ass.
"Oh you like that I see!"
She grabs my cock as if it were my leash…
And she leads me to the stairs. As she ascends she slaps my cock playfully and grabs the ring on my collar.
"You and I are going to have a little conversation about cock rings and what they are good for!"
Once we enter her playroom I see the cross, the low table, and the padded leather horse.
Tied Up And Ball Gagged
"First off, I can't have that log of yours getting in my way." "Assume your position."
I spread my legs and put my hands behind my head. My Femdom Goddess walks over to a bench on the wall where she keeps all her crops and nipple clamps, floggers and toys. She returns with a length of silk rope and proceeds to tie off the head of my cock and pulls it down between my legs, pulls it up between the crack of my ass, and wraps it around my waist, tying it off.
"That should keep it out of my way."
I grunt as my cock pushes my balls to either side and she gives the rope one last tug. Goddess then returns to the bench and returns with my waist clincher. Pulling it tight to fasten the back, I lose my balance. Mistress slaps my ass hard 5 times.
"Keep your balance, pet! You are in enough trouble already!"
She then walks over to the bench and returns with the chest and arm restraints.
Ready To Begin my Slave Training
She fastens it tightly and I make sure to brace myself so I don't stumble again. Once again she walks over to the bench and returns with my ankle and wrist cuffs. She bends low making sure I see her breasts push against her robe and fastens the cuffs to my ankles. She lowers my arms and proceeds to fasten my wrist cuffs tightly.
"There", she says. "Now we are ready to begin."
She unties my cock, which has gone limp, and instructs me to get the metal off my cock. I carefully pull my cock through the ring and gently push each ball through. Mistress holds out her hand and I give her the ring.
"Next time I want this on you I will tell you, greedy little boy!" "Now it is time for your slave training to begin."
Attaching a leash to my collar, she instructs me to get on my knees and crawl after her following her lead. She walks me around the room and leads me over to the horse.
"Get up on here my pet, it's time to inspect your attributes."
I straddle the horse face down and she fastens my wrist cuffs to the lower end of the leg. My ankles cuffs are also locked onto the hind leg so my cock and ass are fully exposed, with my now limp cock hanging lower than my balls. My Goddess takes off her robe, exposing the corset she has donned and brings her well-supported breasts right up to my nose. Taking my head in both her hands, she lifts my eyes up to hers and says