My First Session With My Foot Fetish Mistress
My foot fetish mistress has told me to meet her at a nearby hotel for her to pick me up for my first session. When I arrived there she pulled up in her car and tells me to get it. Almost immediately she tells me to puts cuffs on my wrists and ankles and secure them to the door. Then places a ball gag in my mouth and blind folds on me. When we arrived at her dungeon she striped my clothes and made me put on a pair of her panties and bra before bringing me inside.
When she removed my blind fold I got my first good look at her (I didn't get a good look before I got blind folded) and I see that she is in a leather corset and stockings (either I didn't realize she wasn't wearing pants before or she took them off). We go to a room, which appears to be a big one. It has a king size bed and also a complete sitting area with a big couch and some armchairs. She falls down on the couch and tells me to get a bottle of wine and pour two glasses for us. I do as I am told and she gave me one of the glasses of wine and then she told me to sit down. She instructs me that I am to sit on the floor in front of her.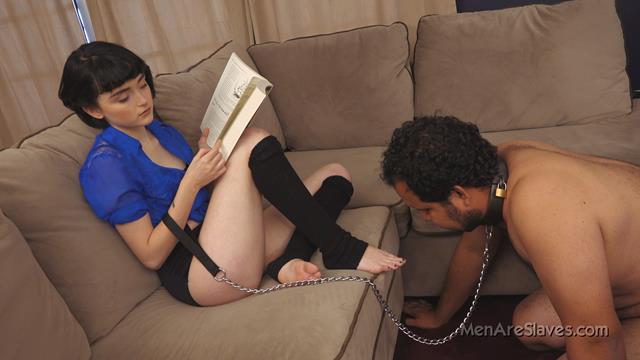 Just when I want to have a drink from my wine, she tell me how tired her feet are feeling and how nice it would be to have them massaged. With her permission I put both of them on my lap. The fact that she is ordering me makes me really horny and I get quite turned on. Then I noticed she is reacting to my touch. She notices that my cock is getting solid and hard. She starts to pour my wine down her leg and I drank from there. Carefully I take off her stocking and start massaging her feet. By the noises I hear I know she is really enjoying the massage. After a little while she asks if I like her feet? "Oh yes, I do, Mistress",I respond, She told me.
"Go on then, kiss them to prove to me you like them" She ordered me to hold one of her feet up to my mouth. I started kissing her foot gently, and then licked it with my tongue, all the way to her knees. Then she starts laughing. "You are submissive, aren't you?", She orders me, "Now prove to me you are and kneel in front of me on the floor!" And I dare to look at her face which shows she is serious. She then starts to use her flogger on me. I am not able to resist and slowly sink on my knees on the floor in front of her. "Good boy, Good sissy", she says, "Now, keep kissing my feet slave."
Really horny and with my cock hard as rock I start kissing her feet again, but then I look up and give her a kiss above her navel towards her pussy. She then grabs my ear, pulls my head up and gave me a big hit in the face. She blindfolds me and brings out all her toys, strap on, dildo, vibrator, collar, gags, and more. "Did I give you permission to kiss my navel and pussy slave?" She ask me very brute. My cheek are burning from pain. "No you didn't", I reply. "MISTRESS, you address me as mistress!" She screams at me, "now undress yourself as I am going to punish you for not showing enough respect to your Goddess!" "Yes, mistress".  
She then puts me in bondage and gags me saying she doesn't want to hear me complain. Without me knowing it she gets her strap-on after I am bound and then remind me that I cannot stop what is about to happen. She then proceeds to use it on me. After she finishes with it she removes my ball gag and replace it with a gag that forces my mouth open and makes me clean off the strap on that she used on me. By that time she has an idea. She tell me that I look like I want to cum. She put a condom on me and jerks me off until I cum. With my mouth still forced open by a gag she forces me to drink it. She then makes me dress in lingerie and some tight latex and locks me in heels for the day to continue.