I met my Domina Barbara when I was a 24-year-old flight attendant, it was 1996. The internet was still new, and IRC chat rooms were the place to meet similar-minded people. I had known for a couple of years that I was submissive to women. Particularly those with strong personalities but who were still affectionate. Beat me, but pet me after, please.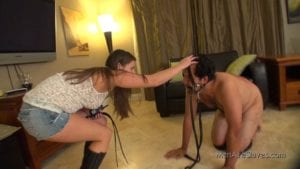 I was instantly attracted to Barbara (who instructed me to refer to her as "Ma'am"). Something that came naturally, given her demeanor and style. Ma'am was a former equestrian, who still rode for pleasure (and not only horses); with Her own beautiful red mane, She was the type of woman wars were once fought over.
Eventually, we were comfortable enough with each other for Her to invite me to visit, and for me to accept.
At the end of a work trip, and without telling a single soul other than Ma'am and our "friends". I boarded a flight to Green Bay, Wisconsin. Upon landing, I was met by cold air, grey skies, a blanket of snow, and one of the most stunning women I have laid eyes on to this day.
The Trip to her home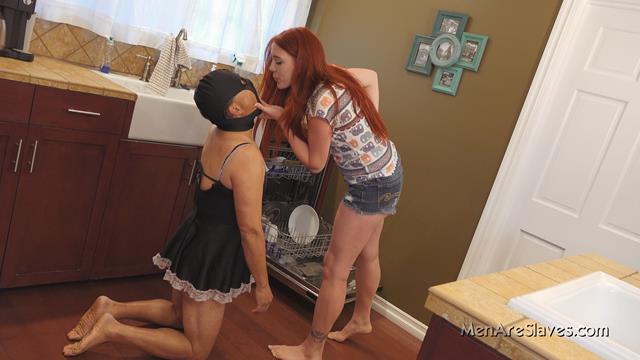 She drove us to Her home where I cleaned up, then She introduced me to Her favorite pizza restaurant. Over dinner and a few drinks, we got to know each other and our expectations for the visit.
When we returned home, I was made to undress and kneel before Her as She relieved herself. I then obediently cleaned and pleasured Her. When She was seated, I was led up to Her bedroom and leashed to the bed frame before exhaustion claimed me and I fell asleep in Her arms.
I awoke the next morning with Barbara's arms still cradling me, Her touch calming the sudden panic at my unfamiliar surroundings.
When She awoke, She informed me she had an adventure planned…
My morning began as the night before had ended with me again on my knees, this time She rewarded me by allowing me to drink fully of Her.
Starting my Day with the harness and the plug
My morning cleaning was more intensive – inside and out.
When I was dry, I was presented with a plug and what appeared to be a horse bridle, its purpose was to act as a harness, keeping the plug in place.
It also reminded me of who I belonged to.
After a beautiful drive through the Wisconsin countryside, Barbara said She was hungry, and we pulled into what looked to be a classic greasy spoon diner. Populated by blue-collar workers and retired couples, an attractive woman with a boy half Her age, we immediately drew attention.
I was worried that the harness would be visible, but the cold weather required a bulky coat, and my fears were unfounded. The plug however was another matter, and the look on my face and slight grunt I made as the plug re-seated itself in my hole caused a giggle to escape Barbara's lips. The sound was as magnificent as the singing of angels.
We ate, then turned back towards home. I knew Barbara had more plans. She had in fact plotted out my entire visit and I was Her willing guest and victim.
To be continued.