The New Female BDSM Slave
I've served Mistress for several months now and She has broadened my horizons in so many ways, from being Her BDSM slave to being rented out to Her Friends or being spit roasted by Shemales. Sometimes, I don't like all of the things that She forced me to do but being forced to take a shemale cock in the ass or being used by Her and Her Friends has always left me feeling abused, humiliated, and longing for more!  In my mind, I've always known that I am not the only BDSM slave she has, but I'd never met any until last week when I met a new Female BDSM slave that She uses for domestic duties at Her home when I arrived to serve Her.
Mistress told me that I was going to serve alongside Her new Female BDSM slave and even though She was a slave like me, I was to treat Her as my superior because She is a Woman. I was ordered to call Her Mia and treat Her as if She was my Owner too. Mistress then beckoned me to Her and made me strip naked in front of both Her and Mia. I was then told to stand in front of Mia with my legs spread apart. Mia then grabbed my cock and led me to a chair. She sat down and made me bend over so that She could fit my collar and leash.
They Control Me With A Cock Shock Ring
Then, she made me place my legs on either side of Hers and squat and forced a butt plug in my arse. Mistress then gave us our orders for the morning and we set about our tasks.  It quickly became apparent that Mia had done this before and relished Her role as my Owner! She was a tyrant and treated me like dirt, verbally abusing me and dragging me around by my collar and leash all morning. She occasionally grabbed hold of my cock and marched me to Mistress to inform Her of my poor progress. I loved that part!
At lunchtime, Mistress and Mia sat at the table as I waited on them both. Mistress had bought me a new present a few weeks earlier, a cock shock ring and They both took great delight in using it to summon/punish me. After They had finished lunch I was allowed to have my lunch then go back to work.
Mistress gave us more duties and Mia, again, took command, but this time She used the cock shock remote control to get my attention and She used it often. Although it was painful, the sensation and humiliation of being controlled by another sub had my cock swollen to its bursting point!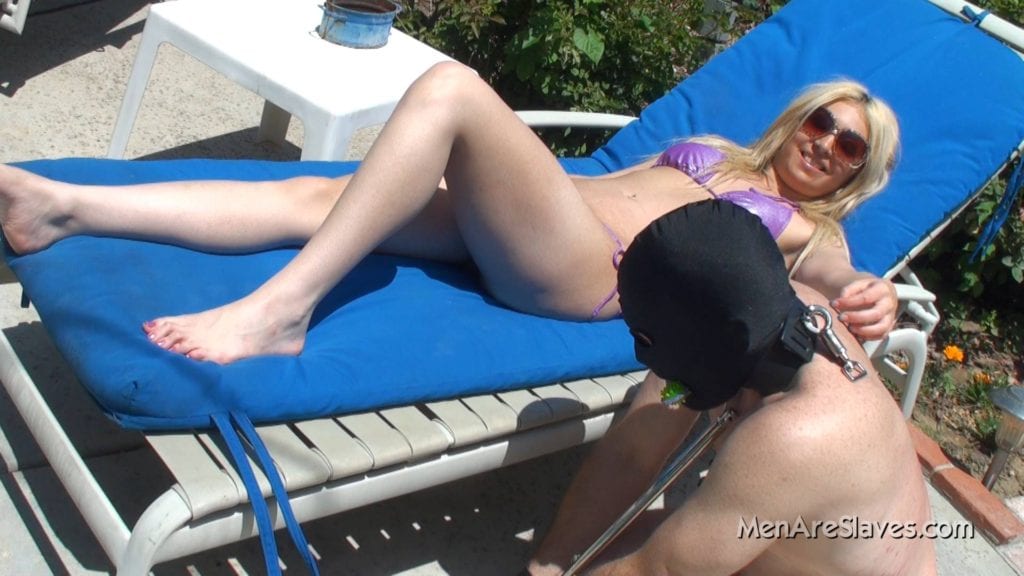 Mistress And Mia Fuck Me All Night Long
At 5 p.m., Mistress decided that She wanted to play and I was hoping I would get to fuck Mia. Wrong! I was made to climb on the kitchen table and Mistress and Mia started stroking and slapping me. They both had strapons fitted and Mia climbed onto the table behind me, removed my plug, and just rammed Her strapon inside me. Mistress was in front of me as Mia fucked me like a bitch and spat in my mouth as She taunted me for being a slave whore.
Mistress then started to face fuck me. This went on all night, with me as Their bitch. Me being naked and Them being fully clothed only heightened my humiliation and excitement and when Mia suggested that I should wank myself off I almost came there and then. Mistress gave Her permission and I started to wank as Mistress fucked me and Mia spat in my face. Just before I was about to climax, I asked permission and Mistress slapped my hand away!
Can't Wait For My Session With Mia
They both erupted into gales of laughter at my pleading to be allowed to cum as I was dragged from the chair to the bedroom where I was allowed to lick Mistress and Mia's pussy until They came. Only then was I allowed to finish me off. I knelt in front of Them and wanked while They both watched. I asked permission to cum and Mistress said no! Mia then came to me, pulled my head back, grabbed my cock, and finished me off as she spat in my face and told me what a slut I was. I can't remember cumming so hard. Mistress has now given Mia permission to use me as Her bitch and my first session as Her slave is next week. I can't wait!