Serving My First And Only Femdom Mistress
I only served my Femdom Mistress for a few months, but during that time She taught me many things and involved me in some of Her and Her Friends' games. Our routine was when I visited Her, I was to strip naked as soon as I entered Her house and wait by the door. She would then call me to Her and I would kneel at Her feet while She fitted me with a  collar and leash. Sometimes She would play with me, others times She would force me over Her lap and spank me with one of Her toys. I was always fitted with a butt plug, either a hidden one or one with a tail or handle for Her to pull on. She also had a remote shock-fitted cock ring which allowed Her to punish me or call me to Her whenever She wished.
My Femdom Mistress would give me my duties for the day and I would do what She ordered. Sometimes She would have Her Friends over and I was told to treat Them as my superiors too. The first time my Femdom Mistress fitted me with a butt plug was in front of three of Her Friends who all took turns spanking me. She made me look at them while She forced the first plug of the day into my arse. They all cheered when it popped in. I then had to serve Them drinks before I carried out my orders. It was the same when She first fucked me with Her strap-on dildo. I guessed something was going to happen when I arrived, as Her friends were already there and were very giggly.
Humiliated By The Femdom Mistress and Her Friends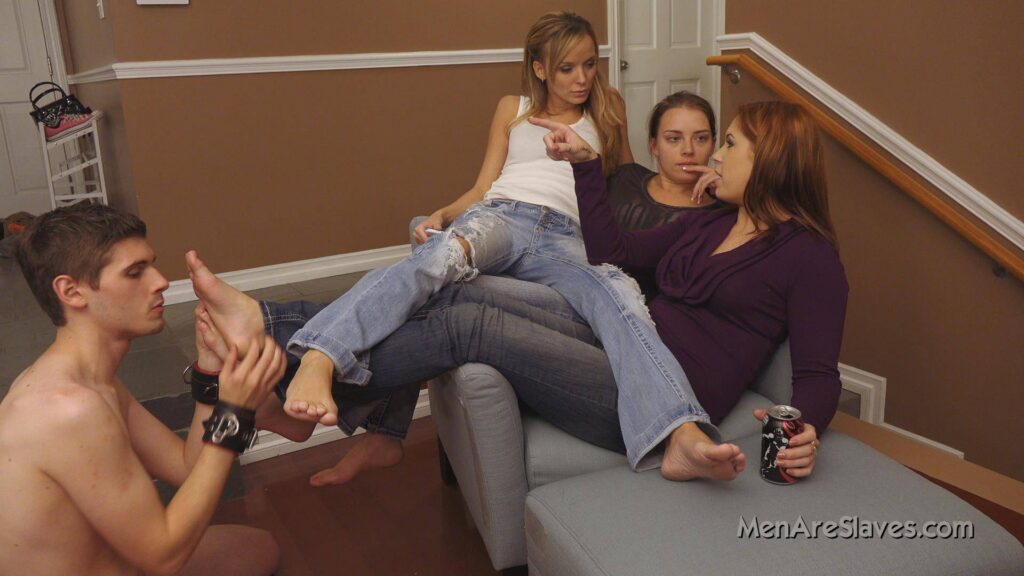 We started off as normal but I was very nervous. After doing my chores for 20 minutes, She gave me a severe shock with my cock ring, which had me scurrying to Her. I was ordered to go to a drawer and select from a selection of strap-on dildos. After, she removed my butt plug and proceeded to fuck me with the strap-on dildo. It hurt at first but the longer it went on the easier it felt. Her Friends were all laughing, put Their faces close to mine, spat on me, and humiliated me as She started to fuck me harder. When She'd had enough She allowed me to be used by Her Friends. In the end, I was a wreck but still had to do my chores.
On two occasions when She was busy, She lent me to Her Friend where I was used in a different way. She made me strip and then fitted a collar and chest harness. I was then made to bend over a chair and was fucked straight away with Her strap on. The shame and pain I felt were intoxicating. I was allowed to experience it several more times during Her ownership of me.  While I was being fucked the doorbell rang.
Shemales Have Their Way With The Slave
She told me to answer the door and stand there naked in the doorway. She then said I was to do whatever I was told, without question! I opened the door and two girls stood there. Without a word one of them grabbed me by my collar and dragged me into the hall. The other girl went behind me, put Her hand around my waist, and forced me to bend over.
The other "girl" then lifted Her skirt to reveal an erect cock, which She shoved in my mouth. While She fucked my mouth, I felt something hard being pressed up against my arse and then entering me. I was being spit roasted by two Shemales !!! I didn't know how to react but Mistress had told me to obey Her Friends as if They were Her. So, I had no choice but to do as I was told. When They had finished with me, They went into the lounge and I was left on the hall floor.
I was then called into the lounge and made to serve Them all drinks and stand in the corner while They chatted. I was used once more by all three of Them in the bedroom, with Mistress wearing a strap on. Finally, I was sent home at 1 am filthy, soaked with sweat and cum. Not allowed to wash. It was the most humiliating, degrading thing I had ever experienced and I hated it. I begged Mistress to never make me go through it again. It turned out that Mistress had lost a bet with Her Friend and I had to pay the debt for Her. My Femdom Mistress owned me for 4 months until she moved away. They were the most challenging and rewarding 4 months of my life.