The Celebration Of Fall Hosted By Mistress Hunter
The "Celebration of Fall" at the Circle-S Ranch took place on the third Saturday of each October, a much-anticipated, ultra-exclusive gala attended by Washington elite whose sexual inclinations veered toward kinky and whose careers had thrived under Mistress Hunter's influence.
Imagine three circles, one labeled "politically powerful," the second, "alternate sexuality," and the third, "Hunter Solutions." Now, overlay the circles so that they intersect in the middle. Mistress Hunter's invitation had gone out to 126 guests who shared the Reuleaux triangle of common interests in the center.
The "barn" where the party took place was in fact a modern, steel building with central air and heat, and cavernous inside: boasting a stage, dance floor, DJ station, buffet, two wet bars, and seating for as many as 160 guests. This hangar-like structure was situated a quarter mile up the road from the house and working barn, situated in a groomed forest of birch, maple, oak, and sycamore trees.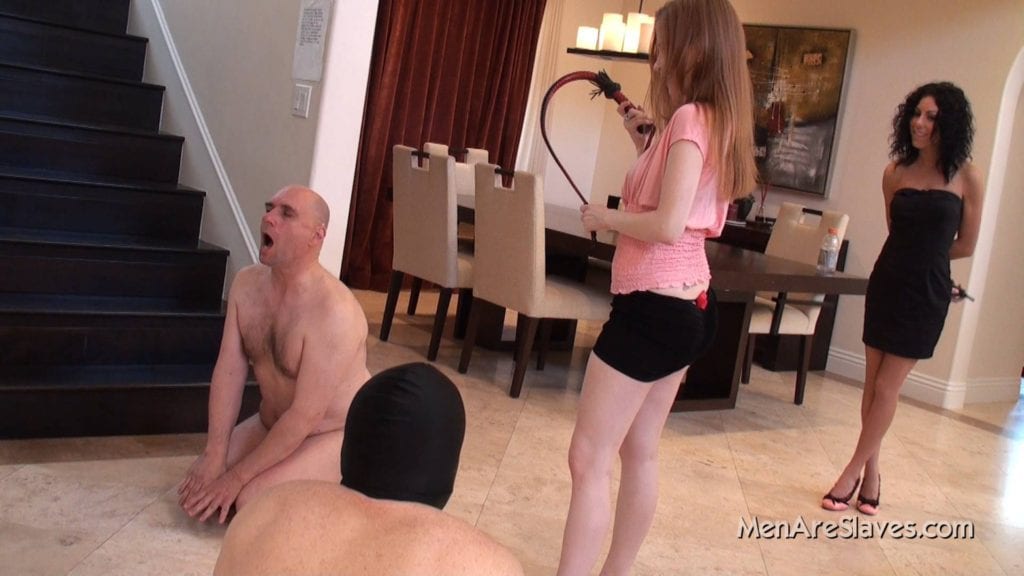 Mistress Charlotte In Charge Of Setting Up For The Party
The forest was dotted with at least a dozen rustic, one-bedroom log cabins, each equipped with a full bath, kitchen, living room, and stone fireplace. These cabins were arrayed in a circle around the main lodge house, which looked like something you'd see out west in Montana. Inside, the lodge featured a large kitchen, wet bar, game room, and great room furnished with couches and overstuffed armchairs, dominated by a massive stone fireplace; upstairs, three bedrooms, and an overlooking loft.
For all of that, the lodge's most celebrated feature was a natural hot mineral spring that fed into the backyard pool. I later learned the estate was dotted with hot springs, and a much sought-after venue for weddings in the tri-state region (Maryland, Pennsylvania, Virginia), with dates, booked years in advance.
The woman who managed this enterprise for Mistress Hunter was another sub-turned-Domme, Mistress Charlotte, and it was she who cracked the proverbial whip as we eight male subs transformed the interior of the barn into a fall-themed BDSM paradise, with stand-up cages interspersed between sixteen tables, walls hung with kinky silhouette banners, and tables decorated with pumpkins, paddles, riding crops and ears of corn.
Lillian And Her White Lacey Panties
With the sixteen cages, it should've occurred to me that our numbers would be doubled before the party began, but stupid me, it came as a surprise when, late in the afternoon, eight beautiful women wearing skimpy orange skater dresses came into the barn and began setting up the buffet and bar.
Lillian was one of them. Her dress, like the other girls, was low-cut to show off every bit of cleavage, the skirt hemmed at mid-thigh, so when she bent over I couldn't help but notice her lacy white panties. We exchanged fleeting eye contact a few times. Those brief glances betrayed our mutual feelings just as the scent of smoke betrays fire. My heart swelled; I imagined my sperm porpoising up into her ovaries.
She seemed none the worse for wear, light on her feet and happy, chatting and laughing freely with Mistress Charlotte. It became apparent that she was second-in-command, directing the other girls. Now I realized what she had been doing since she left Mistress Hunter's home.
Trust Me Or Leave My Kinky World Forever
Weddings. In my fears, she had been living on the farm caged like an animal, the evil Mr. Thompson abusing her at will. I recalled what Mistress Hunter had said to me that day in her office, something to the effect of: "Don't jump to conclusions. Either trusts me or get up and leave my world forever."
Oh, Ye of Little Faith. Somewhere in my soul was a nest of thorns where this mean, red-eyed blackbird roosted, cawing evil judgment upon the alternate sexuality that gave my life such meaning and assigning evil intentions to those who shared the lifestyle. Who invited in this awful bird?
Real evil was parents abusing their children and husbands abusing their wives and child pornography. Real evil was getting mugged or murdered on the street for a wallet or men firing automatic weapons into a crowd of concert-goers. There was evil in the world, all right, but not necessarily at a kinky party where consenting adult acted out their sexual fantasies.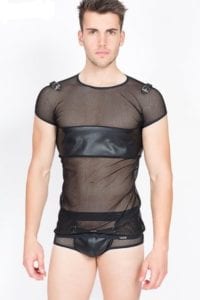 Mistress Hunter's guests began arriving at seven. By then, we eight male submissives had donned our slave attire—a studded, black leather harness with wide waist belt, cock pouch, and a strap up the crack of the ass, butt cheeks fully exposed. We all looked macho/sexy, especially the ripped Asian guy, Gill, and the male models, one who seemed to follow Gill around like a puppy. (Guess which one.)
It was a semi-formal, black-tie affair, the men in tuxedos, the women in gowns, and we circulated among our handsome guests passing out champagne and hors d'oeuvres. I wondered when the cages were going to be put to use, assuming we would be locked inside them just before our guests arrived, but Mistress Hunter's plan was just the opposite. It wasn't until after dinner, during the main event of the evening, that the cages came into play.
The Auction Begins
It worked like this. Each of us had been assigned a table at the start, to open and serve the wine. Then we rotated to a different table to serve bread and salads. We rotated again to take away the salads and serve the first course. And so on, second course, third course, fruit and cheese, coffee and dessert, after-dinner drinks.
Miss Lilly had arranged the rotation so that we circulated to at least eight tables, and in the process, passed by all the tables. Between hors d'oeuvres and dinner, the guests had gotten a good look at every server-slash slave.
At nine o'clock, Mistress Hunter took the microphone and called us to a line-up on the dance floor. "Distinguished guests," she said, "you've all had a chance to become acquainted with our slaves for the evening. I think you'll agree, this year's selection is the best ever."
Auction Rules
This remark brought an enthusiastic round of applause (at this moment, Lillian, who had maneuvered next to me, gave my ass a hard clap and slipped her hand into mine). "Now we will begin the slave auction. As always, the proceeds go to one of my favorite charitable causes, no-kill animal shelters in the tri-state region." More applause.
"Let me remind you of how our auction works. Each table bids collectively, and if you successfully bid on a slave, you put him or her in your cage. Your table may continue to bid, but if you win the bid, the next highest bidder takes the slave in your cage for the last price they bid. We will alternate between girls and boys, sixteen of them until each table has purchased a slave. When the auction is complete, each guest will be handed an envelope. The lucky person or couple who finds a pumpkin card in their envelope wins not only the slave but also one of our sixteen cabins for the night."
The Gods Must Be Crazy
The auction began. The first slave on the block was one of the girls, a striking redhead. She sold for eight thousand dollars. Into the cage of the winning table she went. With each slave, the bidding grew more spirited and the amounts escalated. Gill Peck went for fifteen thousand dollars. Lillian went for sixteen. Both of the male models went for seventeen.
Bidding peaked at twenty thousand dollars for a stunning black girl, six-foot-something in her stilettos; likely a runway fashion model from the way she sashayed to her cage. As for me, I went for a measly twelve thousand dollars. Such a bargain. When the auction was done, Mistress Hunter announced that the auction has raised a whopping $128,000—over $1000 per guest.
Then came the distribution and opening of the envelopes, the lucky winner finding a pumpkin card inside. One winner was a white-haired woman, easily in her seventies; she about swooned when she saw she had a pumpkin card. Of all slaves, she won Gill Peck. Put that under the heading, "The Gods Must be Crazy." What the hell, I bet she had fun.
Next: The Wages of Sin