Mistress Wants The Professor To Become Her Sissy Bitch
"You know, it really excites me seeing a man being dominated by another man. I love watching these types of videos. With you, I'll be able to make that fantasy become a reality! A good cocksucker that will have his ass ripped open by a giant cock. I'm going to pick your lovers for you my slut. Just thinking about it gets me VERY wet! But since I am such a good Femdom to you I will prepare you for it. Don't worry my whore. You'll see, I'm very nice actually." I stayed on my knees with my eyes down. The words of Mistress Michelle, my sublime dominatrix, had made me lose my hard-on. I never would've imagined that I would be offered to the male Doms who would make me their sissy bitch. But I also knew that I didn't really have the means to negotiate with Michelle.
"Jessica, my bitch in heat, go get something to work on my new slave. We're going to have to prep him. I really want to make this fantasy come true as soon as possible." Jessica disappeared to the bathroom and returned quickly with a strap-on she laid on the table next to Michelle. I dared not look up to watch but I imagined that she would want to dilate my asshole. I did not tell her that this was one of my most intense fantasies. I felt deeply straight. Men have never attracted me. On the contrary, I wanted to discover the fun of getting pegged with a strap-on by a woman. If possible by my Femdom Mistress.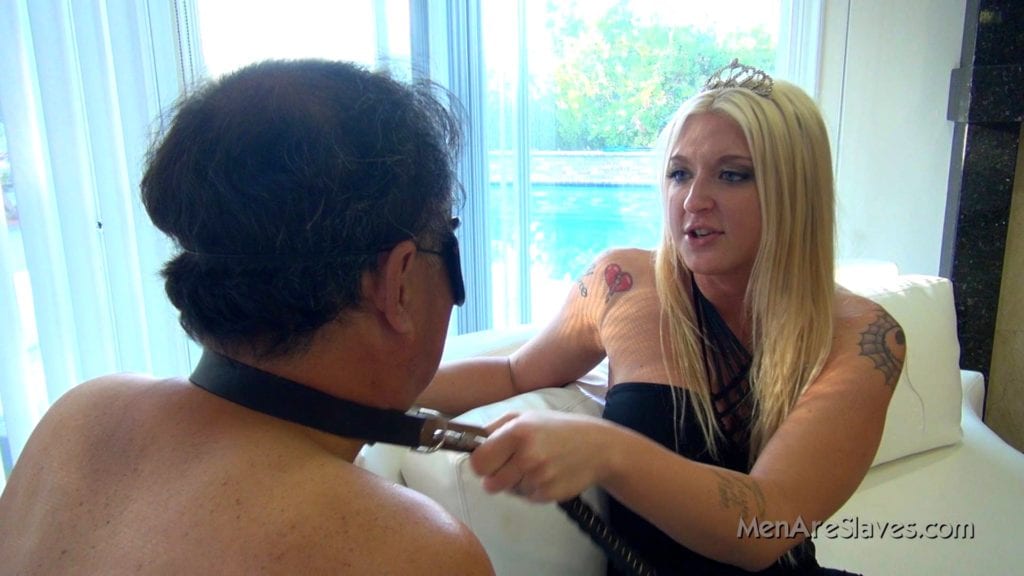 My Deepest Fantasy Is Going To Come True
I really wanted to and thinking about it gave me a hard-on immediately. Mistress Michelle noticed it and said, "You play hard to get but when I talk about pegging you, your cock gets very hard. You know you want to. You'll like it." She took a wide, black collar and tied it around my neck. She tied a leash to my collar and yanked on it hard. "Go to the living room. Get on all fours on the coffee table." I had not seen that she also grabbed her whip. You are my whore to fuck now. Arch yourself, you dirty dog." My dominatrix emphasized her order with a crack on my ass with her whip. I let out a cry, more surprised than in pain.
"I barely touched you. Are you fucking kidding me? Five shots to teach you how to shut up. Count and thank me."
Schalaaack!! "One, thank you, Mistress Michelle!"
Schalaaack!! "Two, thank you, Mistress Michelle!"
Schalaaack!! "Three, thank you, Mistress Michelle!"
Schalaaack!! "Five, thank you, Mistress!" "It's Mistress Michelle, you stupid little whore. You just won a sixth!"
She whipped harder. I choked a cry of pain. I felt like my ass was on fire, and I knew that she had not whipped me as hard earlier as she had whipped Jessica. She really had to suffer martyrdom. I did not like the whip and I was in pain.
Jessica Prepares The Professor For His First Pegging Experience
You slutty whore, prepare the lubricant dose…I'm upset now. I need to calm down. You got five minutes, I'll be right back." I felt Jessica's fingers on my anus… My second Femdom Mistress caressed me gently inserting a cold liquid that I knew was lubricant. She penetrated me with her finger, sliding it. I loved how this felt. "Relax…I will dilate you a little more."
She inserted a second finger. I tried to arch in such a way as to allow her to insert her finger as deep as possible. She withdrew and replaced her fingers with a cannula attached to the bottle of lubricant. She injected a good dose and then resumed her anal massage, adding a third finger, inserting her fingers harder.
"You're right, you really need to relax or you're going to be in a lot of pain." You know, I never fucked a guy before, that has always been my fantasy. Mistress promised me she would allow me to fuck you one day.
Fucked by my redheaded goddess. The idea of belonging to Jessica made me hard instantly. And I began to dream, without any restraint, imagining her with a huge strap-on, begging her to kiss me, to make me her female. Calling her my love or darling. I fell in love with her. And this upset me.