My True Purpose In Life
Being a sissy sub male, I am finding my true purpose in life which is to please my wife and her friend Mistress Cindy. Both are absolute divine goddesses. While my wife has emasculated me and made me her sissy sub male, Mistress Cindy uses me as a symbol to show the world that gynarchic rule in the future. Males should be enslaved and must develop a sense of obedience for women. Since my sissification, "sissy sub male" has become a term for describing males in my neighborhood in Scottsdale.
I have become the sissy sub male standard for men becoming sissies. Since my wife is on an official tour, Mistress Cindy is at home ensuring I complete all the chores my wife has assigned to me. She has defined a new set of rules for me to follow while I do my house chores.
New Sissy Sub male Rules
1) Wear a metallic skirt and matching strapless textured beaded bra, whether inside or outside the house while I do my assigned chores.
2) My beauty regimen should be followed every day including shaving my body hair.
3) Makeup is mandatory, Mistress loves magenta colors so I prefer to use magenta-colored lipstick along with mascara, eyeliner, and other cosmetics.
4) Wear the new set of jewelry which is heavier and fancier than Mistress Cindy has given me. The jewelry is a constant reminder of Mistress' and my wife's female dominance over me.
5) Dress in my sissy sub male clothes and walk to Mistress Cindy's house every morning at 8 am and greet her by kissing her feet.
Even though I've walked in my sissy outfit in my neighborhood before, I still felt insecure about doing it. If another lady asked me to lick her stilettos, I will not be able to deny myself the pleasure of doing so and my wife will not like it. Also, my sissification is a matter of pleasure for my wife and Mistress Cindy. I don't like being humiliated by anyone else other than my wife and Mistress Cindy. I always love being punished by my wife too.
More To Learn About Being A Sissy Sub male
My wife returned from her official tour this morning when I was returning after greeting Mistress Cindy. I saw her sitting on the lawn chair and ran up to her and kissed her feet, removed her stilettos, and started massaging her feet. She caressed my nosering. She said to put her shoes on her feet which I did without any hesitation. I thought she was happy with me but had my doubts about whether she was or not. When I brought her a glass of water she said "How dare you to kiss my feet without permission?" I knew it was a mistake and I would love if she punished me for it.
Then she asked me "How was your experience with Mistress Cindy?" I explained everything to her and I told her that I am CONFIDENT in the sissified form now. "It seems your training is still lacking," she said. Suddenly, I felt a chill go through my body. I didn't want to ask her what she meant but I thought to myself, what did I do wrong? Is she not satisfied with my sissification? Did Mistress Cindy complain about my behavior or is there an unthinkable punishment waiting for me?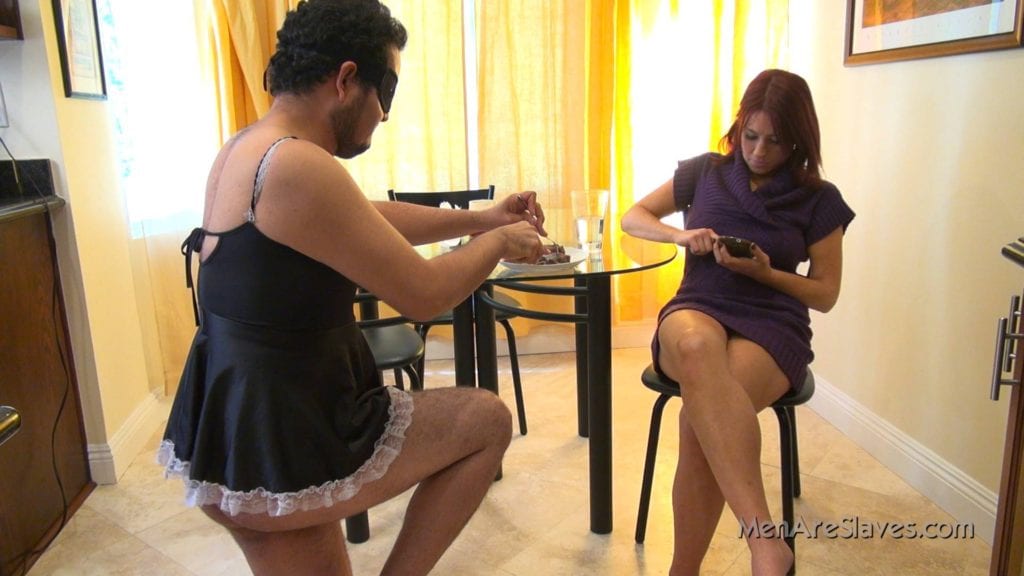 Kissing Her Feet With Heels On My Head
In the evening, my wife went to the market and I stayed home to do my assigned chores. While she was at the market, I kept thinking to myself, if my training is incomplete, how does she plan on completing it? When she arrived home, I let her know dinner was on the table and she can eat it whenever she wants! She smiled at me like she felt sorry for me. After she finished dinner, I lay next to her feet, when suddenly, I hear someone ringing the doorbell.  I moved to change my dress and open the door. My wife said, "It must be Mistress Cindy, come stand next to me" what happened next came as a complete surprise.
My wife put her stilettos on my head, "Now open the door" she said. I felt like I wanted to die if it was anyone else other than Mistress Cindy standing on the other side of that door. A feeling of relief swept over me when I opened the door and indeed, it was the beautiful Mistress Cindy. "I heard that you are feeling confident in being sissified," she said. A sissy is meant for service and obedience not a single bit of confidence. You must face the consequences.
The Lessons I Have Learned
Mistress Cindy ordered me to kiss her feet while keeping my wife's stilettos on my head. I immediately did what I was told. "Hold your hands back so you can balance the stilettos on your head." If it would have been sandals it would've been easier to balance on my head, but pointed stilettos heels on my head….that was difficult. But I did it after many attempts. Each time I failed I got a hard spank from both of them.
"Stand straight," my wife said, "now bend from your waist, not from your knees." My wife took out an inflated, hot butt plug from the drawer next to her and ordered me to insert it in my anus. I tried inserting it but it wouldn't go inside so I requested that my mistresses have mercy on me and deflate the plug little bit. "You were confident enough to be a sissy, now you have to insert it inside of you" it was not just thick but hot and long. I was thinking of lubricating myself when Mistress Cindy spit on my anus and said, "Insert it quickly."
At first, I tried to put the plug inside of me but my wife took over and inserted it herself, hard. I almost died from the pleasure. Now I understood why my wife said my training was incomplete. Both of my goddesses were smiling and I learned a few lessons today. First, my goddesses always have my back. Second,  I can't do anything without their permission, even kissing their feet. Third, confidence is a thing used to develop strong, dominant females. Males are meant to be sissies and my self-worth is in serving my Mistresses. I will keep improving myself by serving my Mistresses in whatever they need.