I find myself kneeling in front of my Beautiful Cruel Strict Goddess worshipping Her feet. Most men after a long hard day of work would come home relax and unwind but not me. I know my place. My place is at Her feet worshipping Her.
I am rubbing, massaging, and kissing Her beautiful feet after my long hard day at work. As I look up at Her I catch a glance at Her ankle bracelet that matches my collar perfectly except that Her bracelet is way more expensive than my collar. Then, gaze at the little gold bell that hangs gingerly off the bracelet which most people would notice. Right next to the bell, most people would not notice is a simple little key that means so much to me. The key that brings so much torment to me and pleasure to my Master. The one and only key to my
chastity device
.
The bell is to hide the key from most people's eyes and the bell is an audible reminder of my place. My beautiful Strict Cruel Master loves to shake Her leg and foot so I hear the bell toll for me.
Worshiping my beautiful Goddess, as requested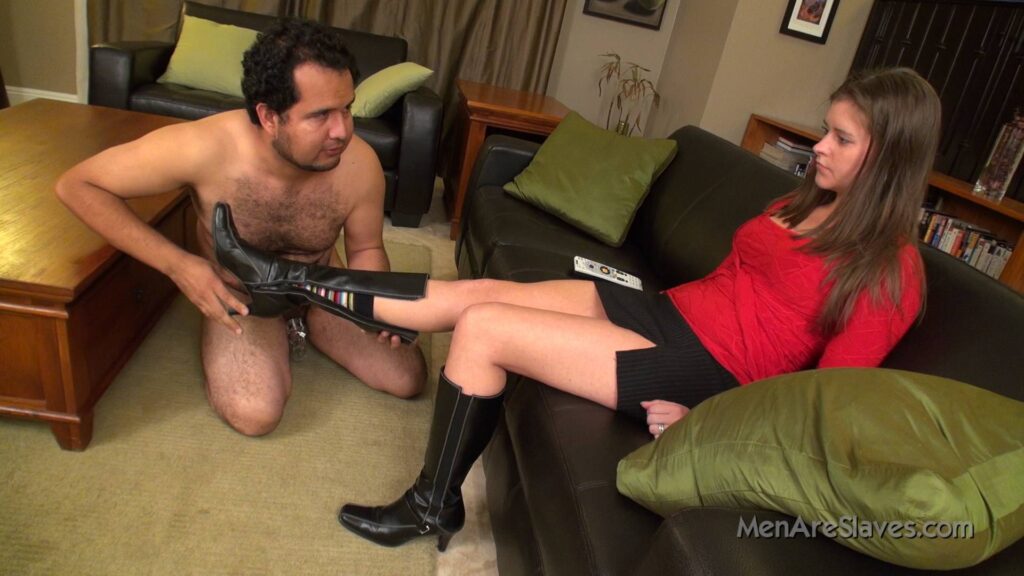 I start thinking about the key, when was my last orgasm, what will my training be tonight, what will my discipline be tonight, and how long will I get to service my Beautiful Strict Cruel Master's sweet tight little pussy. SMACK, as Master's leather riding crop finds its mark hard on my shoulder, I can feel it turning red and welting up. When I hear,
"Slave, get your mind straight and worship Me."
The sharp blow brings my mind back to reality and worshipping Master's feet trying to please Her and make Her life easier. Taking my time massaging and kissing every inch of her beautiful feet.
"Tonight I have some new subtle gestures to train you on and then on to your nightly discipline before you worship my little pussy tonight," You said with complete Authority.
Hearing that word strikes fear in me for spending many hours learning the correct position, kneeling, ass in and up, back straight, and hands on head. I know what's coming next and I need to pay strict attention and carefully listen to every command.
Tonight, a training session
My beautiful Strict Cruel Masters, sitting comfortably in Her chair reaches down and starts slowly rubbing my full aching ball sack.
"Listen closely slave tonight you're going to learn more subtle gestures to make my life a lot easier and pleasurable. You have been doing well so far but we're going to step it up. I noticed that those balls feel very heavy. How long has it been since your last orgasm? Never mind I don't care back to our lesson!"
You continue rubbing my balls making sure to nudge the Chasity device when say
"Woof" with the perfect ass wage.
"Very good my pet. The perfect response I see all those hours of intense training paid off. I know there was a lot of pain and suffering on your part through that training but I really enjoy getting a perfect response out of you."
You continue rubbing my ball sack and slightly nudging a chastity device.
"Tonight we are going to add a few more gestures to make my life easier and more pleasurable. Are you ready to begin?"
"Woof" wage "woof" wage "woof" wage "woof" wage