When we finally met after 5 years of corresponding online, I was not prepared to see how young Emma looked. Although I knew she was less than half my age, her authority and how she understood my sexual proclivities made her seem much older and wiser than me.
She was still in college when she contacted me on Slave-Selection.com. I appreciated she made the first contact. It was something that I was not used to on other sites. She was new to the lifestyle and was just exploring some of the "kinks" she associated with it. She saw that I described myself as a submissive looking for a Mistress. We quickly engaged in many online conversations that centered around my submissive penchants and her unease with the idea of being in a dominant position- especially sexually.
She was fascinated that a man my age liked to be submissive, and she wanted to learn all the details, not just of what I liked but also why I liked it. We started with discussions about less extreme forms of Femdom that she heard about, like CFnm and spanking. As she got more confident, she asked me about what she considered more "hardcore" subjects, like corporal punishment, CBT, male chastity devices, and eventually, pegging. With each topic, she would ask me if I had experienced it, and if I had, she would have me tell her all about it and then write about it in detail for her.
She was also very interested in the women who administered these practices and seemed relieved to know that many were not professional dominatrixes or hard-core fetishists… women more like her.
In the beginning, online conversations,…
After a few months, I admitted to her that I frequently masturbated after these interactions with her. Instead of finding it disgusting (which I had feared), she found it "cute" that a man my age still masturbates. She also then admitted that she also found our discussions erotic and that she had frequently masturbated after reading my pieces.
A few months later, she told me that she had discovered that one of her boyfriends was curious about being submissive. She said that she had never had as much fun as she had with him and that she credited it to me. Not only did she have him walk around naked in her dorm room, but she also spanked him and made him wear a chastity device that she had bought for him online. She also started to peg him.
"Have you been pegged, Guy?" she asked me.
I told her that I had not but admitted that I was curious about it.
"So, you are an anal virgin?" she asked.
"I guess I am…" I replied.
As a matter of fact, I hadn't thought of it that way and her declaration made me feel like a neophyte. I felt like the roles were being reversed. I was now becoming the student and her, the experienced FLR teacher.
"Well, I should definitely do you!" she texted.
…with Emma about our own FLR experiences
This acknowledgment that she found my submissiveness erotic and her readiness to peg me (even if it may have been in jest), was a turning point in our relationship. Instead of discussing my relationship with other women, I found myself wondering what it might be like if she were my Domme- kneeling naked at her feet, wearing her chastity device, and being pegged by her…
I did not respond to her text right away but after a few weeks, I got up the nerve to answer her. I told her that I would like nothing more than to lose my "virginity" to her.
Unfortunately, reality set in. I was married and living in New York, and she was a student in Oregon- so a meeting was not possible. But we continued to correspond regularly and kept "planning" for the day that she could have her way with me. In the meanwhile, I found myself writing more stories about being submissive and started asking her permission to masturbate for her as a reward (which she often did as long as I write to her about it).
While I was masturbating to my fantasies at home in New York, she became involved in the BDSM scene in Oregon, where she told me, she found many men willing to be pegged by her. She told me in detail how she enjoys making these men undress for her. So, she can ogle at their nude bodies and fondle their genitals before having them assume vulnerable (and submissive) positions so that she can take them with her strap-on dildo. Emma told me, also, that she liked to hear the man moan and cry. She told me that she liked to slap his ass. She told me that she liked the feeling of conquest.
Emma and Her Harem of submissive men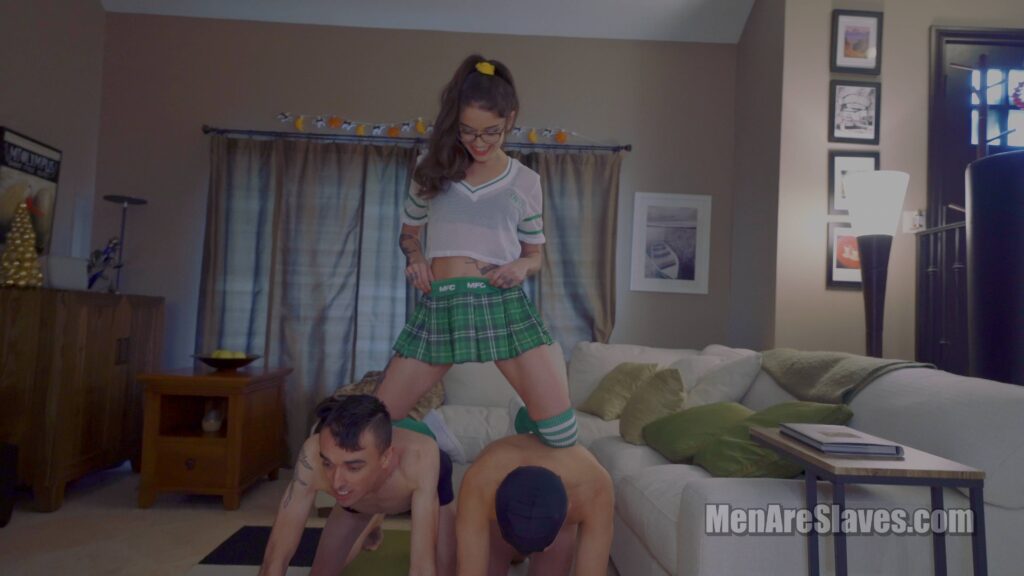 "I really enjoy the power and control I get from violating these men." she wrote one day. "Not because I'm a sadist, but because I know how much they crave the feeling of complete submission to me."
These were the same words I used in one of my stories where I described how it might feel to finally be pegged by her.
After graduation from college, she got a job as a flight attendant, where she only expanded her harem of submissive men. In fact, she liked to tell me that she would only date a man now if he agreed to be pegged by her and wear a chastity device if she wanted him to. She had become a true FLR princess with a voracious sexual appetite for submissive men like me and a growing collection of us in each city she visited.
Then, one day, she sent me a message that she will be in New York in 3 weeks and she thought we should finally meet.
"I think it's time I get to have my way with you," she said using the term she liked to use when she meets a new submissive man.
Then she asked,
"Have you kept yourself an anal virgin for me?"
When I said that I had, she replied,
"Good. I will enjoy being the first."
She asked me if I still wanted it and I quickly replied that I did.
Finally, our first encounter in New York!
We met at the hotel bar where she was staying. Although she had seen pictures of me, including several of me in the nude (at her request), I had never seen a picture of her. So, it was she who recognized me.
In addition to looking younger than I expected, she was also quite beautiful. She was dressed in a black tee shirt, tight black shorts (that revealed her perfectly sculpted legs), and high heel shoes that gave her a casual elegance that I found extremely appealing. She came over and gave me a hug that I was not expecting.
"It's so nice to finally meet you!" she said with a broad smile.
"You look good even with your clothes on…" she added, reminding me of the nude pictures I sent her.
Even though she was a couple of inches shorter than me and half my age, she had quickly taken charge.
"Thank you, Miss," I replied using the honorific I used in our correspondence that now further established my subservience to her.
We decided to sit down at one of the small tables in the lobby and order drinks. I ordered a whiskey and she, a glass of champagne. I was again reminded of our age gap when the waitress asked her for an ID.
When the drinks came, she said,
"We have to toast that we finally met," and held up her flute for a toast.
I nervously held up my glass and touched hers, understanding that what she was really celebrating was that she was finally going to peg me. I felt myself get an erection.
"This is to my teacher!" she said.
"This is to my student who is soon to be my FLR teacher," I replied.
In a hotel room with Emma, who is soon to be my FLR teacher!…
She seemed amused at my response.
"A toast to my soon-to-be student…"
She agreed and sipped her champagne. I nervously belted down my whiskey.
"Did you prepare yourself for me as I asked?" she asked, taking another sip.
She had instructed me not to masturbate for at least a week. Also, she instructed me to take an enema and shave my pubic hair the morning of our rendezvous.
"Good boy," she said, making me feel even more like her acquiescent student.
She finished her champagne and asked if I was ready to go up to her room. My heart started to pound and I felt flush. I said I was.
There were two other young women in the elevator with us when the doors closed. As we ascended, I could not help but wonder if these women knew what Emma was soon going to do to me. I saw Emma smile at me as if she was thinking the same thing. Then she slipped her hand behind me and squeezed my buttock, in a way that I was sure one of the women could see. When we got off, Emma kept her arm around my waist shepherding me toward the door to her room. She opened the door with her keycard and led the way in.
"Why don't you put on the 'Do Not Disturb' sign on the door, lock it and then come on in," she said as she disappeared past the entrance area.
…Time for me to get naked and ready for Mistress Emma!
I found the sign on the inside handle and did as she suggested- feeling a little like a condemned man as I heard the lock to the door click into place. I then followed where Emma had just disappeared. As I turned the corner, I saw Emma seated on an armless chair, in what I assumed was the living area of a suite- because I could see a bedroom to my right with a king-sized bed. As I approached Emma, she smiled and said,
"Well Guy, I guess I finally get to have your butt."
I wasn't sure who was more excited about the prospect, she or me. From our frequent correspondence, I knew what a voracious sexual appetite Emma had developed, especially for violating men with her strap-on dildo. She liked every aspect of it, including the fear she often saw in the man's eyes, the ceremonial aspect of him offering his vulnerable ass to her, the sound of his grunting and/or moaning in surrender to her, and the tremendous feeling of power she had over the man as she slowly invaded him.
And I knew of the particular form of foreplay she loved playing with her victims. It starts with him preparing himself for her with an enema and shaving his pubic hair, just like she had me do. She explained that she wants him, and now me, to anticipate that she will own both his manhood and his butt. When they finally get together alone, she has him strip for her and stand naked for her inspection. This was now where we were.
"So, Guy, you know it's time for you to show me that beautiful body of yours…" she said with a lascivious smile that betrayed her intentions.
It was clear what she wanted…
To be continued