Letter From Goddess Mistress
Today my Goddess Mistress has directed me to share an early email from Her to me, her new slave. It is a powerful and beautiful beginning!
Slave,
I would like to know more about you. I liked your emails and am wondering if you have ever been with a dominant woman that wasn't in the industry (dominatrix) without having a time/price set? A woman is dominant because that is Her real way to be. In general, I like what you did with the dominatrix before. Bit of punishment, a lot of orgasm control, and tones of worship. I love phone sex sessions. I want to call you and have one with you and can call you at a time that may work for both of us. Did you enjoy the strap-on? Tell me more about it. How does it feel to be obligated? Vulnerable? When was the last time you had a goddess mistress? Or is this the first time you serve anyone?
I don't mind (so far) the involvement of your girlfriend in our emails. I like to know that you are always in your place. Of course, I own you more and your real self belongs to me, but I am ok with you serving a fellow female.
We have a long way before I can share you with any of my friends, I need to be completely sure that you are very obedient and totally submissive to Me. I am wondering what you are going to do when we progress with this D/s relationship and I require your services. I need to know that you are healthy (no diseases) and clean. You should get a physical or some type of proof that you are clean for your Goddess Mistress. Where can you serve Me? I am so pleased 🙂 that your cock is working well and it gets hard for me every time. How often do you fuck your girlfriend? Masturbate? Share one of the femdom videos that you usually watch with me.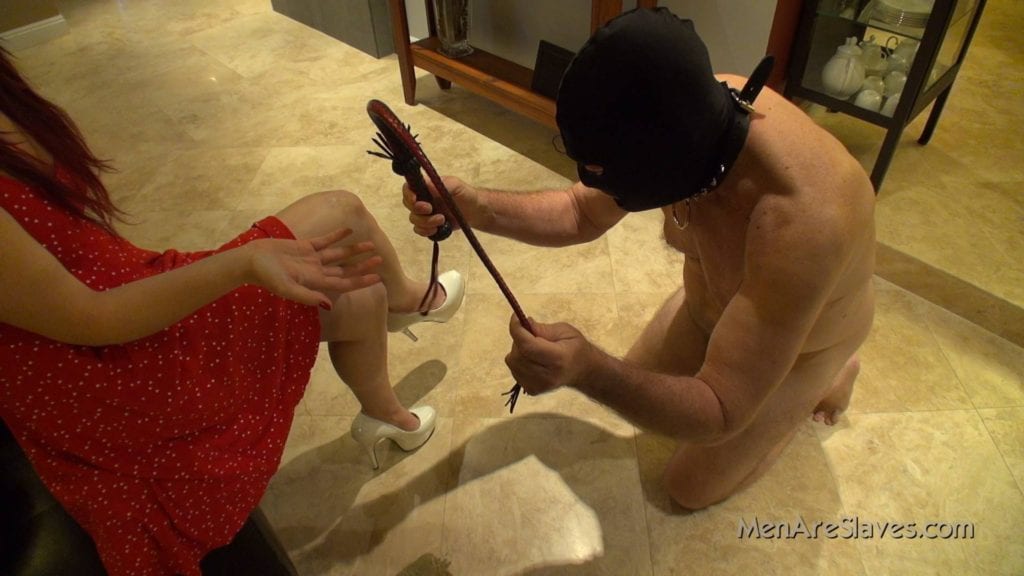 GS Femdom
FYI, I love GS! To me, it's a very intimate, deep connection and a way to claim ownership of My property. Love to be cleaned after and force My slave's face on ME. I should have My slave, begging, asking with crazy fervor to allow him to worship My body. This should happen ALL the time. One of your duties is to supplicate my pussy and body all the time. Over the phone, in emails, and when present, you should clearly express your crazy, insane desire to eat me out.
To please Me all the time. I should punish you for asking so much, but you should just come back for more, plead for more, need some more. I am your main food, water, and resource of life, and am the only one who really knows who you are and where you belong. As such, you must all the time show respect, gratitude, and devotion toward Me. Never fall short of it. Always being able to comply and please.
Your Mind, Body, And Soul Are Mine
I can't wait to have you naked in front of Me, hard, a bit nervous, and willing to obey. So eager to eat Me and please Me that it would hurt your mind. I want to talk to you, to be sure I can trust you, to be sure you are really submissive and real. So sooner than later I can use you.
We will one day meet in a hotel room in front of the ocean, seated on the balcony feeling the breeze while I drink some red wine (which I enjoy very much) (keep mental notes of My pleasures so you know how to make Me extra happy and spoil Me) and eat some green olives. People can guess a bit about what is happening but can't really see for sure that I have a naked slave on the balcony at my table. Holding my legs while I enjoy myself.
Then, you are ordered to bring a table to replace your role and kneel in front of Me waiting like a good pet for Me to tell you what to do. I snap my fingers and order you to eat My pussy while I enjoy the view. When you're done, you crawl inside to bring Me more wine and food, cheese, olives, and strawberries. I eat happily while you go back to work.
Then, I must mark my slave, right there in front of the ocean, honoring his obedient soul. I tell you to sit while I stand up in front of you showing you how much power I have over you. Once I am up, you are ordered to jerk off and open your mouth at the same time. I place My goddess mistress pussy on your mouth and mark you Mine. I mark you with my unique, delicious golden shower. You get all wet, happy, crazy about being owned, and jerk off for your Owner. I smile and order you to clean all your own mess and My pussy. Then, you must prepare a nice bath for Me and give Me a nice massage (if you don't know how to give a massage, well, time for some YouTube tutorials!)
M