Awaiting My Femdom's Instructions
I received a text message from my Femdom Mistress Michelle around 10 am. My class begins at 1 pm. The message said, "11 am be in front of my apartment door. Knock and walk in and remove all your clothing except for your g-string and stockings I gave you to wear. Wait for me on your knees, hands on your head, looking down. I had little time to prepare. At 12 pm I was at her door.
I knocked and entered. I undressed and waited for Mistress in the position she had ordered me to be in, on my knees, thighs  spread apart, hands on my head, looking down. I anxiously waited a few minutes. What was she going to do to me? Was she going to free me from my cock cage? Her sublime feet in heels soon entered my field of vision. My Femdom Mistress walked behind me and placed a collar with a leash on my neck. She yanked on the collar to make me go on all fours.
A Familiar Face
"Follow me dog!" She guided me without any hesitation to the living room. I kept looking down and I discovered other feet, also in heels. But it was not Jessica's. I was paralyzed with fear immediately. Did we forget your manners, whore? Do you know how a dog should greet a femdom mistress???", Michelle said." ".. I. … You what, my pet?" I was paralyzed when I recognized Chloe, one of my students. She was gorgeous, slender, and rather modest. I blushed immediately and I awkwardly advanced towards her feet to honor her.
"You see, I didn't lie to you. I made a beautiful little pet out of our professor. Cute huh? Did you see his stockings and g-string? And you'll never guess what's underneath … you'll see … as soon as the whore has greeted you appropriately." I didn't know what to do. The whole class was going to find out at this rate. I could never continue to teach them. Not under these conditions.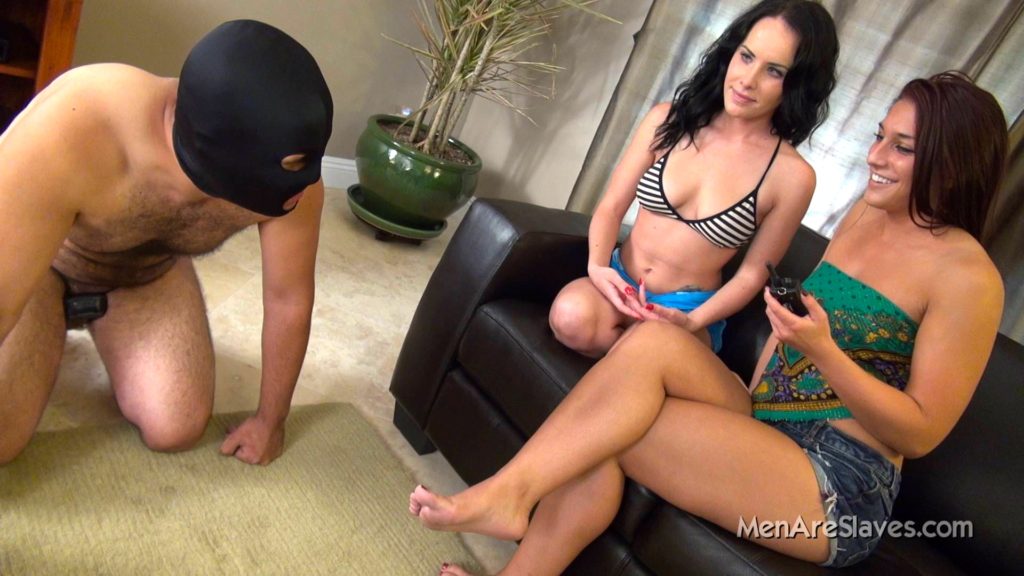 The Mistresses Watched The Video Of The Professor
"I filmed it and I took a lot of pictures. You want to see them?" Michelle said. "Yes …. with pleasure. I'm curious to see this … …. this little slut in action.", said Chloe. The words coming out of Chloe's mouth shocked me deeply. My humiliation went up in intensity. A little obedient, submissive, whore. That's what I was in their hands. I had no other choice but to obey if not but to see my life explode before my eyes. The viewing lasted what seemed to be forever. Seated in the couch, I kneeled in front of them looking down with my cock cage exposed.
Femdom Mistress Michelle and Chloe reviewed what I had done. Chloe, usually so reserved, got more and more excited as she watched the video while being less and less stingy with her comments. "Whoa!!! He's really a bitch in heat. …. what a whore!!!. All these pictures and videos have made me very wet," Femdom Chloe said.
Pleasing My Other Mistress
"Thanks Michelle, this was really informative", Chloe said. "You know if you're very wet you can get a good facesitting session from this dog…. You're waiting to eat her pussy, aren't you my pet.", Michelle said. "Yes, Mistress Michelle". "You see, you just have to order him. He's all yours Chloe." "Approach whore! Come and taste your Mistress's nectar. "I want your tongue inside my pussy. Show me what you can do, you dirty dog," Chloe said. I approached her like a four-legged robot, an automaton. "Dirty Dog???"….was I already conditioned? Chloe removed her thong and put her pussy in my face. "Lick and breathe my musky scent." I started to eat her pussy.
"I want to feel your tongue inside my pussy. Lick me good!" I buried my face between her thighs and ate her pussy for a long time. She got very wet and finally came treating me like a sex toy and a submissive slut. "Hmmmm! Michelle, will you let me borrow him again?" Femdom Chloe said. "Of course, don't worry, you could order him to do other things too. You ever fuck a guy, slut?" "No… never."  "You'll love it!" Based on these promised experiences, my two Mistresses rose from the couch together and said, "Go whore, get dressed, it's time to go to class! And come back here after class. I am not done with you. Ready Mr. Submissive Professor?", Michelle and Chloe, my femdom dominatrix students burst out laughing. The semester was turning out to be a very long one.