Being Rented Out By My Femdom Dominatrix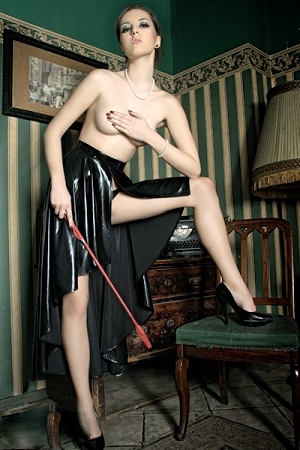 Several years ago, I was serving a Femdom Dominatrix who used to rent me out to Her Friends. I'm a decorator, so I would work for Them or be used in any way They saw fit. My Femdom Dominatrix taught me to respect ALL women. When I was rented out or if She had Friends around, I was to always treat them with the utmost respect. When I was being rented by someone, my Femdom ordered me to treat Them as my Owner and to do exactly what They ordered me to do, no matter what the requests.
My wishes or needs counted for nothing and I understood and accepted that They would have the absolute right to use me in any way They wanted to. I would have nothing to say in the matter. The only caveat was that They should not harm me. On one occasion I was forced to allow 2 Shemale Friends of my Femdom Dominatrix to use me as She had lost a bet and I had to pay the forfeit. I was used and humiliated and then thrown out late at night, soaked in sweat and cum. Anyway, my Femdom Dominatrix had ordered me to go to one of Her Friend's homes to do some decorating.
I Arrive At Her Friend's House
I arrived and rang the doorbell and waited………and waited. Eventually, the door opened and to my surprise, my femdom was the one who opened it. She ushered me in and closed the door behind me. She pointed to where I should kneel and I did so and waited. My femdom cuffed my hands behind me, fitted me with a  collar and leash, and undid my trousers pulling them down around my ankles. I was then led down the hall and into the lounge where the two Shemales that had fucked me before were waiting. I then realized what was going to happen to me and the fear and excitement I felt were very evident by the blood rushing to my cock!
They said hello to me and I looked to my Femdom Dominatrix for permission to reply. She nodded and I returned Their greetings. Mistress had taught me to be humble and subservient to all Women and I now can't help but feel inferior to Them. She made me stand in the corner and wait while They chatted about what They were going to do with me. She ordered me to drop to my knees and crawl to Her and then lay across Her lap. After, she slapped my arse several times hard and then forced a large butt plug with a furry tail in me.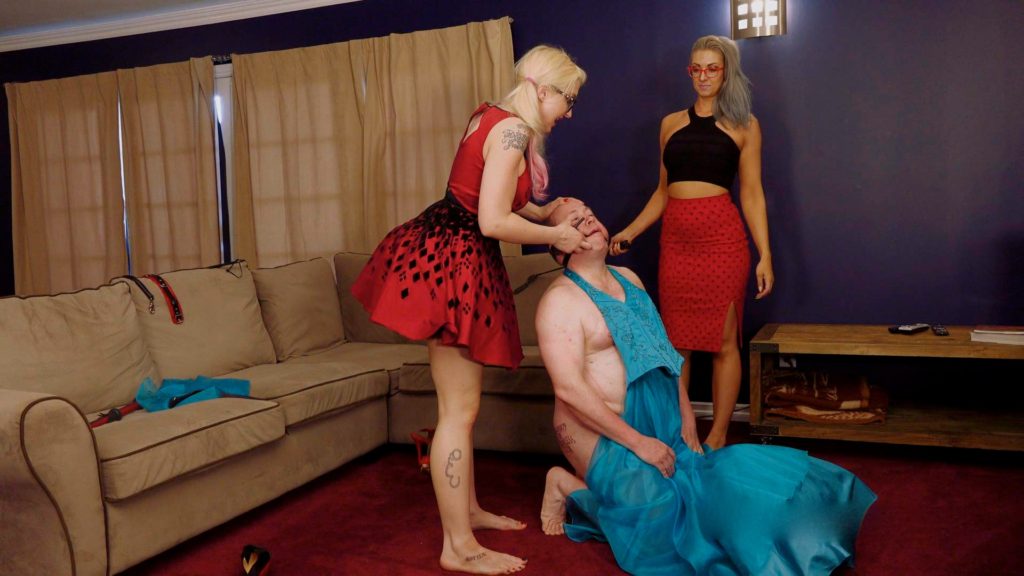 The Humiliation Of Being Forced To Do Something Is Intoxicating
I was then made to shuffle around the room while they laughed at me. My femdom stood up, came over to me and grabbed my collar and forced me down between Her legs, and made me perform oral on Her. After She came, She forced me down between one of the Girl's legs and had me suck Her cock. After She came, I was made to do the same to the other girl. I disliked it as much as I did when They had fucked me at her home, but the humiliation of being forced to do it made the experience intoxicating. She told me to remove my shoes and trousers while handcuffed kneeling in front of Her. They all got up and stood around me and tore off my top. I was then dressed in lingerie and had makeup applied to my face.
They made me look at myself in a mirror and told me that seeing as how I was going to be fucked like a dirty bitch, I might as well look like one. I was then bent over a spanking bench and once again had a large, Shemale cock forced into my mouth and another forced into my arse. My Femdom Dominatrix stood and watched. When the Girl had finished fucking my mouth my Femdom put Her face close to mine and spat at me while insulting me as I winced at the pain from being fucked.
My Relationship With My Femdom Is Changing
When the girl finished I thought my ordeal was over, but my Femdom had other ideas. She then took over and started fucking me with Her strapon. I was in heaven! Eventually, I took a shower and rested. As I sat and waited for my Femdom Dominatrix to tell me what to do, the door opened and one of the Girls told me that They hadn't finished with me yet. I was led to the bedroom and made to lie on the bed.
As usual, I had one cock shoved in my arse and another in my mouth. But on this occasion, my Femdom took my cock into Her mouth and sucked me. I wasn't allowed to cum in Her mouth but She did finish me off with Her hand. I was allowed to shower and sit with Them and have a drink before She took me to Her home. The next day, I was allowed to fuck my Femdom for the first time but not to cum. Our relationship is changing……………