It All Started With A Profile On Femdom.Dating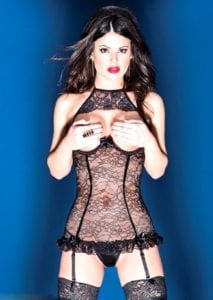 Keith is a sweet good looking guy with a slim, toned, and tan body. But he has a secret. He craves being treated like a slave by a dominant woman like Dominatrix Kyra. Keith put an ad on the femdom dating site having no idea where it would lead. Dominatrix Kyra, a beautiful dominant woman with dark hair and a curvy fit body finds his profile. She has been working on a plan with her girlfriends to kidnap a slave in an isolated area to use, humiliate, and abuse in imaginative ways.
Dominatrix Kyra is attracted to the cute trusting innocent and naive sub's profile. She gets excited thinking about all the things she and her girlfriends are going to do with Keith as she looks at his profile. Keith has no idea that the dominant woman he met is going to kidnap him to live out her dark fantasies of torturing a slave.
Kyra Hatches A Plan To Kidnap Keith
Dominatrix Kyra is from a wealthy family and has a cabin in the woods 20 miles away from any neighbor that could find out about her whereabouts. She has been building her dungeon there for years and it is complete with all types of cages, restraints, canes, paddles, and whips. Hidden cameras are in the ceiling, walls, and floors. A high gate surrounds the cabin and the top floor appears normal. However, through a secret door on the floor, a staircase goes down to a series of large rooms showcasing every manner of restraints, whips, canes, candles, electrical devices, and needle devices. Kyra and her sadistic friends plan to videotape the victim's entire ordeal.
Keith thinks he is so lucky when he meets Kyra. She smiles at him looking deeply in his eyes and says, "So.. you are new to the scene and looking for someone to break you in?" Kyra seems to like that Keith lives alone in the state and was laid off from his job. She says, " Hmm perhaps I can make use of you.., when a van pulls up to you and a woman tells you to get in, you must prove your worth by getting in. Kyra gives Keith an evil grin and nods approvingly after undressing Keith with her eyes. Keith thinks the request is strange but is so attracted to Kyra that he agrees. Kyra leaves shortly after, which also seems strange to him.

Keith Gets Caught By Surprise
The next day nothing happens. Another day passes and nothing. Keith is going about his day like he normally does when on the third day the doorbell rings. He was just getting out of the shower and had only a towel on when he came to the door and looked through the peephole. He saw two attractive women in leather outfits. Excited and nervous he decided to open the door. Both women smiled and said, "GET IN THE VAN NOW!" They each grabbed his arms and in his shock, he did not notice his towel falling off leaving him completely nude, or that they had just slipped a hood over his head.
They firmly guided him to a van near his front door. As he hesitated he felt a viciously hard slap on his buttocks and a strong push in the van. He heard the doors close and felt a handcuff quickly fasten his hands to a steel bar in the van. He could hear the women laughing saying, "You are our slave bitch now, there is no escape, and you have no idea all the ways we are going to use and abuse you! My dear you are going to pay dearly for anything we feel you did wrong or inappropriate – like that hard erection you have right now!".