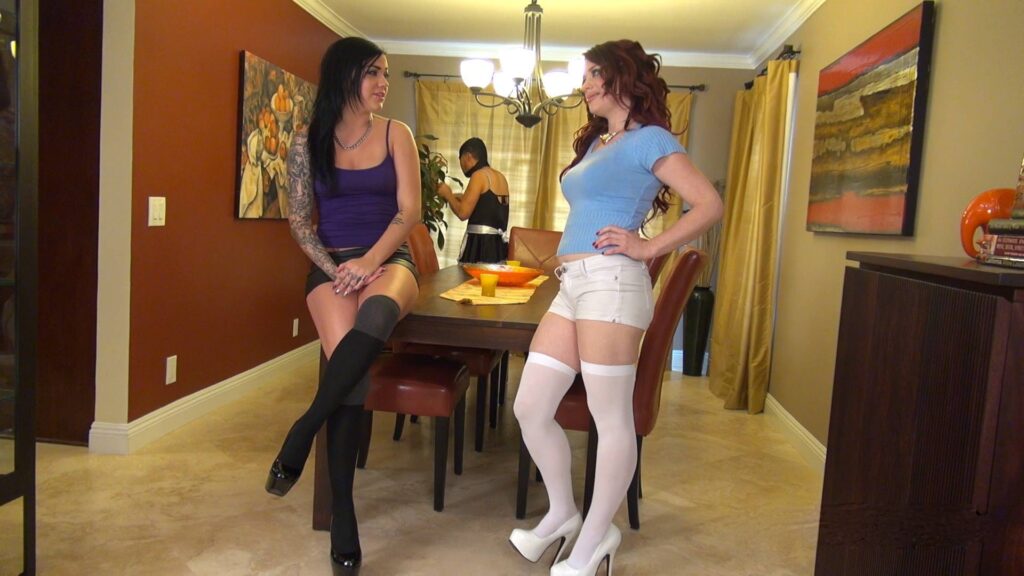 A Typical Day In A Cockold Lifestyle
I live a cockold lifestyle and am completely dedicated to serving my Mistress. Today, I woke up an hour before my Mistress as expected to start preparing her breakfast. As I was preparing her breakfast I dropped a plate in the kitchen and scurried to clean up the mess scared she would wake up and see that I've been a bad boy. Thankfully, she didn't wake up from the noise and came down at her normal time.
She was greeted with her favorite omelet, some toast, orange juice, and the newspaper. I proceeded with licking her feet and thanking her for granting me the privilege of her presence. Out of nowhere she yells at me to get naked and spanked me for not having a plate for her friend that was on his way. I had no idea this friend was coming and immediately started to make her friend a plate praying I could have it prepared before he got there. I feel very lucky that I live a cockold lifestyle and I am able to serve my Mistress's friends too.
Mistress's "Friend" Arrives
Unfortunately, I had no such luck preparing the meal on time as I noticed a tall, broad-shouldered man walking through the door. I crawled to him asking if there was anything I could do for him. He just chuckled and spit on me. My Mistress had me lick up his spit while she was telling him about my tiny cock that is referred to as a cocklet (being as its not really a cock just a small replica). She then told me to stand and show him.
Embarrassed, I did exactly as she said, and they both broke into laughter. I was then told to punch my cocklet for him as I did jumping jacks while they continued their conversation. The guy asked Mistress if he could record me to get a laugh with his friends and of course, she complied.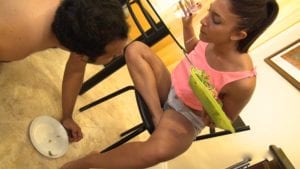 The Masculine Man Humiliates Me
As I was being recorded, I did more things for their entertainment such as licking up chewed food off the floor, having the masculine man ride me like a horse while he whipped me with his belt, and clean his boots with my tongue and toothbrush. They made sure I rinsed the toothbrush in my mouth and said thank you every time I was given the chance to taste the ground he walked on.
After the video was done Mistress told me to take off his pants and see what a real dick is (I thought it was a monster instead of a dick). She told me to suck it for her, however, he wouldn't let me unless I licked his ass first. I was more scared to tell him no then my Mistress. So I did as I was told before choking on what I would venture to be 10″ long and almost 2″ wide cock. His cock got hard as I was licking his ass which he used to force down my throat after I was done licking his ass.
Mistress Receives The Pleasure She Deserves
My Mistress laughed as I gagged on it over and over again. Eventually, she ordered me to stop and undress her so I can watch a real man give her an orgasm. I felt so bad at that point knowing I could never give the only person I wanted to see happy a real orgasm but I was grateful to hear her gasp and scream while he was holding her legs up, fucking her hard. She had me lick her clit as I watched this giant monster-sized cock stretch her out.
I enjoyed the taste of their love more than I can describe as she was cumming over and over again. He said he was going to cum as well. I asked Mistress to let me cum and she told me to cum on the floor, (which I managed to do before he did) and to my surprise, he came in the same spot. He started recording again and they had me lick his monster-sized cock clean thanking Mistress for the privilege.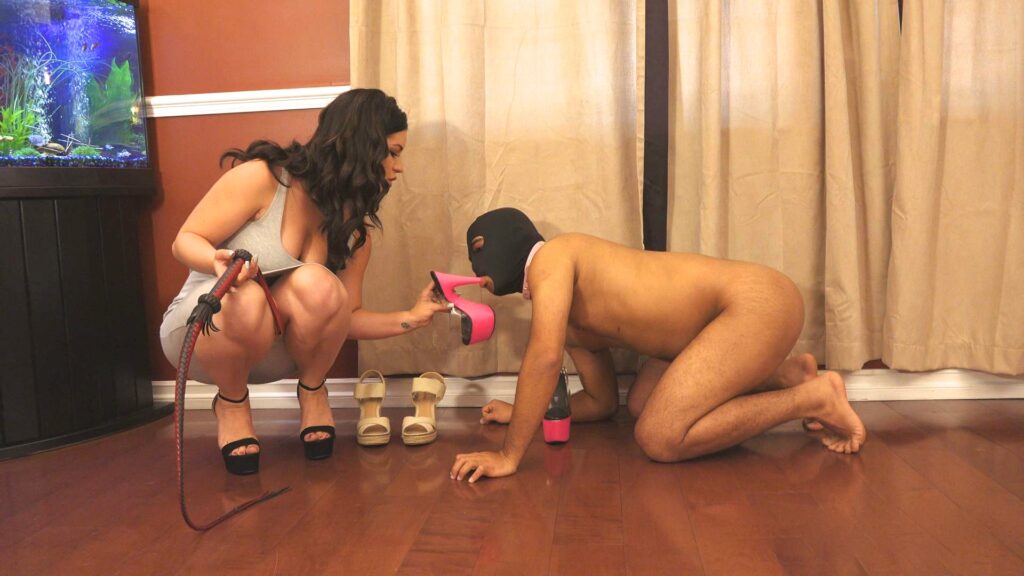 Mouth Full Of Cum and Spit
After he was satisfied with my cleaning, I kissed both their feet and then was ordered to clean up "our" mess. I licked the first drop of cum and swallowed which didn't make Mistress Happy. She spanked me and told me not to swallow anymore but still clean it up. When I was done I had a mouth full of cum.
I walked around the house on my knees, mouth open trying to keep every bit in my mouth. All of a sudden, Mistress orders me to stop moving, sit there and savor it so I never forget why I'm a slave and what real men do. They both spit in my mouth till it overfilled letting me finally swallow. She decided to tie me up and put me in a dark closet where I sat for almost 2 days since she was completely satisfied with me and didn't require my services for the moment.
[amazon_link asins='B01B38M7QC,B0784SBML6,B0195XMTLU,B010JW3T5G' template='ProductCarousel' store='shopandco20-20′ marketplace='US' link_id='28da4537-b038-4e21-a948-70ec757ac3eb']