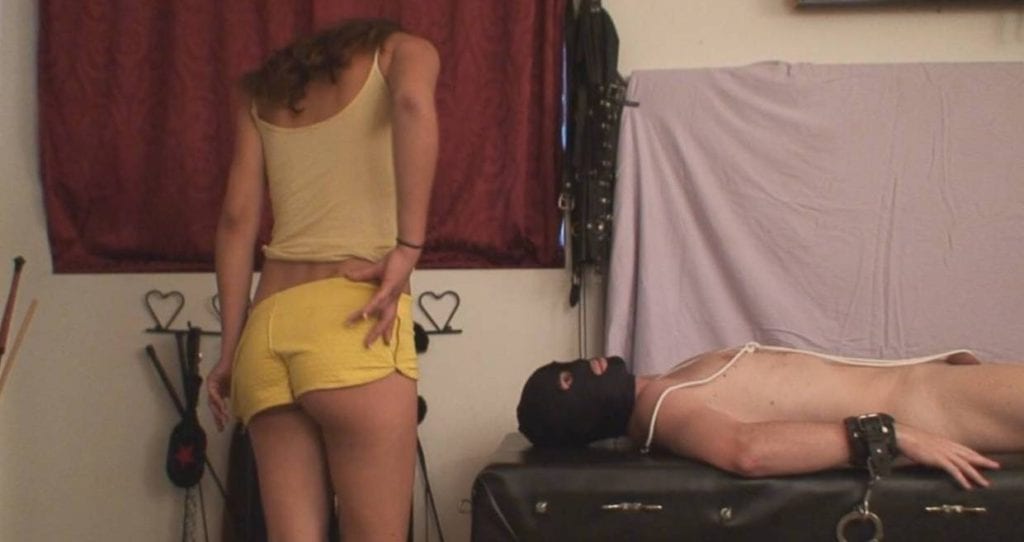 Bondage was for my submissive everything he needed to stay hard for hours until one day it was not enough. Mistress I want to try something else, please. Being tied up feels great, don't get me wrong, but how about adding some danger to it? It seemed that he was getting bored no matter what I did with the ropes. I listened and the tone of his voice was smooth but determined; he wanted more!
I let him finish talking and we went out to dinner after the conversation was over. Days passed, weeks passed and on a Thursday morning, I sent a message to him asking him to meet me at my place at 8 pm. Mistress, are you ok? I have never invited him to my place so he was completely surprised. Yes boy and don't be late.
I was wearing white lingerie, a matching bra, panties, stockings, and very tall heels. The bell rang at exactly 8 pm and as soon as he came in he kneeled to kiss my shoes, holding a bottle of wine in his hand. May I say something Mistress, he said. Yes boy. Tonight you look outstanding Mistress, thank you for the invitation to join you here. You are welcome, boy.
Now go to the kitchen, open this bottle before it gets warm and pour 2 glasses boy. When you are done, come to the leaving room. Yes, Mistress. Music was on when he came with the 2 glasses of wine and sat by my side. Take your clothes off and sit on the floor, I said.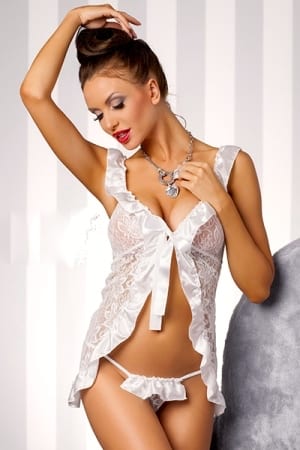 A submissive never forgets his Cock Cage.
As soon as he took his underwear off, I saw he was not wearing his cock cage. Where is it? I said in a loud voice. Did you bring it with you? No Mistress, I didn't think you wanted me wearing it tonight. Mad was not the word to describe how I felt, I was furious and he noticed. He knew that I could be very nice when I was happy, but also cruel and insulative when I wasn't.
Drink your wine boy, you will need it! Please forgive my stupidity Mistress, it will not happen again. Of course, it won't happen again, I said as I put one of my heels deep in his mouth for him to stop talking. After finishing my wine I gave him the glass to fill it but this time only for me. I saw his legs shaking while he was walking to the kitchen, he was scared and I loved it.
He came with my wine and kneeled on the floor without saying a word. I was in no hurry; the longest he would be on his knees ignored and waiting, the better. After an hour or so, I commanded him to follow me and lay down on the massage bed I have at home. I bondage him, used cuffs on his legs and arms, a ball gag; and before covering his eyes I show him the big sharp knife I had beside the bed. Now, he couldn't move, talk, or see and his cock was as hard as a rock but he was sweating. The scene was perfect.
A good Mistress always plays mind games!
I started walking around the bed singing the song that was playing. When the song ended, I drank some wine and passed the pointy knife through his chest. Who has been a bad boy? He didn't move or make a sound. I raised my voice and repeated the question. Who has been a bad boy? The best he could with the gag ball in his mouth, he said I have and I am sorry.
Are you scared, my boy? He nodded. Do you know I can do whatever I want with this knife and you can't defend yourself while you're in bondage? I can even cut your balls or this useless uncaged cock of yours. He started moving, trying to set himself free. So I put the knife on his balls and said, If I were you I would stop moving or I can cut you by mistake little one. He didn't stop so I made a tiny incision to make a point and he froze.
He was afraid, shaking, sweating; but also his balls were full of cumm and his cock was as hard as a rock. I passed the knife all around his body, his face, his neck and when I was done I took away the blindfold. I wanted to see the fear in his eyes. He stared at me and I saw passion, excitement, fear, hate, admiration, and love; altogether. I took the ball gag away and asked if he had anything to say to me. He said no Mistress and breath deeply.
I put away the knife and played with him until he exploded in my hand. I have never seen that amount of cumm coming out of his cock. Since that day, every time he sees me carrying a knife he instantly gets hard.