Blindfolded, bent over, and bound to this leather-clad bench in nothing but my birthday suit. I can't help but wonder if I made the right decision.  I mean, She was stunningly beautiful and seemed incredibly smart, but…could this really be what She meant back at the bar when She suggested we go back to Her place and fool around?  I'd like to think that I am as adventurous as the next guy, but somehow I am beginning to feel like we just went to eleven on my one to ten scale!
I feel the cool air on my naked back flowing across my bare ass and legs as my smooth chest starts to sweat against the leather.  I feel so vulnerable…so exposed.  My mind is racing with thoughts of fear, excitement, and anticipation behind the inky blackness of my blindfold.  "How long has She been gone?"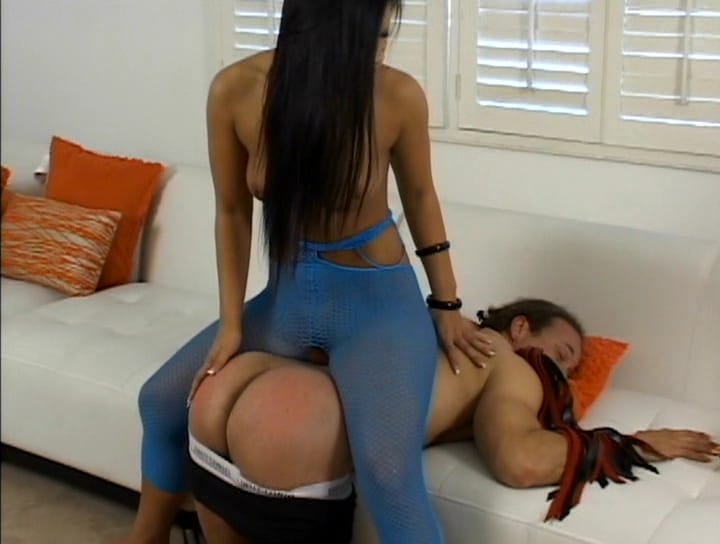 First meeting
I wondered to myself.  "She does have really nice legs and really nice boobs!"  "What if She just splits and leaves me here," I thought…as though that were the worse thing that could happen.  "Maybe She'll untie me when She comes back and give me the best blowjob ever for being such a good sport" or perhaps "She'll laugh out loud saying this was all a joke then we'll roll around on Her dungeon floor and make love all night", says the foolish optimist inside me.  I feel my palms begin to sweat.  "Calm down," I told myself, "She said She would let me up if I asked", I started to relax a little.  
Just then I hear the sound of Her footsteps in those 5″ heels that first got my attention back at the bar as She enters the room. 
Excitement is Building!
My cock begins to twitch against the leather bench and I can smell her perfume,
She asks in a tone that says She couldn't care less as She walks up behind me.
 "As I can be, I guess," I say. 
Just then I feel Her hand come down hard on my exposed right butt cheek.  I instinctively jump feeling my wrists and ankles pulling against the leather restraints as I let out a yelp.  
"When I ask you a specific question I expect a specific answer."  She says.

 "Now, are you comfortable?" She asks again. 
I respond affirmatively and She begins to gently stroke my right butt cheek with Her bare hand. 
Just as I begin asking exactly what She has in mind here tonight I feel another slap in the same spot, this time a little harder than the last. 
Leather Restraints
Again I jump and feel the leather restraints holding me in place as I let out another yelp followed by a loud "Hey!"  
I hear Her giggle and while She is asking
I feel another hard slap in the same spot.  Again I jump, let out a yelp, this time I am actively struggling against the restraints to get free. 
She lets out a laugh and tells me to stop struggling as She once again begins to gently run Her hand over what must by now be my reddening right butt cheek.
 "Don't speak unless you are spoken to.  Do you understand?"
 I start to relax a little and again reply in the affirmative as I begin to enjoy the cool softness of her hand against the warm hand-prints on my ass. 
Do you really have something to say?
She asks me if I have something to say to which I reply
"YES, in fact, I do please let me up…where are my clothes?"
 She starts to laugh again and says to me that She will of course remove the restraints…if that is what I really want.  
I hear Her walk around to the front of the bench. She places my face between Her ample breasts resting my chin in Her cleavage and then assures me that I won't be hurt…badly and that I will definitely get a chance to relieve my swollen balls tonight if I do what She says.  If I ask to be released then everything will stop, I will be released and our evening will be over immediately.  She asks:
"Would you like me to release you?". 
Release you or continue?
Now, I am kind of freaking out a little but my cock is also really hard. I'm not quite sure what She has in mind, but I know I don't want to leave just yet.  Telling her I would like to stay and She responds with
"good, I was hoping you'd say that!" 

"The first thing we need to do is to take care of all that noise you're making!"
and with that, I feel a ball gag inserted into my mouth and strapped to my head.  She asks me to nod up and down and shake my head from side to side.
After I comply, She tells me that only one side of my ass is red and that She needs to "even it up" before we can get started. 
Paddling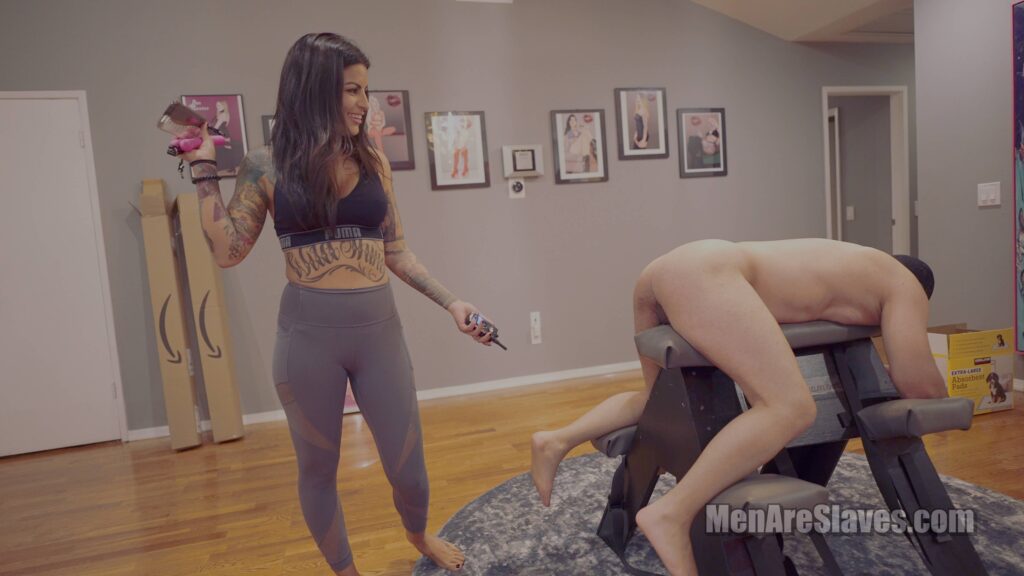 I'm wondering what difference that makes when I feel a sharp sting across my left butt cheek, this time it is not Her hand but some type of leather paddle. 
I jump and then start to squirm in anticipation of the next one when She barks out
I feel Her left-hand land in the small of my back to steady Herself as She proceeds to just start paddling away at my behind with this thing until my cock is just rock hard and I am just grunting and straining against the straps that hold me down. I finally let out a muffled scream through my ball gag.  
Gagged: Do you want to be released?
She stops for a moment and I can hear Her breathing, She asks:
"Do you want me to release you? Nod up and down if you want me to release you".
 Now, I just wanted Her to stop for a minute because my ass felt like it was now on fire. However, I really didn't want to call it quits altogether. 
So, I took a deep breath and shook my head back and forth and she immediately laughed. She began to swing away at my backside again.  I was so confused…my ass was in pain…my cock was rock hard…I wanted Her to stop…and to keep going too.  The sound of each slap became more acute in my ears as the paddle whistled through the air. Only to land squarely across both of my ass cheeks dispensing this exquisite pain. 
Hard Cock, But Can I take anymore?
When I was convinced that I couldn't take it anymore and I was about to scream again. Suddenly She stopped.  I could feel the coolness as She ever so gently brushed the back of Her hand across my red, swollen flesh.  She was breathing harder now, each hot exhaled breath stinging me as it bounced off of my tender, sensitive skin.
 "That's better!" She said.
I could tell She was smiling when She said it.
She reached down and began to massage my hard cock.  I'm thinking to myself "finally!" as I begin to relax again and let out a low guttural moan.  By this time the ball gag is starting to get a little loose from all of my flailing about and saliva has started to drip out of my mouth. 
Moaning
She hears me moan and asks:
 I try to respond but end up making sounds like I am choking and just making a mess. 
She reaches up to my mouth and wipes up some of my spit into Her hand. Then begins to stroke my cock faster using it as a lubricant.  After a few minutes of this along with Her whispering in my ear, coaching me along. She asks me:
"Are you ready to relieve these balls?"  
By this time I am a hot mess with my ass red and swollen. I am bouncing it up and down what little I can against my restraints as I desperately try to move my cock through Her hand just a little bit faster. 
Please let me cum!
I start nodding my head up and down furiously to let Her know that I am indeed ready and to please let me come right now.  Then I suddenly feel Her let go of my cock.
An involuntary whine comes out of me as I hear a voice in my head scream "What are you doing! Don't Stop!"  I am right on the edge.  I can feel my throbbing cock swaying back and forth, the normal airflow in the room now feels very intense against my flaming hot ass and hard cock as I can feel my spittle drip from my balls. 
Whimpering Sissy
I begin to whimper as I feel Her grasp my smooth balls in Her hand already wet with my spit.  She tugs lightly at first and then a little harder and I let out a moan, suddenly I feel her squeeze a little harder than I probably would have liked, and repeats: 
"I asked you if you are ready to relieve these balls!?!"
She said this in a voice that sounds like if I had said that I wasn't She would rip them off of me right then and there. 
At that point, I felt a tear literally squirt out of each eye as I practically broke my neck nodding up and down and grunting as fast as I can "Unn Huhh! Unn Huhh! Unn Huhh!"  Then I suddenly feel Her let go of my balls and I hear Her walking out of the room.  I collapse onto the leather bench that I am bound to in a sweaty heap.  At this point I am not sure why She left or where She was going, I am just glad that She let go of my balls.
Rubber Glove
A few minutes later I hear the sound of Her footsteps in those 5″ heels as She walks back into the room.  I am trying to recover when I notice that She is behind me and I can hear Her…doing something.  It sounds like glass…maybe unwrapping something but I can't quite figure out what She could be doing when I feel Her grab my still hard cock and slip a condom over the head.  I'm thinking to myself "well it's not exactly how I pictured it but hey, however she wants to ride my cock is okay with me!"  
Then I hear the unmistakable snap of someone putting on a rubber glove.  I feel my body begin to tense as I ponder what She could be up to back there. Then I felt the rubber glove over Her hand gently brushing over my bright red butt cheeks. 
Clenching my Cheeks!
I immediately clench my cheeks together and She lets out a giggle and says to me:
"Just relax…you said you wanted to relieve those balls didn't you?"
 I launch into a verbal protest but with the ball gag in my mouth, She can't understand a word…nor does She want to.  She just says to me softly:
"Shh, it will be more fun if you don't fight it". 
I'm thinking "don't fight what! More fun for whom!  
As my thoughts race through the possibilities, I find myself feeling more vulnerable than ever.  I feel Her start stroking my cock again and gently playing with my ass. Occasionally grazing past my anus and after a few minutes, I begin to relax again.  As soon as the tension leaves my body this time I feel something warm and wet slip slowly but deliberately into my asshole. 
Knuckle Deep!
It was Her middle finger and before I knew it She was in up to the knuckle.  I felt my asshole clench down hard. She told me to relax as She started twisting it around inside of me.  
I was starting to feel uncomfortable when I just felt her finger rub up against something deep inside me that, dare I say felt good.  I let out another moan and She started massaging that spot back and forth. 
I couldn't believe what I was feeling.  It was like She was rubbing the tip of my cock only I could feel it deep in my ass.  She was still stroking my cock but they are slower, more deliberate strokes now.  Suddenly I feel like something is coming out of the head of my cock.  I'm not having an orgasm…but there are thick gobs of cum dripping out my cock into the condom.  
"This is amazing, She is milking me like some kind of barnyard animal!" I thought.  Then I realize…while it feels really good, it is not the same as cumming.  In fact, after a while, it becomes increasingly frustrating because I start thinking "I just want to cum…I am right there…if She would just…go a little…faster…I…could….arrghh! Just fucking stroke it already!"  This goes on for thirty minutes or more until She is convinced that in fact, my balls are empty. She removes the heavy condom from the head of my cock.
By this time I just wanted out of this contraption so that I could jerk myself into ecstasy.  I am willing to do just about anything to get out of it when She starts telling me.
"What a good boy you are!"
Obedient Slave
"You have been so obedient, I want to give you a treat before I release you."
 I hear Her grab what sounds like a bowl and as She stands in front of me. I can smell fresh-cut strawberries.  
"Open up sweetheart, you need your strength after that workout.  Open your mouth wide and stick out your tongue".
I willingly open my mouth just wanting to get this over with. Expecting to taste a fresh-cut strawberry. She proceeds to empty the condom I just filled into my open mouth.  She quickly holds my mouth shut. She grabs my nose and begins to laugh telling me:
"You had better swallow if you want to breathe!".
 I hold my breath for a few seconds, but her laughter gets to me as I am running out of air. I reluctantly swallow my own cum.  She squeals and tells me again that I am a good boy before finally releasing me.  I can't wait until She will see me again.