It was on a business trip that I ran across one of the most sensual and erotic Mistress I'd ever encountered. She was blonde, about 5'9″, had a great figure, and showed it in her form-fitting business suit. Unusually high heels adorned her feet.
"I said, would you like to join me?" she repeated.
I didn't answer, just picked up what I had and moved to her table. Her name, she said, was Catherine and she too was staying at the hotel for the week. She said her company had sent her to train employees on a new accounting procedure.
"So, how do you like your job?" I asked.
"Yes, I like training," she responded, "but I prefer doing it on a more personal basis."
"I know what you mean," I said. "You like dealing one on one."
"Yes," she replied. "And on other things besides accounting."
Personal instruction with Mistress Catherine
Catherine suggested we go back to her room for a nightcap. We'd just got nicely settled in when she brought the conversation back to training.
"Have you ever had any personal instruction?"
Based on the content of our chat so far, I had a pretty good idea of what she was talking about and, taking the plunge, responded:
"I had a Mistress for a number of years."
"Good! When was your last session?"
I told her that my last experience had been about eight months ago. She sat quietly for a moment or two, then told me to go into the bathroom, take off my clothes and wait for her call. I had just hung everything up on the back of the bathroom door when I heard her call,
Naked and on my knees in front of Mistress Catherine!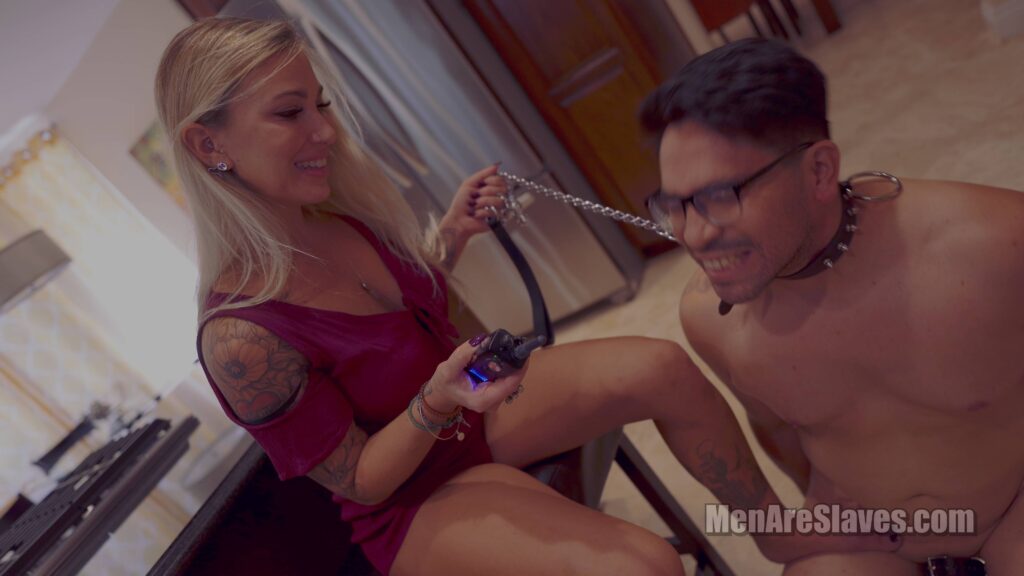 Naked, I approached Catherine where she sat on the king-size bed. She no longer had the look of the independent business lady. Now, her dress was off. In its place was an erotic display of lacy underwear, from a red satin bra through matching panties and garter belt. Black seamed stockings, four-inch spiked shoes, and black leather gloves completed her wardrobe. Beside her was an assortment of toys ranging from cuffs, a collar, short chains, connectors, and a black cat-o-nine tails.
"On your knees," she demanded. "Lick my shoe."
Lowering my head, I ran my tongue all over the patent leather pump's surface. She took the black leather dog collar and fastened it snugly around my neck before snapping on a leash.
"Well, from this point on, you're going to do exactly as you're told. You're nothing more than my little animal. And little animals need training."
Beginning of my training
You'll address me only by answering "Yes, Mistress" or "Thank you, Mistress." Any questions, slave?"
She had me extend my hands toward her, slipped and locked the cuffs onto my wrists, and then picked up her whip.
"Bend over, slave. You've already disobeyed me. Now your training begins."
My ass in the air, my face on the floor, I felt Catherine's whip across my ass as I heard her berate me for answering her question in the negative.
"I'm enjoying it. In fact, I love the way your ass meets my whip. And I love the way the strands splay over the whole area. We've got two more to go. Shall I make them nice and hard?"
"I just knew you'd agree," she said, as she took a step back and raised her arm.
Now tensed. I screamed.
"We can't have that," she said, "although I love hearing you scream. Just stay where you are a second and I'll get a little gag. You've got one more coming and I want both of us to enjoy it to the fullest."
She held the tip of a four-inch rubber penis to my mouth and told me to lick and suck it; to make it nice and wet. Then, she slipped it in my mouth to the max, tying the straps at the back of my neck.
"Here's the last of your 20."
I braced myself. The 20th lash slammed down over my ass. I screamed again but this time the rubber cock buried in my mouth muffled the sound. I mumbled the count and a thank you. Afterward, she told me I could get back up on my knees.
At her feet!
Sitting on the edge of the bed, Mistress Catherine removed the cock gag.
"Is it better without my cock in your mouth, slave?" she asked.
Kneeling, my chin on my chest, I responded,
"Well, we can't have your lips and tongue not doing anything. Press them to the toe of my shoe and hold that position. Don't lick my leather until I tell you."
"Yes, Mistress," I said, and stretched face down before her, planting my lips on the toe of her shoe.
I couldn't see what she was doing but soon Mistress Catherine began squirming. I felt her wriggling and whimpering.
I wanted her domination of me to go on and on and on.
A moment or two later, I heard her say,
"Oh, yes. I love playing with my little love button after whipping a slave. I love it when he's at my feet and worshiping me, groveling on the floor before me. And I love bringing myself off knowing he's down on the floor with a huge erection, burning up with desire for me. Oh, yes… I love… I love it."
She moaned, yanking on my leash making it taut as she orgasmed.
A moment later, I heard her command,
"Put the leash in your mouth and crawl over here, slave."
I moved towards her. She took the leash from between my teeth and, with her other hand – in gentle and knowing movements – fondled my cock and balls. My erection quickly returned to full glory.
"Play with it for me, pet. Show me how much you love your Mistress. I want you to cum for me. I want you to cum all over my beautiful shoe. And I want to see lots of it. That's it, pull it. Make love to my beautiful foot and shoe, the one you've been kissing and licking all night long. Are you ready to cum for your Mistress?"
"Yes, Mistress Catherine. Please, please let me cum."
"Then do it. Shoot your juices all over my foot and shoe. Don't spill a drop on the floor."
I pulled my cock faster, feeling the wonderful physiological sensation of compulsive milking even as the body tried to hold back emission. Moments before I ejaculated, Mistress Catherine whispered,
"After you cum, slave, you know what you'll do then, don't you? That's right, you're going to lick and swallow every drop of it from my beautiful shoe. Cum, slave. Cum for me."
I stayed on my knees even after my sexual fulfillment because I wanted her domination of me to go on and on and on.