I am a member of a small group of dominant women that I have collected over the years. Most of the women in it practice what I think of as a softer female domination. However, one of the women is on a similar path as mine. She wants to reinforce her male's surrender through steady physical discipline and frequent humiliations.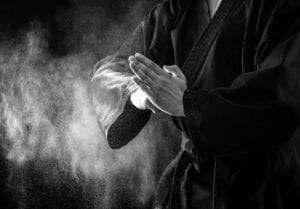 Last weekend, she invited me to her home for "Femdom gladiator games". I'm sure you've read about women doing this. I enjoy it. She has a clear private space in her backyard that would serve as our arena. Her original idea was the tried and true testicle tug of war. I'm sure you've seen pictures of this. Two subs are attached by a rope tied to their testicles. We would stand behind our subs with crops to encourage them to pull. The loser has to perform fellatio on the winner.
 I admit that the idea turned me on but I vetoed it. My sub, Butler, has only a decent amount of pain tolerance but he is very competitive. My man might damage himself to win. I still have use for his genitals.
 As an alternative, I suggested a wrestling match. I promised my friend Janis a humiliating experience for Ed, her husband. What she didn't know about my servant is that Butler is a gym rat. I have allowed him hours each day to stay in shape. For years he has gone to jujitsu three days a week and Krav Maga on the alternate days. I have observed him on the jujitsu mat. It's interesting to watch. For a while I thought of humbling Butler by forcing him to wrestle a stronger man but watching his workouts I realized that I would need an expert. Also, losing is something that happens several times each day in practice. It's difficult to describe but practitioners roll around until one of them has a hold that disables the other wrestler. The loser admits this by tapping the other person on the shoulder. This happens so frequently in practice that there is no longer any shame attached to losing. Each loss seems only to be a learning experience.
 I gave up the idea of having someone humble him in this fashion. I don't think it would hurt his feelings even with me present. He knows who he is and who he is not. However, my friend's sub had no such history. Losing in front of his Mistress to an older and slightly smaller opponent would be humbling.
The Femdom Gladiator Game
 It was exciting to sit in our chairs and watch the two men. Butler still strips well. He is almost as lean as the day I met him. His opponent was easily thirty pounds heavier. He had a hairy body with a big chest and heavy arms but he was not as fit as Butler. I thought I knew the outcome but I wasn't sure so it was still exciting to watch.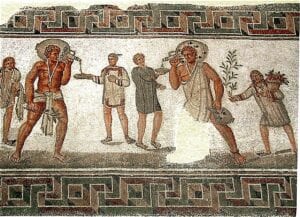 We sat in our chairs, drinks in hand, while we urged on our servants as they rolled on the ground naked at our feet. Soon, they were both covered in sweat. I watched Butler carefully. He was following my instructions about keeping the match long. His opponent was trying to pin him as if he were in college wrestling. However, being on the bottom of a wrestling match did not seem to be a problem for Butler. He does this for hours every week. After a lot of grunting from both men, Butler entwined his legs around his opponent's neck. In seconds it was clear by the color of Ed's face that he had lost.
 My friend, Janis, berated her slave and demanded a rematch. Soon they were at it again. I'm not an expert but Butler seemed to be in full control. A couple of times I saw Butler completely relax at odd moments during the bout as Ed kept straining. Finally, Butler had his legs around one of Ed's arms and pulled it to a hyperextended position that ended the match. I could see the anger and frustration in Ed's eyes. He seemed to think that Butler was cheating somehow or merely getting lucky.
 It was the final match. My friend demanded that her slave win it. I admit he tried very hard. Both men were filthy with sweat, dirt, and grass. Ed was breathing hoarsely. Butler was slick with sweat but he seemed relaxed as the bout started. He now knew his opponent's abilities. There was a long struggle for grips at the beginning. Ed refused to begin to start until he felt he had an advantage. Finally, Butler pulled him on top of himself and they were at it hammer and tongs. My friend was screaming encouragement to her slave. She was threatening
punishments
and promising favors if her slave was victorious. However, she could see what I could also see. This was a hard but not unusual workout for Butler. Ed was trying very hard but he was physically finished. After a few minutes, Butler squirmed around on his opponent's back and wrapped his arms around Ed's neck. Ed had learned how to surrender earlier. He hung on desperately but soon he had to tap Butler on the shoulder or he would have lost consciousness.
 Janis became very still. Ed was lying on the ground gasping for breath completely exhausted when Butler struggled to his feet. I could hear Ed's ragged breathing. No one said anything until Janis spoke to Butler, "Put your foot on his head." Butler glanced at me before obeying. I nodded and Butler obeyed.
Ed curled into a ball. I could not tell if he was hyperventilating or sobbing. He had tried very hard and he had expected to win. I could feel the tension. This, I knew, was the moment when my friend would be tested as vigorously as her slave. She walked up to him and after a brief pause kicked him in the buttocks. "Get on your hands and knees, dog!"
 I relaxed. She was maintaining her posture. She continued to berate him for losing. Finally, she told him to crawl into the house and lock himself inside his dog kennel. Watching her man enter the house she turned to me beaming. "Damn, it worked just like you said it would!"
I motioned Butler into the heel position which is on his hands and knees beside me. I balanced a drink on his back. He knew if it spilled I would punish him severely. I noticed that his arms were still trembling with effort. Janis and I sat and enjoyed the rest of the afternoon. Later, I questioned Butler about his victory and how he felt about it. I didn't want him to feel manly. He told me that the entire afternoon frightened him. He knew I would find many ways to humble him. He knew it would soon be his turn. Being a member of a coven gives one ample opportunities.
He's correct, of course.
More adventures can be found in my book, Finding Love Through Female Domination by Renee Lane. Find it on Amazon Books.  We also have a movie in process. Buy the book and sign up for movie updates.  Watch for a confirmation email form my producer. She won't send kinky emails unless she knows that you really want them. http://artvamp.com/femdomfilm/