A Sissy Bitch Doing Household Chores
I am a sissy bitch now. My owner's mistress is a very rich and merciful lady who demands obedience and servitude. I have to prove myself as a sissy bitch by following my femdom wife's protocols. It is a challenging task to behave like a dog and not like a bitch. Never have I fantasized about being a dog to my wife just her sissy bitch.
I woke up very early this morning and did all the household chores naked only wearing my jewelry. Now I wear anklets on my wrists. I am a sissy bitch on four legs. I wear fake nails on my hands like claws, a nosering with a chain, a butt plug with a tail, and a funky drop bellyring. The chastity cage is obvious as there is no option to remove it nor do I even want to. I was about finished with my chores right as my wife woke up.
I immediately got down on all fours and barked shaking my tail. She looked at me and started smiling. Her smile made me happy and gave me butterflies in my stomach. "Shssshh!!" She said and threw a ball at me. Without hesitating, I ran and brought it back to her. She caressed my face and said, "A little more improvement is needed." She brought a face mask and put it on me. It was made of satin and fit me perfectly. Unfortunately, my nosering was hidden inside but a pet bitch must be happy with the owner's wishes.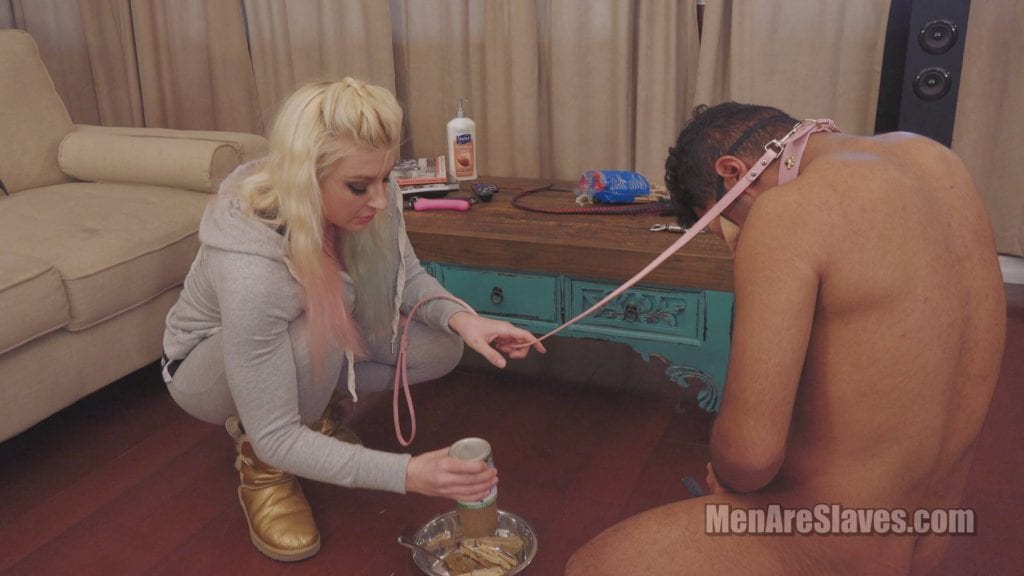 The Pet Bitch At Home
She attached my belly ring to my cock cage which made it hard for me to stand. I immediately gave her my leash. I followed her everywhere she went. While we were on our way to her bedroom, she removed the belly ring from the cock cage so that I could finish my chores and ordered me to fetch her heels from the bedroom. I brought them with my mouth. I dipped my lips in leather oil and rubbed my lips on her heels to polish them. Even though her heels were shining, I was unable to keep my mask clean which caused her to punish me with 10 hard spanks on my ass.
As a sissy bitch I am personally responsible for making my wife happy. My body aches as I walk on all fours half the day but my wife is happy and enjoying the pain I go through. My purpose in life is to satisfy her at all costs. I love being her pet bitch as now I am permitted to kiss and lick her feet without any restraints. My wife does not take me outside as we keep this part of my sissification a secret. I am a sissy slave in public and a pet bitch in the bedroom.