My Request For Female Domination
My relationship with my beautiful and charming wife was normal until a year ago. It was three months after our second honeymoon that one night, without hesitation, I told her that I wanted her to dominate me and be her slave. The day I told her that she brushed it off but a few days later she asked me why I would want to be dominated. Aside from my fantasies, I told her that it's my way of showing my love for her. I wanted to offer myself to her indefinitely. She took it positively but didn't respond like a Mistress would respond to such a request.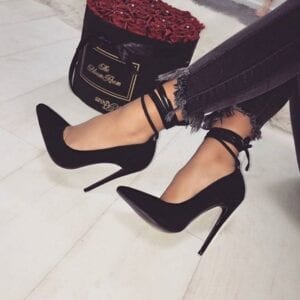 It was Sunday afternoon when she ordered me to get her black stiletto heels from the closet. I immediately look for her heels, polished them in front of her, and sought permission to put them on her feet. She smiled and gave me permission. No more orders after that point but I was happily waiting for my next chance to serve her.
My Wife's First Command
When she came home that evening from the party, I offered her a glass of water while she was relaxing on the sofa. "My shoes," she said. I surprisingly look at her. She commanded, "remove my shoes". It was like a dream come true for me. With respect, I kneeled down in front of her and kept her feet on my lap, and removed her stilettos. I was waiting for her next command when she said "I do not agree with your fashion sense, a slave needs to be naked or dressed like a sissy, you may choose how you want to be dressed". I preferred being a sissy maid but I asked her "Can I not wear sissy maid dresses?". She laughed deviously like she had plans for me.
I had no clue of what was to come next but I smiled in agreement that I was ready to follow her every order and we can explore her dominant side together. Now with a strong voice and smile, she commanded " Remove your clothes." I did so with extreme pleasure and surprised that my dreams came true. She slapped me hard for not removing my underwear. I loved her slap, but kept calm and did as she wanted to wait for her next order. "Go and get my blouses". Ahhhhh!!, I sighed. I was happy and eager to follow her commands. She slapped me again and said "From now on you will wear my skirts!" I did this without any hesitation. Wearing a blouse and skirt made me feel girly but this was only the beginning of one of the craziest sissification stories.
Accept Me As Your Sissy Slave
I was certain she took the time to research feminization and read sissification stories by how easily she took to emasculating me. "How about some nice jewelry to go with that blouse and skirt?" I nodded yes and she said, "Go get my anklets, my full-length bangles, waist belts, earrings, and golden hair clips!" As I was going through this transformation I felt like I was being hypnotized by her.
Every part of my body was ready to serve my Mistress. I promptly brought all the jewelry she requested and wore the most feminine, prettiest necklace on my neck. "Can you accept me as your sissy slave, I will do anything you tell me to do?" I asked. She smiled and said "Now I know what I have to do with my slave.", I shivered at her response and excited that it would be better than any of my erotic fantasies. I loved this sudden change in my wife.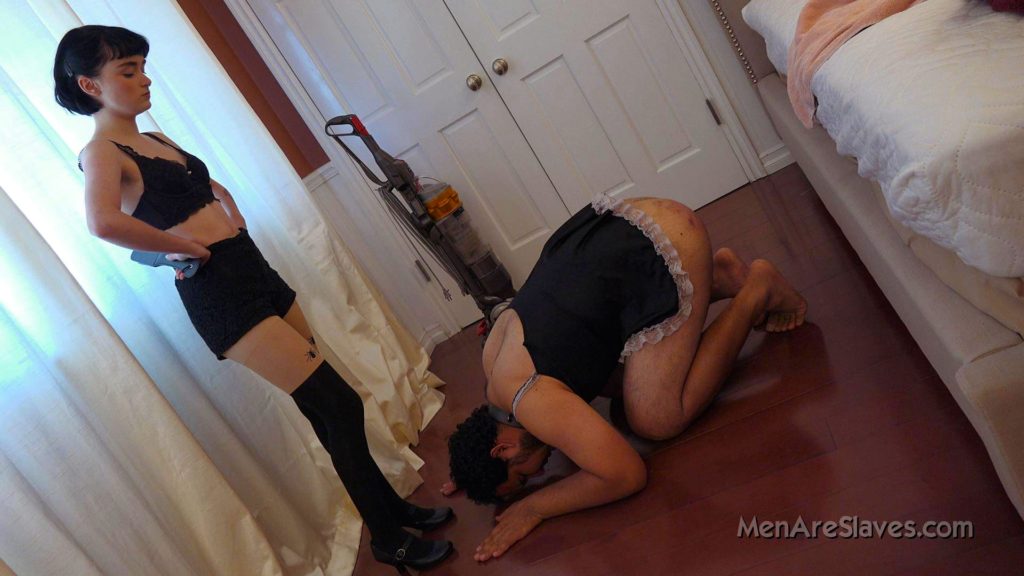 The Nose Ring As A Sign Of Ownership By My Femdom
"You have to wear a heavy nose ring as a sign of slavery and follow my set of rules," she said. But for me, wearing a nose ring was a problem as my nose was not pierced. My simple request led me to increased responsibilities and wearing a heavy nose ring with a designer chain linked to it. The nose ring was one inch in diameter and with the chain attached to it, it would give my wife better control over me than a collar and leash around my neck.
I happily agreed to wear a nose ring as I was enjoying my sissification by my beautiful, charming, dominant wife. "What are the rules I need to follow?" I asked. "Whatever I say. If I say "dance" you say "what type of dance". Don't be in hurry to show your submissiveness, I will take it out of you." she with a confident smile. "You need to do the chores you are given without hesitation," she commanded.
The List Of Commandments
My Mistress defined the following chores for me to do.
1) Wear four-inch stilettos, my femdom wife's short dresses, jewelry, and nose ring at home as a sign of submissiveness.
2) Prepare breakfast and clean the house.
3) Organize and choose matching clothes for her to wear every day.
4) Behave like a couple in a normal, vanilla relationship in public until instructed to do otherwise.
5) Kiss her feet.
6) Adhere to her orders or be punished accordingly for disobedience.
7) Repeat 108 times a day that "My femdom wife is my supreme commander and I am a sissy slave of her orders."
8) Read sissification stories every day
My D/s Relationship
Since the day we started our femdom relationship, I have been a happy slave to my wife. My wife enjoys having an obedient slave like me even though she punishes me regularly. I love her punishments. It is much better to have a femdom wife like her than be in a vanilla relationship. She always smiles when she looks at me which is the greatest reward a slave can receive.
Initially, it was a little difficult to follow the rules, but with a few snaps of the whip, she put me in line. Later, the punishments became more erotic in nature. I love this way of life so much that I have developed a fetish for nose rings and stilettos. Now every day my wife puts on my nose ring and I put her stilettos on her feet as a symbol of my love and submissiveness to her. There is nothing better than being a femdom wife's slave.