The night I met Jordan I was wearing a corset, a jean, and black leather boots. It was a student party, and I didn't want to go, but my roommate begged me and she was new at this college so I agreed.
It is rare that I wear my leather boots but somehow I felt like wearing them that night…
So I pulled out the short mini and boots, put on a corset-like top that made my boobs look huge, and off we went.
Now, Jordan, you must know, is this really handsome corporate type, and I had seen him once before at a club of all places. He looked out of place at the party.
Jordan and I exchanged obligatory flirtatious glances, and I found that my roommate was off with a cute little New York thing, so I went over, towering in my 5-inch heels, and sat on the couch next to corporate Jordan. I wondered if he had ever heard of Slave Selection's profile. I decided not to bring it up.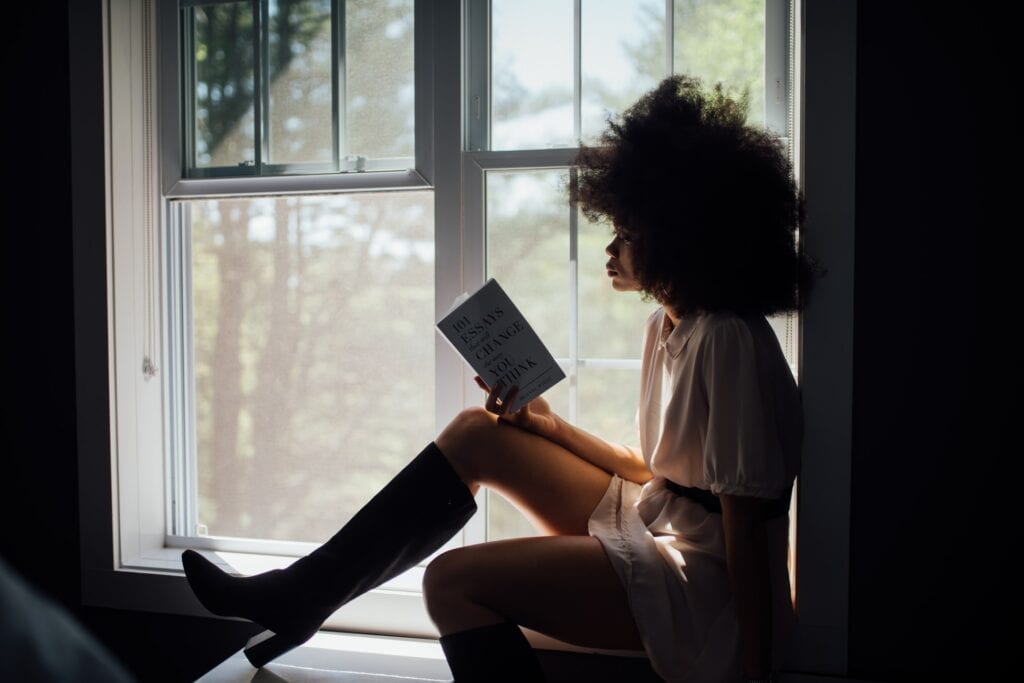 Jordan had a nice look to him – and a good body. When he smiled I noticed he had great teeth, and that's important to me. So I put out my hand, wearing elbow high leather gloves, and gave his palm a squeeze that meant business.
"I'm Jennifer," I said. "And I want to see your tongue on my boots."
Mind you, I don't usually come onto men like that. But something came over me that night. And there was something about the look of him and the way he seemed so out of place yet IN place.
I just wanted to see that tongue of his all over my black leather boots, I wanted to see him on his hands and knees. I wanted to see if other partygoers turned to look.
Jordan blinked at me, lowered his head a little, as if not sure he heard correctly and then leaned over to take my leg in his hand, probably to lift it to his lap.
"I don't THINK so," I said to him, smirking. I pointed a single gloved finger to the floor. Indeed, it was clear, he could not just put my leg in his lap and lick (and get a good view up my crotch, I am sure); no, he would do it as a slave should. On the floor. Hands and knees. Exposed.
I guess I was in a mood after all.
Bootlicking, to be honest, was never a big deal for me. But sometimes it just hits me – it's a combination of my mouth-fetish (I love to make men lick, suck, kiss…and I love to watch them do it to objects) and my humiliation drive. When both hit at once, the result is the sudden overwhelming desire to see a man licking my shoes.
I'd stand there, legs spread, and watch his tongue go to work. He would start with little circles at the top of my foot (I trained him well), eyes closed, and I'd see the emerging shine.
That's when my pulse would start to go. Seeing that wet spot, his sweet pink tongue making circles, those same circles I loved to feel against my pussy, round and round my clit. He should turn his head to the side, properly so I could see his tongue working. All over the top, slowly, then up toward the laces.
You cannot believe the precision and strength a man must develop in his tongue to be able to manage it. Such patience, and precise movement, the exact use of pressure. Now, it does not take a rocket scientist to figure out what other benefits come from such a skilled, patient tongue. Does it?
I have small, delicate feet and trim legs. When they are encased in black leather boots, they look even tinier, and the boots themselves are extremely tight, hugging my muscled calves and riding all the way mid-thigh. And then there are the heels — long, spiked, extremely phallic.
And that was long, deep sensual thrusts, letting the entire heel slide into his mouth. "Good boy," I would encourage, but never move my heel – it was up to him to do all the work.
While my foot was up slightly, weight on my toes, he would have to reach around and lick the undersides as well, all the way up to the arch, which was quite a task, and even dangerous considering the sharpness of the spike and proximity to his face. But, he was elegant and balanced.
Jordan, it became apparent, was a total bootlicking novice.
First, his attempt to put my boot on his lap, then, he made the fatal error of blocking my view with his head.
He was, however, on his hands and knees, so that was a good start. "Honey," I said, politely but firmly, my hand on the back of his head. I gave him a solid shove to the side. "Turn your head to the side, totally, so I can see your tongue ON my boots. I want to see you licking, I want to see your tongue moving on the black leather, so I know you are not missing a spot."
"There's an awful lot of ground to cover here, " he said, and his eyes, worried, looked up at me. I know what he was thinking – he was thinking that if his tongue had to come in contact with every inch of my boots that we would be there for some time.
"I guess you're right, Jordan," I sympathized. "It'd take a good hour for a beginner like you."
He nodded, earnestly, almost looking relieved, still holding my boot delicately in his hands.
I smiled. A big, warm, sparkling Femdom smile. "In that case, I think you should go get me a drink first. I wouldn't want to have to interrupt you once you got started."
If it were not a public party, I certainly would have masturbated. I probably would have talked real dirty to him to, to really get him going, telling him to lick like it was my pussy, push his tongue like it was my ass, to suck my heel like it was my dick and to nuzzle my feet like they were my breasts.
Instead, I smiled and watched the timid novice, enjoying my champagne, ignoring the little mini-audience that had gathered.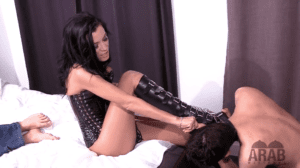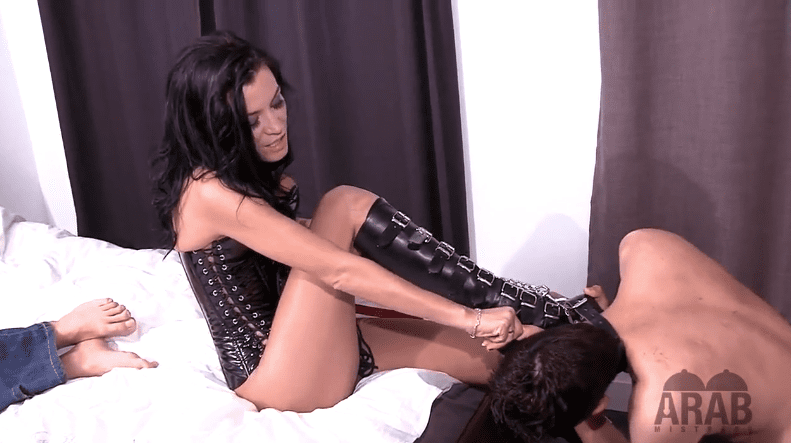 It was about halfway through my left boot that he lifted his head, the poor thing had sweat on his brow. He said, weakly, "I need a drink, my lady. Please."
Always the accommodating Domina, I smiled, leaned over, and took his chin in my gloved hand. My hair was hanging down in little strands in my face, dark curls surrounding me. I pursed my lips, teasing, just close to his face. Then I sipped my drink to tease him, to taunt him, to show him what he wanted so badly.
He let out his breath and a whimper, looking at me desperately. When I took his chin and tilted his mouth up to mine I think he actually thought I was just going to kiss him.
But I pried his lips open, wider, and wider, then opened my mouth and let the champagne pour into his mouth from mine.
He coughed, shocked, and it splattered me a little. New, I pondered and had a lot to learn. But he swallowed, said his thank you, and before he could get spoiled being upright on his knees I shoved his face back down.
I won't go into every detail of his bootlicking lesson, but it lasted almost the entire party. I made him wash his mouth out with mouthwash then gave him a kissing-torture session in a dark corner, sitting on his lap, making him hold his hand between my legs (but not touch, just feel the heat), and kiss my open mouth while I dug my nails into his balls without warning, just to hear him yelp into the kiss.
Hidden that way, turned a little toward him with the crowd mostly gone, I was able to get my hand between my legs and bring myself to orgasm. Stifling the moans, I found myself once again soiling a perfectly good pair of leather gloves.
"Have you licked enough leather tonight, slave boy?" I hissed, and I blushed a little as I saw him look at my flushed cheeks, enamored at the orgasm he had just witnessed.
"I…I'm not sure," he said.
I took my leather finger, wet with my sex, and slid it into his pursed lips. His beautiful eyes closed and he sucked sweetly, savoring the taste of leather and pussy.
It was nearly 2 am, and my roommate was behind me, her hair all messed up. "Jennifer, are you ready?"
Jordan held me as I tried to get up. "Wait, " he said. "Will I see you again?"
I just smiled at him. I smiled, slid out of his lap, wobbly-kneed, and post-orgasmic, feeling odd like I was on stilts because the boots felt so high suddenly.
"I'll call you," I said, watching his big eyes follow me toward the exit…
I never called him, I will admit. And I do feel a little bad about that. But it was a party, after all, and we were just having fun.
Maybe I will call him. Sometime. Maybe — just maybe — he will be as good at bootlicking.
I do know this. My boots, the next day, looking brand new. He'd even licked the bottoms clean.