My Beautiful Mistress; Who is Always full of Surprises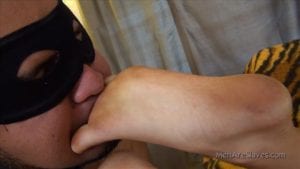 "Hello my beautiful Mistress"
"Hello Slave"
I was about to ask her about the new stuff she bought online when she grabbed my jaw and put a ball gag in, restricting my ability to talk.
"Shh, be quiet. I want to try my new toys on you." She giggled and licked my cheek. "Now don't move"
I sat still, trying not to shake with excitement for my beautiful Mistress's new toys. She hadn't told me what she'd got, just that I would love them.
She returned in her black leather outfit and made me strip down. Then she tied my hands and feet to the four posts of her bed, all the time stroking her hand over my body, avoiding my penis every time.
She put a blind fold on me and left. "I'll be back in a minute slave."
The Wait
All I could do was sit and wait, again, but this time I was excited and if I wasn't under control, my body would be shaking.
The first thing I heard was the noise of her high heel boots clacking off the wooden floor. She came over to me and I felt something long and hard run along my body from my foot to my chin.
I knew instantly this wasn't the normal rods mistress would use, if felt like there were many and they were softer. All of a sudden there was a crack as these 'rods' hit my stomach. After the years of experiencing pain, I had learned to control my pain but my beautiful mistress didn't like that so I let my pain show with a yelp.
Blindfolded Bliss
I felt mistress pull my blindfold and I instantly knew what this thing was, a flogger. We had never used one of these before and I was excited.
"Did you like that slave? This is my new toy to use on you"
"Yes mistress it's amazing"
"Good because you'll be seeing a lot of it from now on"
She hit me on my exposed penis and then ran it along my cock. She continued to do this until my penis was as red and angry looking as a bull in chase.
"Do you want to cum now slave?"
"Yes beautiful mistress, please"
"Well good luck because I'm only getting started"
She reached behind me and pulled open her drawer. I know she keeps all her toys in there because she's used them many times on me.
Fox tailled
She pulled out her butt plug with a fox tail attached. By this stage, I didn't need live any more my ass was that accustomed to these plugs. She teased me by rubbing it on my cock and balls and around my ass before forcefully shoving it in my ass up to the tail. I instantly felt the pain and pleasure build up and nearly cummed right there.
Next, she sat on the bed beside me with easy access to my penis and took out my ball gag. I sucked in a big breath of air and then she put her foot to my mouth.
"Suck on my toes slave"
"Yes beautiful mistress, anything for you"
My Beautiful Mistress: Anything for You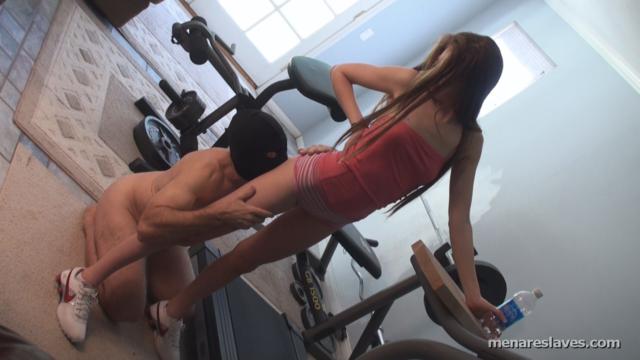 I eagerly started to slurp up her toes and sucked on them and kissed the soles of her feet as she hit my penis with the flogger and stoked it with it. As I sucked her toes, she denied my wish to cum three more times before getting up.
She went over to the end of the bed and squeezed my balls. She then hit my penis with the flogger one last time and pulled the plug out. I cummed instantly, all over my stomach and the bed.
"Good boy, if you clean all this up maybe I'll let you eat with me tonight"
"Thank you my beautiful mistress, you're too kind"
by: AidzMn