The First of Many Submissive Training Session – Part 2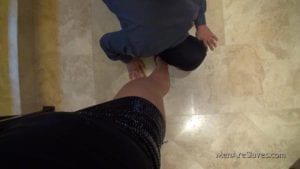 My submissive training now continues. As I was leaving Jen at the table, something was telling me that I would return. So many thoughts were going through my head. But deep inside I was excited. I could not put my finger on it, but I felt a warm feeling in my entire body. I had always had a thing for powerful women. When I met a beautiful and confident lady my knees buckled. Maybe it was because I subconsciously wanted her to take control over me. That was exactly how I felt right now. And it felt good, actually so good that I never wanted the feeling to go away. I knew that this may be where I wanted to spend my life, and I would certainly not say no to this opportunity.
Submissive Training
On top of that I was happy to spend time with Jen. She was gorgeous and I knew I would not be disappointed. Then there was the session where she had promised both pleasure and pain. I had fantasized about meeting a dominatrix, and I was very eager to live this experience. I showered, got ready and returned to the main lobby in no time. As I walked into the bar I could see Jen standing at the counter talking to the bartender. I waited until she saw me, and then I walked over.
"Matt, I'm so glad you could make it. Come on, I'm parked in the back."
She led the way through the lobby and out the back. She pointed to a black Cadillac parked next to the door. Once seated in the car she handed me a pair of sunglasses.
Dressing Room
"I need you wear these until I tell you. In my profession I must insist on discretion. I hope you understand."
The glasses were complete dark and also wrapped around in such a way that it was impossible for me to see anything. I had no idea where she was taking me, but after some time we arrived. I could hear a garage door open and we continued inside.
"Here we are. You may remove the glasses now."
I followed her through a door into small hallway. She opened a door a walked downstairs to what I guessed was a basement. As she turned on the lights I could see that it truly was a very well equipped dungeon.
Prepping is Important
"I want you put your stuff over here in this cabinet. I will go upstairs to prepare myself as well. You shall remove all your clothes and jewelry and wait for me over there on the floor. I expect you to be on your knees when I come back. From now on, you do not talk unless I tell you to. You do not do anything unless I order you to. And one last thing, I'm not Jen, I am Mistress. You will do good to remember this."
"Yes, Mistress."
"Lovely, I hope that you are not just eager to serve me, but a start to embrace your future."
Serving Jen
When Mistress Jen came back I was completely ready, both physical and mental. She came up behind me and I guess she was holding short whip or cane. She let it wander up and down my back. After leaving me in suspense, I could sense that she moved up closer right behind me.
"Well, well, well. What do we have here? Is this just another horny guy that is ready to get what he deserves? Or is it possibly a man that is ready to take his first step into submission. What will it be, answer me."
"Mistress I am ready. I will follow your lead."
Following Her Lead
"If you are sure you are ready, I will begin. If not, here is an opportunity to stop and walk out of here. Now If you decide to stay you cannot get out until I'm done with you. So if you want to leave, you should stand up right now. If you want to stay you must lower your head."
Without any hesitation I followed her command. She leaned in over me and placed a collar around my neck. I heard it locked with click.
"Now we can begin. This collar is equipped with a very powerful Taser that with maximum power will not only hurt like hell but make you unconscious. I have the control right here so if you try anything I will not hesitate to use it. I may also use it at a lower setting to motivate you when I see fit."
What Not To Do:
"You should also know that if you try to remove the collar yourself, it will automatically trigger the max shock. Rest assured that I will not use this for anything but my own protection. You will be perfectly save here with me. Now that I know that you understand how important it is for you to obey my commands, I want you to stand up."
She placed leather collars an around my wrists and ankles. She then spread my legs apart and locked a rod between my ankles. Finally she locked my wrists together behind my back.
"Ok. I have you exactly where I want you, and also I believe that I have your full attention. Is that so, my sweet surrender?"
"Yes, Mistress."
Restrained
"Fantastic. Since you are restrained and completely safe, and you have been such a good boy so far, I am going to tell you what this submissive training program is all about. I think you will learn to love it. And remember, you are only in the beginning and you will have more chances to jump off if you think you should. I truly hope you will stay on and get the full experience of my submissive training. I hope you are excited, are you?"
"Yes, Mistress. I am excited, I realized that I do have a submissive side. Thank you for helping me discover it. Now, I am eager to see how you can further enhance my behavior."
"Wow, You Just made my day. You will not regret this moment. To start with this introduction session is just a little appetizer.
Now Enjoy It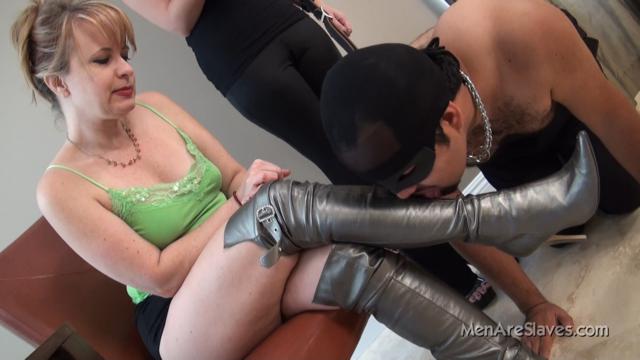 I'm sure that you will do great and allow yourself to fully embrace the situation you're in. I will use and abuse you in every which way my sexual fantasy is craving. And you should know that I have a very dirty mind. When the session is over you will be free to go, and I will arrange transportation back to your hotel."
"At that time I'm hoping that you have found out who you really are, and that you would schedule your return to start the full program. If you do we will begin a very comprehensive submissive training. This will take a minimum of 4 weeks and sometimes longer. So you need to make arrangements for practical details in your life. We will begin as soon as you can decide on a date. The submissive training will reinforce all your already existing feelings of being submissive."
Understanding Submission
"It's important for you to understand that I cannot make you into a submissive person against your will. However, my submissive training will not only enhance your submissive side, it will at the same suppress any dominant notions from your behavior. You will become a completely submissive subject that will live to serve a mistress. And talking about your future mistress. I have a large group of wealthy females that are lining up to get their hands of one of my trained subjects. And these ladies are compensating me very well. At the start of the training you and I will review some of these ladies. I know what they are looking for, but I'm also giving you an opportunity to see if there is anyone that interests you. I will consider your choices, but in the end I will make a decision based on the best possible match.
She is the Decision Maker!
My decision is final and I will from that point customize the training to make sure you are ready to exactly meet the expectations of my customer. The needs vary which is why the training may vary as well, both in content and duration. When I know you are ready I will present you to your new owner as a slave. Your old life will by then be long gone and you will now live the rest of your life as a slave. So now you know all you need to know. That should give something to think about while you start your initiation in to your new life. I'm sure all this will make your head spin, and hopefully in the right direction. I have a feeling you will come to right mind and make a good decision. Also when this session is over I will allow you to discuss this some more."