Finding and Keeping My Mistress as I Transition into her Cum Slut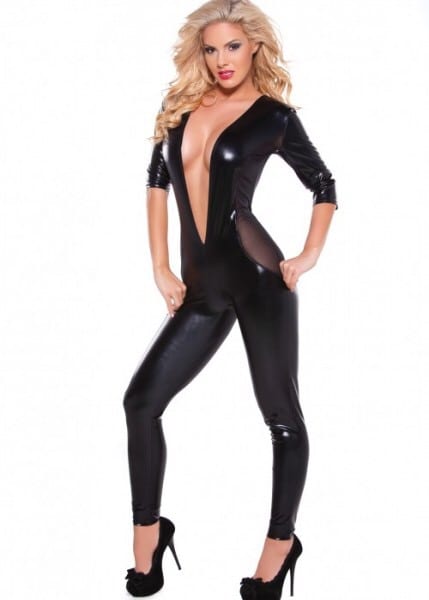 As I find myself kneeling here at the foot of Mistress's bed, waiting with great anticipation, I catch a glimpse of my reflection in Her full length mirror.  I see long blonde curly hair, perfect makeup, full red lips and a studded pink collar. Then moving my eyes down the reflection, a hot pink fishnet dress covering a soft pink balcony bra with little B cup titties and large perky nipples and a hot pink thong. Feeling a twinge down deep inside me as the image captures more of my attention.  I see the soft pink stockings and the 5″ clear heels and for a moment. I remember that I used to wear business suits and play softball with my buddies.  As I wait for Mistress, I begin to reflect back on just how I wound up here.
The Party
We had met at a party in North Hollywood on a Friday night of a three day weekend last summer.  I was there celebrating with some friends of mine and I spotted this absolute Goddess from across the courtyard.  After a few drinks I walked over and tried to impress Her with my bravado. Seeing that fail I tested Her sense of humor.  Lucky for me She liked to laugh. One thing lead to another and we starting seeing each other a few times a month.
We would go out for dinners and sometimes to clubs and most times we would end up in bed.  At first things were just great.  I am well endowed and I like to go down on a woman and I have been told that I am skilled. 
Less Intercourse More Intimacy
So, it was not too surprising when we started having less and less intercourse and more and more of me just laying on my back while She rides my face to orgasm.  Eventually, She even stopped jerking me off afterwards, but She always came hard and I really enjoyed being so close to Her while She was in the throws of ecstasy.  
One night, after Mistress came really hard and practically covered my face with Her juices, She slid down and slipped my hard cock all the way into Her soft, wet pussy.  It had been quite a while since She had allowed me inside Her so when She bounced all the way up and down a few times I was not too surprised when my cock started spurting thick, hot streams of cum into Her.  It had all happened so fast that before I could even catch my breath She slid back up to my face. 
Keeping My Mistress Happy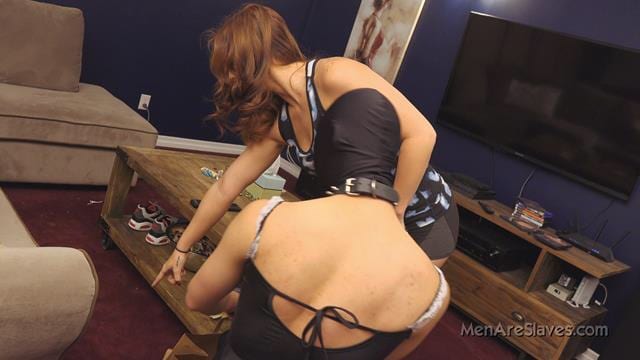 Standing over me and with a stern look in Her eyes and what I could only describe as a sinister grin crossing Her face, She said "now lick it!".  Between the tone of Her voice and the way She commanded me, I found myself instinctively opening my mouth and sticking out my tongue.  Mistress lowered Herself onto my open mouth, as my own hot sperm began dripping out of Her pussy.  While eating my own cum is not my thing, She looked like She was really enjoying it and She did just get me off, so I figured I would just try it to please her…or so I told myself at the time.
Grabbing me by my hair and pulling me towards Her, She starts grinding Herself down on my tongue and open mouth.
It's Always about HER
I hear Her start to breath harder, moan louder as She starts contracting Her pussy to squeeze out my hot seed. 
I can tell She is really starting to get into it when suddenly I hear her say. "Take it!…Uhhhn!…Yeah, eat that shit bitch!" and more and more of this warm, viscous mixture of Her pussy juices and my sperm runs freely into and begins to fill up my open mouth.  "Ohhh…Uhhnn…Yes! Umm…Swallow it bitch! Mistress said it with a tone of authority that I had not heard from Her before. One that I clearly recognized.  A tone that I used with my subordinates at work sometimes but NOT one that I was accustomed to hearing used with me and certainly not from Her.  She commanded me again, "I said swallow bitch!"  
Humiliation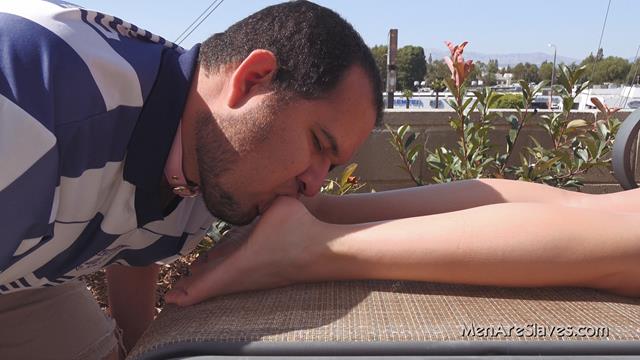 And with that She grabbed a handful of my hair, pulled my cum soaked face away from Her dripping crotch for a moment, looked me deep in the eyes and said "You do want to please me don't you!?!"  
My cock instantly got rock hard again as I found myself eagerly obeying Her commands. I was swallowing everything that came out of Her.  Mistress was plainly in control. As She started to ride my face again I felt Her grab my head with both hands. She continued to grunt, grind and moan.  All the while barking orders and calling me a "bitch" and a "slut" making sure that She would get from me what She needed.  She was using my face as Her fuck toy and there was nothing that I could do about it. 
The Climax
I was just trying to breath and not to drown in Her sweet nectar.  When She began to climax I felt Her pussy contracting really fast. Filling my mouth with Her squirt this time as I swallowed as fast as I could.  By this time I was almost in a frenzy trying to please her.  After two mouthfuls of her fluid I felt my cock start twitching uncontrollably. 
As I sprayed another load across my belly and hitting Her back, I could feel Her juices running down my throat, up my nose and down both of my cheeks and chin.  In an instant I saw Her true beauty.  She was lost in an expression of Her true self. 
Numb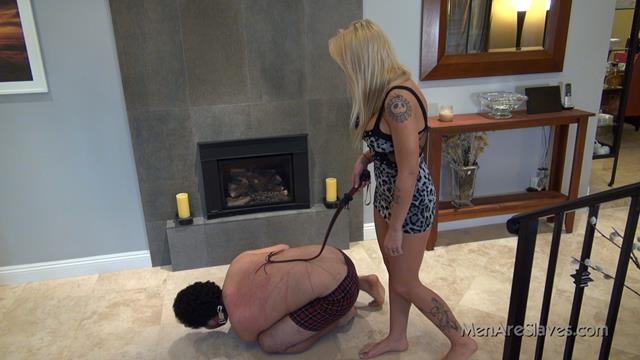 As I lay underneath Her, covered in our fluids, and acutely aware of my head and neck from all of the hair pulling and face riding. She had driven me to discover who I was and where I truly belong.  It was simply magical.
From then on our sex always involved Her taking control and Her feeding me cum. However intercourse was almost non-existent.  One day I came over and She said She had a present for me, but before She could give it to me I would "need to put this on". She handed me a pink male chastity device. I complained a little about the color and asked how long I needed to wear it to which She simply replied "Just until I say you can remove it." and She let out a giggle. 
Willing Cuckold
I willingly and immediately slid my cock into this cage for Her and handed Her the key.
She ordered me to lie on my back as usual, She told me "Open your mouth and stick out your tongue the way I like".  When She lowered Herself onto my face, my mouth was immediately filled.  It tasted different somehow and it took me a minute to realize it was another man's cum I was swallowing and not just Her juices. But by that time She had grabbed both of my ears and was not going to let go until She was licked clean.
Surprise!
She says "do you like your surprise my little cum slut!?!"  I began to struggle a little but She gripped my head tight as She rode my face. She then began telling me of Her huge black lover that left just a few minutes before I had arrived. How He was a "real man" and He "knew how to please a woman" and She told me of all the ways He fucked Her and came inside Her. 
I appeared upset afterwards but the truth is She saw how hard my cock was straining against it's cage. As soon as I realized I was going to have to finish it all.  I asked to be let out of my cock cage. She said that I "had been a good slut" but that She had a different idea…I left her place wearing the chastity device…and She kept the key.
Cage Humiliation
Each time I would come over I would ask to be let out of my cage. Mistress would say things like. "If you put on these panties, bra and high heels while you clean my black lover's cum out of my pussy then I might let you out".  Always wanting to please Her I would comply, but She would just laugh afterwards and refuse to let me out. And then increase the number of tasks the next time we got together.  
Fast forward to today.  Here I am, on my knees and happily dressed as Mistress's sissy cum slut.  I am anxiously awaiting Mistress to arrive with Her five large and very well-endowed black friends.  She says that She has another surprise for me tonight. That we are going to take my training to the next level.  I hope my training will go well tonight, I love to see Mistress pleased.