Find the man of your dreams, a submissive handsome man? You think it is impossible.
But first, what is the definition of the perfect man for you?
For me, as a dominant woman, the man of my life must be a submissive handsome man and hot with green eyes and brown curly hair. He must be tall and strong with some maturity. I really like when my boyfriend takes care of me and invited me to the restaurant. I want him to give me a lot of presents and do all the housekeeping, the cooking, and the shopping.
Obviously, he needs to know how massages.
I like when he tells me every day that he loves me and I am so beautiful. So are you still thinking that it is impossible to find a man like that?
But I can tell you it is possible and I found him. We have been in love for 15 years now!!!! So you can find the man of your dream too.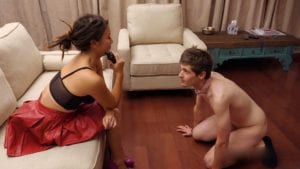 First, you have to know and understand that a dominant Mistress has all the power over men. You just have to be aware of that. There are so many submissive men all around the world who are looking for their Mistresses. This is the true reality. You have, probably, already met some submissive men too shy to ask you to be their mistress.
At the beginning of each relationship, when a man is wooing you, he acts like a good submissive man. He knows you are the one who has the power and the control in the relationship but after a while, because of your friends and your family and their perception of the submission/domination relationship, things can change.
You must stay the strong and powerful Mistress that he felt in love with. Otherwise, he would be frustrated, and finally, he could look for another mistress to serve. Just be the dominant Mistress, the strong woman who you really are, and allow yourself the ability to find the perfect submissive man to be your slave. Once you find him, be really rude to him and take control!!
Use him like the Slave that he is. Trust me if he is a truly submissive man, he will be very happy and very grateful to serve you. If you want to find a real slave, go on the website Slave-Selection.  You will have a large choice of submissive men ready to be at your entire disposal.