Sub Slave Finally Arrives At Mistress' Home
As a sub slave, I did as the letter instructed me. Maria, a shy Mexican woman, the cook, brought me a towel. She put an elastic band around my arm and withdrew two caps of blood.
"Poor man..you must be hungry. Sub slave, you can eat after I get my blood samples..I'll bring you a nice plate of good Mexican food..you like guacamole?" she asked.
"Yum," I said with a smile.
I waited for about 5 minutes and my stomach was grumbling. After a while, Maria came out saying,
"Mistress Dominique is ready to see you, sub slave."
The maid led me down a long corridor to a room where Mistress was waiting for me.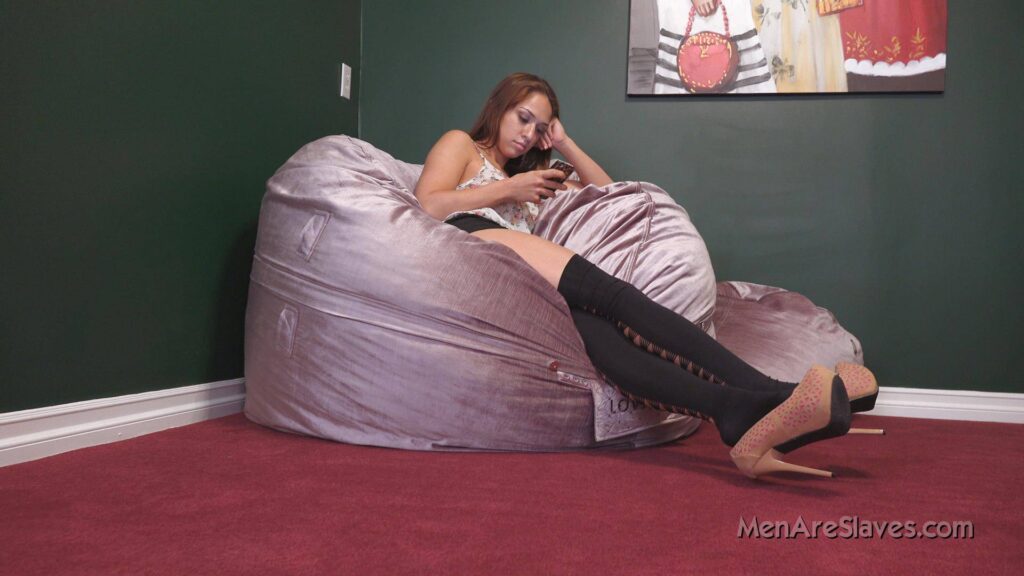 As I walked in the room, Mistress looked at me and said,
"Sub slave, take your clothes off. I see you have a chastity belt on. Ok..sub slave..I will give you a choice. You can remove your chastity belt, wank off and eat your cum. A generous offer I make on day one because the rest of your stay is all about denial. But before you decide slave, you must get down and lick my boots then beg me to let you cum. The only rules you need to live by are those of your Mistress and myself."
"Slave, You Have Two Choices: Cum Or Eat A Plate Of Food!"
"The second choice you have is that you get to eat a plate of food but no wanking off…which will it be? Remember sub slave, we are the sum total of our choices."
I begged her to let me cum while I smelled and licked her shiny PVC boots; they smelled like a new car…lol. She marveled and radiated a sunny disposition while I licked the tip of her stiletto heel. It was like the fragrant optimism of a woman that spent her days tanning or shopping on the elegant cobblestone streets of Cartagena, Colombia.
She unlocked my chastity belt and said,
"What does your Mistress tell sub slave… stroke but don't come without permission."
As I stroked my dick and licked her boots, she lost her balance and fell backward. She got back up but was visibly annoyed. Looking at my limp dick, she said,
"Choose.. but choose quickly slave. What will it be? Are you more horny than hungry?"
The only response I had for her was a blank stare.
"Another one desensitized by porn," she said. "You're such a pathetic limp dick. You're not a man. "You don't have a dick but a clitty. We will have to satisfy you in other ways. I've lost my patience for now. Continue stroking..envision me pegging you ..stay soft and I'll give you a reward."
"What Are Your Fantasies?"
What's your fantasy now slave..I know what it is," she said. There is no shame in those feelings. Your Mistress has told me about your kinks, your fetishes, and fantasies. Your wish to be a true submissive in the hands of a stern Mistress. Here slave..crawl over here, sniff my ass and beg me to let you lick it. Can you feel how soft and relaxing this is? You feel so good following my direction. Focus on my pleasure now. You feel as if you were laying on a cloud. A soft puppy cloud…."
With that word, I sunk into a hypnotic trance I couldn't wake from.
I don't remember much else but I know that her voice was angelic. Then, I licked her ass with a vengeance, floating aimlessly without a care in the world remembering also that Mistress Dominique fingered herself to orgasm, then left with her friend Herman and Elsie to go to a Polo Match.
"You're an awesome asslicker hubby subby," she said with a giggle before locking me back in chastity.
It was unusual to look forward to this  Journey in this blissful hacienda with Mistress Dominique and her team of tormentors, but hey Mistress is always right. It was not for me to Judge or cast any doubt on her intentions.
Integration Therapy Changed My Life
Her Intention was to reap pleasure and to use me and abuse me as she saw fit..to mold me into an obedient and compliant slave. She said while grabbing her car keys in her gloved hands, "Yes Mistress!" My real breakthrough came the next day during integration therapy when I was discussing my experience and emotions, I arrived at a realization of my true source of anxiety and once I encountered this it felt like the weight of a million worlds was lifted from me. Really the most incredible thing I've ever felt. It was sincerely like 100 hours of therapy lived in one moment."