Hi, my name is Mikie and a few years ago I met the most amazing woman who led me down the wonderful path to feminization.  We went on two dates when she asked me to come over to her place for a drink.  When we got to her apartment she closed and larked the door and then told me that she is in charge here and in the bedroom, got it.  I liked her so I agreed, not sure what it meant. 
She said:
good, now you will address me as Mistress Halaina , say YES Mistress.   

Go to the Bar over there and make us both a drink!
My first evening as a slave!
Mistress then put on some music and we had our drink and talked some.  When Mistress was done with her drink she said:
Then, she told me to stand up and undress and she had me put all my clothes into a bag and then seal the bag.  Then she gave me my new name Mikie. 
Mikie, go to the bathroom for a shower!
Once in the shower, she told me that I needed to shave off all that nasty body hair including my cock.  So I did and then after I was done she told me to turn around and bend over before I dry off and she proceeded to SPANK me. After about 10 spanks, she told me that I would obey or there would be punishments.  Then she handed me a towel to dry off and then she instructed me to step into silky panties and stated:
you are now my bitch and will do as I say!
She brought me into the bedroom and told me to stand at the foot of the bed, as she swept off her clothes and laid on the bed playing with herself.  After a little bit, she sprang from the bed and asked if she told me to get a hard-on. 
What!  Bitch you do not get a hard-on or touch yourself unless I give you permission!  Remember I am in charge!  
She then told me to lie on the bed face down, and I felt her slip my panties down a little and she threshed a butt plug in my ass.  Then she told me to pull my panties back up and get up.  Then she handed me a silky nighty,
put this on and you can sleep on the floor!
After few years, completely transformed into a "She male"!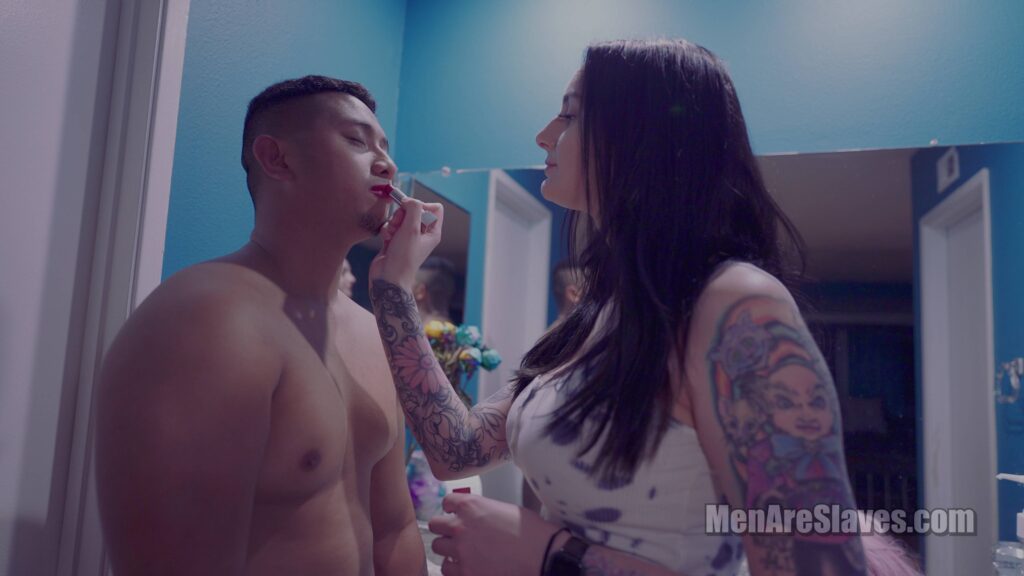 Over the last few years, I have come to accept my life in pleasing my Mistress.  I have been completely transformed into a She male.  My Mistress has friends over and she uses me to pleasure them and humiliates me which excites me the most.  When I am really good Mistress will Fuck me with her strap on and on days when she is in a really good mood she will have a friend or two share the strap on.  When Mistress brings home a Bull I MUST SIT AT THE SIDE OF THE BED AND WATCH THEM FUCK, then when they are done lick them clean and the Bull can not leave until he fucks me and cum in me multiple times.  After he is done there is no shower for me just to put my panties and nighty on and sleep on the floor. 
I loved my Mistress and am truly thankful that she showed me the wonderful, exciting, world of fem life,  I would do anything Mistress ask's and I do without thought or question.
Slave Mikie