Exploring Your Man's Submissive Side
There are a lot of men that have an overwhelming need to be submissive to a woman, especially in the bedroom. Dominating your man in the bedroom will not only spice up your sex life but it will create a stronger bond between you and him.
If your man is not used to being with a dominant woman in the bedroom, you may have to slowly introduce him to the power dynamics involved in a D/s relationship. Here are a few tips you can use to master the physical and psychological aspects of dominance in the bedroom.
Slowly Get Him Used to Your  Female Dominance In The Bedroom
If your man is an alpha male he may not be used to being dominated by a woman in the bedroom. You can start by giving him verbal commands such as asking him to do chores around the house. For example, requests such as, "Would you cook dinner tonight?" or "Can you take out the trash?" are good examples of subtle ways of exerting your control over your man while laying the foundation for female dominance. Once you've mastered these subtle commands, you can start becoming more assertive. Simple things like, "We are going out on a date Saturday night" and "This is what I want you to wear" are examples of commands that are more demanding of his service to you. Taking things slowly will ensure that he does not feel emasculated and try to regain control of the situation.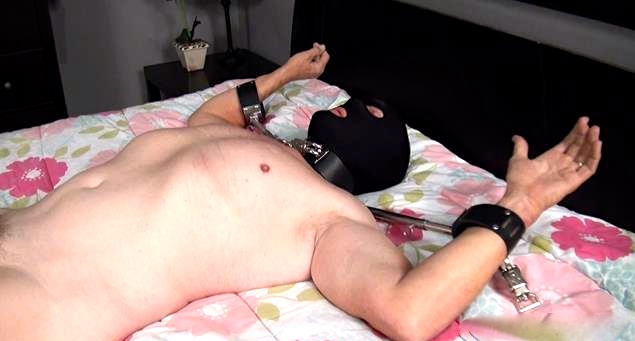 Once you've mastered these suggestive commands of female dominance, then you can start demanding more of him in the bedroom. I suggest wearing your sexiest outfit, getting him naked and begin using different forms of dominance to see what triggers him. Start with an erotic spanking and verbally humiliate him and declaring your superiority over him.
You can also use activities like oral sex and orgasm denial to further engage his submissive side. Telling him to "Bury your face between my legs and don't come up until I climax" or "You can't cum without my permission," are exciting ways of dominating him in the bedroom that both of you will enjoy. If he resists, you can pull back and incorporate a more subtle approach by asking him to slowly undress you and give you a massage with scented oils. The point is that you are in control during all the sexual encounters.
Physical Forms of Female Dominance
Sex positions are also a good way of exerting your Female dominance in the bedroom. Instead of your man being in a dominant position during sex you can try being the one in the dominant position. Sexual positions such as "cowgirl" or the "ride of our life sex" position where you are on top straddling him are excellent ways of physically dominating him. Being dominant doesn't necessarily mean being on top. You can try the "lock and key" position where you are on the bottom in a missionary style position but your legs are wrapped tightly around his hips. You elevate your hips towards him to control the depth of his thrusts with your hips. For some erotic foreplay, you can tie him to the bed with restraints.
Once he is tied up tease him by gently stroking his body with a feather tickler or if you want to be more aggressive you can spank him with a flogger. You can also act out your fantasies with him and role play scenes that are typically seen in power exchange relationships in real life such as boss/employee or teacher/student.
At the end of the day enjoy each other's company and have fun with it! Becoming a dominant female can be challenging for you at first but in the long run, it is a very rewarding experience. Female domination is a gratifying lifestyle for women and female-led couples who choose to be a part of it.