The Alley Wynwood
The Alley Wynwood Miami's only commercial dungeon/ fetish event space. Formerly known as Hammers & Nails Wynwood. We welcome you to enjoy yourselves in an atmosphere that really lets you play the way you want to. In the heart of the popular Wynwood area, the venue is 3400 square feet indoors and 800 square feet private outdoor area. Our large equipment features three St Andrew's Crosses, bondage table, medical tables, two suspension points, throne, star chair, stockades, cages, and more.
Venue proprietors Luis Moya and Betty Pickle are lifestyle/BDSM Professionals Whom are mature, educated, articulate, and firm believers in mutual respect and RACK awareness. They maintain and safe and clean play space with many exciting events and clinics. They believe in discretion and work to be of benefit to the larger BDSM community. Positive vibes ahead as these two are firm in Their desire to create and nurture positive energy exchanges.
 The Miami Domme Squad
The space is home to The Miami Domme Squad, a FemDom group of Mistresses who boast specialties such as shibari suspensions, bull whip and impact, bondage enthusiasm, feet, smothers, medical play, amazon worship, slave training and more. Although we are primarily an all latin studio, current Miami Domme Squad members; Mistress Natalia Sombra, Madame Fyre Rose, The Princess Hellion, and Betty Pickle range widely as hot Dommes of varying sizes, shapes, and ethnicities.
The Mistresses enjoy the space for the practice of BDSM and fetish arts in film, photography, and private sessions.
Meet the Mistresses of The Miami Domme Squad!
Mistress Natalia Sombra  shares Her experience, "I originally had my first taste of fetish when I was in college. I had always been curious, but it was my first public exploration. I would leave my college dorm covered up, maybe just fishnets and heels exposed and go out to the local fetish night at a nearby night club. I felt immediately at home. I loved the atmosphere. The dungeon. The people. I was comfortable. I felt "normal" and accepted.
Later on I started to attend munches, classes, learning from mentors- I just always wanted a part of my week to be devoted to this life. Without that I felt like I had my vanilla mask on too long. Fast forward 7 years and I'm still going, still evolving always growing.
How Mistress Natalia Adapted to the Lifestyle
This year I've gotten really into play piercing, it's a new thing for me to Top for and the experience is exhilarating! I love nothing more then to challenge myself and grow as a Dominant player. I've also been growing my own personal power dynamics, exploring total power exchange and what that could look like for me.
My old time favorite things are pretty much any form of impact play, specifically over the knee spankings, canes, paddles and my all time favorite the bullwhip. I'm a sadist, it's what drives me sexually but it isn't the only thing I enjoy- it's why I work to educate myself in any way I can. Sometimes I explore and find something I really love.
Key Holding and Chastity
 I just started key holding for someone and am loving the effect chastity has with tease and denial. More then anything I want to be the facilitator of erotic adventures. I like to push limits, confront the fear and navigate the scene. I take a lot of pride in a scene done well and a hard look at all the rest. BDSM has become such a huge part of my life, I don't really know who I would be without it at this point."
Madame Fyre Rose, "I am a new Mistress so Im still figuring out what My role is as an ebony FemDom but I have always been a person with a great interest in physicality. Im a natural athlete and very tall with a proclivity for the naughty things in life. When I see little men My mind gets flooded with ideas for ways I can play with them. It makes sense that I find Myself learning to be a Mistress.
This feels like an exciting new step for Me in life. People say Im muscular, I workout vigorously. I love to dress to the nines and I smile a lot. I guess Im something of a consumer, ya know? It's no different with My little slaves. They are so adorable I could just squeeze the life right out of them! 🙂
There's nothing I love more than allowing My little slaves to worship Me and shower Me tokens of their affection. They're so darn cute! Im really enjoying this supreme life that Im living. It feels like I was born to do this! :)"
Princess Hellion
The Princess Hellion, "Living the BDSM lifestyle came very naturally to Me at a very young age. I was literally born with paraphilias. Im a petite Mistress and am known for My insanely high arched feet.
I totally get foot fetish and am very sweet. I love the fact that people see Me as this petite and pretty Princess, which leaves them blindsided and trusting when My inner demon comes out to play. I love that people are totally unaware of My naughty side.
Ive always been like a big sister in pink who tricks you into standing on an ant pile. You'll want to watch Me very closely or you might find Me giggling while I torment you! Squeal! I love to whisper sweetly in your ear and then kick you right in the ball sack with My perfect little feet while giggling. I have always loved playing with boys, almost as much as I love the color pink! Boys are so silly and I totally get off on all the fun things I can make them do."
Mistress Betty Pickle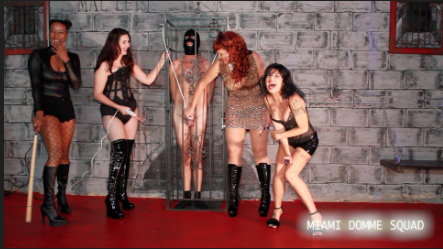 Mistress Betty Pickle, "My favorite things are bizarre. I have always loved playing with taboos. I think it's because at My core I don't believe in judgement and playing with sexuality as it relates to BDSM really provokes people to feel something that causes them to question their beliefs and stances. I am striving to perfect My own truths and actualize My inner being.
I was a very odd child and this lent to the tendencies I hold today. My first encounters with kink came from home. My parents were never aware of their kinks but it was obvious. Mom was a total Domme and Dad was a total sub. I think I was born Dominant too. A true alpha from birth.
Still I never wanted to be just like My parents, who does?!
This desire has caused Me to want to banish shame about My sexuality no matter how weird it might be. People say Im smart. I must admit I do get people and situations very quickly. I am reaching for a world where I can play with adult babies in openness and positivity. I have always liked blood. My self piercing started when I hit puberty. It was embarrassing to Me back then. I just didn't yet understand that sadomasochism is a very natural and normal thing. It's like being born gay. Now I am self aware and self expressed. Life is peaceful and happy and I am a healthy sadomasochist."