A Dominant Mistress and her Stripteasing Submissive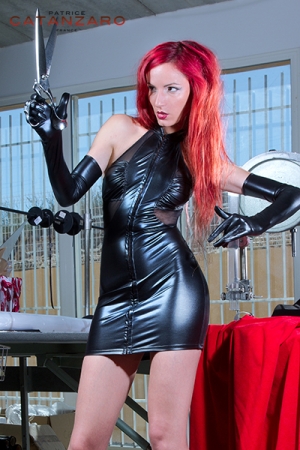 With a nod of the head, his Dominant Mistress motioned him forward into the light. The room was dimly lit but a lampshade centralized all the light in the middle. He walked in visibly intimidated.
She was certainly a bit taller than him but stood there, his chin lowered, trying to guess her intentions until the moment she firmly grasped his chin, staring at him eye to eye…
– You're a toy here.
It was both curtly and very perverse. She was amused by the awkward situation in which she laid.
The back of her right hand slipped on his shoulder, like to feel the delicacy of the fabric of the purple shirt he was wearing.Suddenly she seized the center front full hand, violently extirpating his shirt front of his pants, showing off his stomach. His breathing was panting, and his stomach bare, one could hear his excitement, nervousness. She was the most beautiful dominant mistress he had ever seen.
A small drop of sweat beaded at his plexus and started to sink. She noticed that he had a kind of little fluff who drew the midst of his abs. She slowly ran a finger down, making him flinch.
Then she went down on his bronze belt buckle, and her other hand grabbed his buttocks firmly, one after another.
He felt totally delivered the woman haughtily and authoritarian, unable to oppose it, as paralyzed by what could still happen …
She noticed that with jeans, sex was necessarily cramped and that stroking through the stiff fabric, its tail would quickly swell and make his pleasure painful, and unable to escape.
So she began to grasp between the thumb and forefinger, he then harden almost instantly.
Sadistically, she strove to lead him to the brink of explosion, alternating pressure from his fingers and the speed of his caresses.
Then she stopped and took the decision to focus on his lips. She first touched a finger to her full lips and after a few seconds, introduced a finger between her parted lips. She enjoyed very much visibly this warm and cozy refuge, because a smile now pierced the corner of his mouth.
He tried not to show his dominant Mistress anything but the blinking of his eyes betrayed him.
– Yes, that's a good toy! She exclaimed. You do everything I say. You're here for my sake, is that clear?
And the striptease continued. She finished pulling the fabric of the shirt and pants made him take up arms to remove his shirt completely. She played for a moment with his nipples, pinching them slightly.
She's now attacking his pants, belt buckle, button and zipper nimbly.
His pants fell to his knees quickly. Now he was in just his cotton underwear. She amused herself by snapping the elastic on the skin of his stomach, laughing.
Then very slowly, she began to lower his pants, revealing first the tip of his penis. Then centimeter after centimeter, she brought down the pants on his hardened rod under the testes and soon it was just a pile fabric, which sat at his feet.
She scrutinized his slender legs, firm buttocks.
– Now you're just a little bitch in my service for my pleasure …
She grabbed his buttocks with one hand "virile" and the other his penis, she clasped, maintaining a slight pressure.
– Do not you dare to enjoy!
She not only pulled the tail, prompting him to look into the table in the center of the room. She grabbed a long hairbrush and gave him several smacks on his backside.
She runs her hand in regular circles on his buttocks, and one of her fingers lingered on the crease, suggesting that a further entry would be perpetrated on another part of his anatomy.
But she did nothing and even redoubled his efforts in his shots. For a long minute, which seemed like an eternity to him a little cry escaped him.
She grabbed his penis and squeezed, making: shhhh! as if to signify that it was a lost cause.
Then violently pushing  him back. She began to use him to the end. Without undressing, she just removed her panties which appealed to his eyes, the skirt being lifted, and then she straddled him.
– Do not enjoy! Especially not!
She rode vigorously, enjoying its stiffness and passive positioning, left to her … it was.
Soon she had been delighted in fullness on him.
Poor thing it was in the hands of its Dominant mistress, biting his lips trying not to explode in her.
His fate, again, was sealed.