On my knees facing the judge
I was kneeling, completely naked, facing the judge. She was a thin woman, about sixty years of age, wearing very strict glasses and a tight black outfit. She looked at me impenetrably, like an uncompromising dominant Instructor.
At my side were two law enforcement officers, the two women who arrested me earlier in the week. I had been locked up in a cell for several days, deprived of clothes and fed with water and dry bread, before they came to get me to appear before the courts.
The judge spread out my file on her desk and ran through it quickly.
"James Allison, a student in physics. You were surprised five days ago to steal a phone from a store. You were spotted by the guard at the entrance before being handed over to the police. That's right?"
"Yes, Your Honor. I plead guilty."
"Why did you do that? You are a brilliant young man from a rather wealthy family. Your criminal record was totally blank until now."
"I was trained in this story by a group of friends but I would not frequent them anymore Your Honor."
Reading of sentence
I shivered. The room was covered with a current of icy air and my nakedness did not help. The end of the whip of one of the agents beside me was placed on my cock, ready to strike the slightest of my movements. Handcuffs kept me with my arms crossed in the back.
"You know," said the judge, "I would have simply opted for a public flogging session for someone else." But considering your profile, I especially want you to not start again and stay on the right path, so I will be extremely severe and inflict a heavy penalty on you for what you have done. So I'm going to sentence you to a three-month rehabilitation course."
I was kneeling, completely naked, facing the judge. She was a thin woman, about sixty years of age, wearing very strict glasses and a tight black outfit.
"You will be entrusted to the intransigent dominant Instructor, Claudia Tedler, who will be responsible for imposing a daily class 3 punishment. You will reside at her residence for the duration of your punishment and will not be able to leave without her authorization. I prescribe thirty shots of a whip, thirty of a whip, and an hour of intensive sodomy a day, as well as a heavy correction, given with a whip, per week. Your Instructor will, however, be fully free to extend the punishment in any way she wishes."
The intransigent dominant Instructor
I was allowed to get my clothes back and get dressed. The officers escorted me out of the building or a car was waiting for me. Inside was a woman in her forties with long blond hair and big green eyes. It was beautiful and had extremely exciting curves.
I realized she was going to be my Instructor and the executioner of my punishment.
She motioned me to sit next to her. Her air was severe.
"You know what's waiting for you, do you not?", She asked me.
"With me, these three months may seem very long. I am an uncompromising and hard-working Instructor. Believe me, it is not because your crime is less serious than those I am accustomed to dealing with, that you will not receive exemplary punishment. Your parents have been warned, you will not see them again in three months. Visits are not allowed during the training period."
Her house
Her dwelling was sumptuous and vast. It was a large pavilion surrounded by gardens with perfectly hewn hedges. It was hard to suspect that on seeing the building from the outside it contained multiple torture chambers for males and that every day men were whipped and sodomized by the Instructor to train them properly.
She brought me in, and I was impressed by the proportions of her drawing-room. Noticing my stupefied air, Claudia let out a smile.
"You know, you will not see this room very often during your stay. You will spend most of your time in my cellar. In short, get undressed and follow me!"
"Naked, yes. I would take care of storing your clothes in a sealed chest now, and you'll get them back in three months. Your punishment includes the fact that you must remain naked for the duration of your punishment, you will not be allowed to wear the slightest bit of garments. Come on hurry up!"
I obeyed quickly and found myself naked in front of my Instructor. In this situation, I could not prevent my cock from hardening and getting up. Claudia examined my erection with an amused eye and grabbed my penis abruptly.
"You are lucky my boy, most of those I punish are not allowed to bandage. But this condition did not appear in your condemnation, only that of not enjoying. Ejaculating without my permission will be considered serious misconduct and will see your stay extended by two days whenever this happens. It's clear?"
"I would allow you to enjoy it once a month, and only once a month. Come on, I'll show you where you're going to live from now on."
The torture room
The Instructor led me into the basement of her dwelling. We descended a narrow staircase leading into a very large room of torture, almost twice as large as the drawing-room. It was equipped with all the top-of-the-line appliances: Easels, the cross of Saint-André, metallic shackle, pillory, chains …
Twenty whips and martins of various sizes and materials were hung on a wall. On the ceiling hung chains and instruments of all sizes. To my left, I could see a stainless steel table with multi-colored dildos and dog collars.
The Instructor gave me one and put it around my neck with a key which she buried in her pocket.
"There is an electronic chip inside that allows me to know where you are at any time. It's planned to avoid escapes."
She walked for a few moments in the room before sitting in a red leather armchair.
"Approach," she said. "And get on all fours. We'll start your punishment."
I obeyed.
"Take off my boots and sniff my feet." They have transpired particularly more today. You can not imagine how hard it is to wear such tight boots all day. A real torture. Far from being as unpleasant as what you are going to live in the next few months but still … I would not wish it to anyone."
I slowly pulled off my Instructor's shoes and placed them respectfully at her side. She presented her two feet and seized them with delicacy.
"Humm," she said. You know how to make it look like. Unless it's natural to you?"
"Naturel I think … I have always been very gentle and affectionate."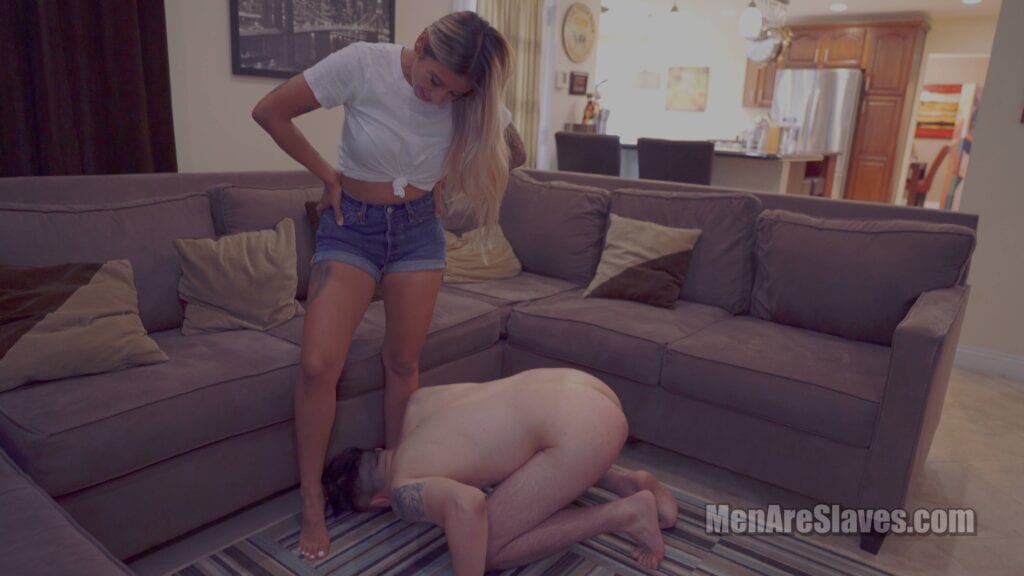 Without warning, she slapped me across the face.
"Do not forget to punctuate each one of your sentences with" Madame, "said the Instructor, in a much harder tone. I let it sink for this time but next time, you will receive an additional correction."
"Sorry, madam. I promise you that it will not happen again."
I buried my nose between her toes and took a deep breath. Her feet were warm and moist. They emitted a very strong and very acrid odor of sweat and leather. It was the first time I felt the feet of a woman, so I was very excited and had a hard time keeping me.
With feverishness, I walked through the wet plantar arch that the Instructor presented to me and imbued me with its scent. Claudia obviously took great pleasure in seeing me inhale the odor of her feet.
With one last inspiration, I fill my lungs with this heady perfume. Claudia smiled.
"Well, well … You do better than the previous ones I had to train. Given the pleasure you have taken, I feel like you are a foot fetishist, right?"
"Yes Madam. In fact, I have always been very attracted to women's feet."
"I doubt it." The last type I had to punish burst into tears whenever I ordered him to feel my feet. So, I guess you know what you have to do now?"
To be continued