Foot Fetish Addiction.
I knew I was a foot fetish addict when I couldn't stop thinking for days about her regal perfect feet. Dreaming of them running through my head, my mouth. Which pair of boots would Mistress be wearing? Loved each one of her sexy platforms and patent leather thigh-high boots. But mostly I was crazy about her perfectly manicured toes in the flesh.  Could not wait any longer, as the excitement of being at her feet consumed me.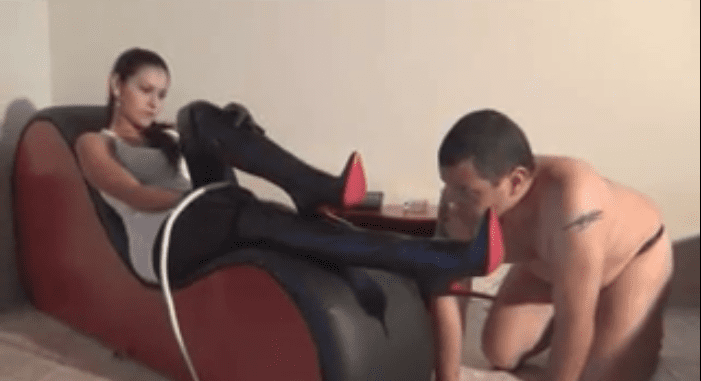 Finally, Friday arrived. I hurried to get all my work done at the office, focused on finishing early so I could get to my proper place at her feet sooner.  My excited cock erects much of the workday in anticipation of her feet and toes on my lips. Trying in vain to hide my excitement I hid in my office much of the day avoiding my coworkers.  Working like an excited little boy I finished early, and darted out of the office on my way to my Mistress!
The 30-minute car ride seemed like an eternity as my heart raced.  Each red light agonizingly longer than the next. Driving as fast as safely possible, I picked up her favorite sparkling wine on my way to her.  Finally arrived at Mistress's gate and politely I asked her to open it for me. As it opened I knew happiness was near.
Riding up the elevator, I grew nervous, knowing that Mistress is very demanding and I wanted to make sure this boy was pleasing her. The door was unlocked as usual, I came inside locking it behind me. Quietly entered as Mistress does not like loud noises or unnecessary talking on my part. Prior to my entrance Mistress instructed me to chill the wine in the freezer and to sit on the sofa. She was getting ready in her bedroom.
Worshipping Boots.
What was only a few minutes seemed like an eternity. Finally, Mistress appeared, divinely she seemed to float across the floor wearing all black. I was in awe as I looked up to see her standing tall in her black thigh-high boots. Catching her eye, I knew to look down at the floor and only to look up when spoken to. Mistress approached and instinctively I bow and kneel paying homage to her powerful boots. As a good foot fetish bitch, I kissed the toe of each boot until she started walking to sat on the sofa.
I scrambled to the kitchen opening the wine and pouring into a delicate crystal wine glass. Returning I knelt and presented the glass to her. Now continued to lick her boots from the toe to the top of near her strong thighs.
Could feel her eyes upon me, I felt my face turning red as I realized I was in my proper place at her feet. Making my way to the soles of her boots, I licked them clean and shiny. Mistress raised one boot, I knew to kiss the heel, running my lips up and down the length of it. Feeling Mistress pushes her boot heel on my lips I opened my mouth; she gently pushed her heel in and out, deeper and harder each time. Finally, I was gagging.  Mistress slowed down and I licked the heel clean, as later I did with the other one.
Still, on my knees, Mistress said: "bitch, remove my boots"! I carefully tugged the boot down her thighs to her knee and then finally off her foot, revealing her soft sexy petite feet with dark red polish. One word "Massage" and I quickly took on the task. Knowing Mistress prefers soft touches. I lightly moved my fingernails across her soles, to her toes and across the top of her foot. Sitting on the sofa, Mistress stretched her legs across me as I continued to softly touch and massage switching from one foot to the other.  Speechless I continued holding her priceless feet totally under her control.
From Licking to Sucking to Deep Throating.
Suddenly without warning, as I was holding one foot in my hand, the other caressed my cheek, back and forth then to my lips.  I kissed her toes from top to bottom; soles, the top of her feet. My neck was straining to reach each delectable part of her gorgeous foot.  Removing her foot from my hand both feet pushed on my lips, with no choice for me but to open my lips. I moved my mouth back and forth over her toes, sucking on them as if were sucking a cock.
Slowly and softly my warm breath on her toes, and then she pushed one foot further towards the back of my throat, deep throating me with her foot. I felt the toes move up and down in my mouth. My lust grew as my cock pushed against my pants feeling massive excitement, as her other foot took its turn fucking my mouth.
Mistress was at once in total control and lost as she used my mouth as I pleased her. She slowed her thrusts into my mouth as I continued to worship her lovely feet.  She settled into the sofa, sending me to refill her glass. I returned and her feet again found my lips, lightly kissing and sucking her toes I spent the rest of the evening as her foot fetish bitch. Excited beyond belief I sat obediently obsessing and worshiping her feet until she decided I should leave.  Sending me on my way, my cock hard and wet, I left knowing I did my job obeying and pleasing her, maybe next time she would let this bitch cum.