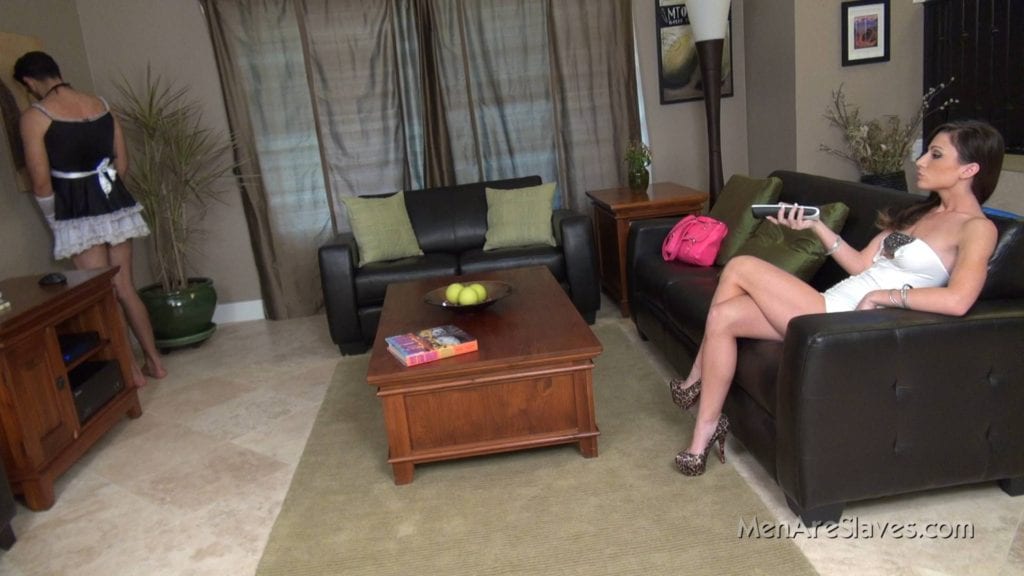 Sissy Nikki Loves Riding A Dildo
Mistress always makes Sissy Nikki ride a dildo three times a week. She is only allowed to do this for a certain length of time. Sissy loves this and wishes Mistress would make her do this more often but doesn't want to ask Mistress. Mistress put a timer on sissy when she is riding the dildo to ensure she only rides for a certain amount of time. Mistress and Sissy Nikki generally talk on the phone when Mistress gives her, her assignments and instructions. This is because they live in different cities. So to be sure Sissy Nikki knows who owns her, Mistress decided that Sissy Nikki must keep her clitty locked in a cage until Mistress and her meet in person.
On a particular call, Mistress decided to challenge her new sissy. Mistress told Sissy Nikki to say the following words over and over again. Sissy Nikki did not want to say it but Mistress demanded it. The words were the following: "I need a big cock to ride and cum all over me. I love cock so much that my purpose in life is to fuck and suck cock," Sissy Nikki exclaimed."Good my little slut," Mistress whispered. You will go to the nearest glory hole at the fetish party this weekend and suck cock.
Of course, Sissy Nikki did not feel ready for something like this, even though she liked being called a sissy slut cum dumpster and Mistress' bitch. Mistress sent Sissy Nikki to her home town where a fetish party was being held with a room full of glory holes in it. When she arrived at Mistress' hometown in the evening, she immediately went from the airport to the fetish party before she could change her mind and chicken out.
The First Cock In The Glory Hole
Sissy Nikki entered one of the rooms at the fetish party where the glory holes were. There were video booths next to the glory holes so she decided to watch a video while waiting for a cock to go through the hole. Within five minutes, someone did fill the hole with their dick. Sissy was nervous and just looked as the head slowly entered first. Then the rest seem to poke its way through. Sissy just stared at it wondering where the rest was. It was so small and brown she thought. She looked and thought about Mistress' orders. She thought about the possible punishment she may have to endure if she refused to suck cock.
Sissy Nikki started to touch it with her fingers and it felt like a muscle that was trying to flex. But still, it was so small that she could only stroke it with one finger and her thumb. The position she was in was weird so she got on her knees in front of the brown cock. At that moment, she felt as if she was meant to be there and felt compelled to follow Mistress' orders. "I am a sissy bitch and it is my duty to service a cock," she said to herself.
Waiting For The Next Cock
Her lips began to surround the pencil-shaped rod. Wrapping her lips around that hard pole, she began moving her head back and forth with her tongue-tasting precum. She started moving her head faster and faster swirling her tongue around the head. Then she enveloped the whole thing into her mouth. It didn't even reach the back of her throat. At that point, she felt this goo in her mouth and took a breath.
The cock exited the hole. Sissy did not know what to do, she held his jizz in her mouth for a bit. She felt like she should spit it out, but Mistress demands she swallow every drop…She leaned her head back and it slid down her throat. The other person left and sissy waited for another. Eager to please Mistress and on my way to being the sissy and that loves to fuck and suck cock.