Celebrating The Day Of Love Femdom Style
I am the dominant woman men secretly crave and few men find. And I live for it. What I want to tell you is one of my erotic encounters that happened on Valentine's Day. My partner and I have been in a Femdom relationship for eight years now. Anyone would say that in 8 years the magic is gone, ideas disappear and originality is lost. But this is not the case when passion is authentic, and mine was; both for my partner and BDSM.
Since it was Valentine's Day I wanted to do something special for him femdom style. I got home from work early and I waited for him in the bedroom wearing a silk robe and underneath a red babydoll with red heels. Suddenly, I heard the door open and I heard him say, "Darling I'm home, where are you?" "In the bedroom dear!" I said enthusiastically.
As soon as he saw me in the bedroom, he immediately began to undress. This is the good thing about training your submissive well, no time wasted on small talk. He was starting to get excited based on the erection that was starting to form between his legs.
He Completely Surrenders Himself To Me
Once completely naked, he kneeled on the floor with his palms on his back and his head down. I grabbed his collar and leash that was on the nightstand and approached him. While I crouched down and fastened it, I whispered, "Let's see what you're capable of."
I pulled him down on his stomach. Our bed looked wonderful with BDSM restraints laid out. First I tied his wrists and ankles to each other. Once immobilized, I pulled on his collar to force him to look at me and said: "On all fours."
Seeing a man naked, with a hard-on excited and afraid of what will come next is an image not many people know how to enjoy. There is no greater pleasure than knowing this man has completely surrendered himself to you and you can do anything you want to him.
The Sex Toys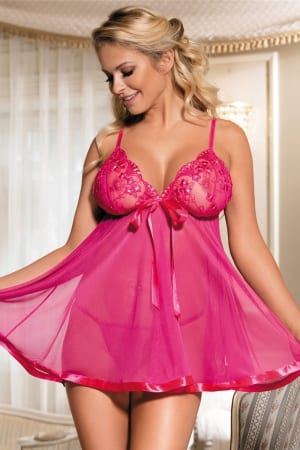 He was so excited to see me that he did not notice the table in the corner that was laid out with sex toys covered with a handkerchief. I moved the table in front of the bed while humming a song I heard that day on the radio. He was sweating anxiously waiting for what would happen next.
With a jerk of the hand, like a skilled waitress of the fifties, I pulled on the handkerchief and exclaimed: "Tada!!" But it was impossible for him to see anything because he was facing away from the table. I walked over to him and tied the handkerchief over his eyes to prevent him from seeing: "Curiosity killed the cat, my dear."
I stopped for a second to observe him. He was even more attractive than he ever was at this moment. His white complexion contrasted with the black handkerchief. His nervousness contrasted with my complete control of the situation. First I grabbed my favorite toy: the Japanese clothespins. I untied my robe and got on my knees behind his ass. Sigh. I was feeling excited. You don't need expensive instruments to generate intense pain.
It Should Be More Pain Than Pleasure
Let the games begin, I thought: I approached him pulling his collar, and said, "Stay like that, kneel for a second." Left clamp." AOWW!!! "Right clamp." AOWW!!!. I placed my right hand on his head and pushed it gently, without force, so that he understood that I wanted him to be back on all fours.
I slid my index finger down his back and walked over to the table to get the next toy. The Waterberg wheel. I started rolling the wheel up and down his back which made him arch his back, bringing his ass against my pelvis. It seemed like he was receiving more pleasure from it than pain. That was a concern to me. Time to put more pressure.
The second round was slower and deeper. I drew an 8 on his back. In those turns, he realized the wheel causes very sharp but continuous pain. The type of pain that leaves a mark on your skin and your memory. "Third time's the charm." I signed my Domme name on his back with the wheel causing more pain but also beginning a higher level of excitement.
Flogger Or Whip?
I let go of the Waterberg wheel and said, "Now let's match the markings on your back to your ass." In general, my favorite toys are the whip and the flogger. I really like the impact play. In addition, the flogger allows me greater maneuverability, without having to change position so I can distribute the pain evenly between the right and left sides of the body. It arouses him, even more, when he doesn't know if I am using a whip or a flogger.
I looked over and he was so hard, he was dripping precum. "Calm down my submissive pet or you'll cum before I start," I said in a sweet and sarcastic tone. After carefully removing the Japanese clothespins, I went for one of my favorite toys. Slowly, I walked behind him to the table and grabbed the whip. I started whipping him softly at first, increasing the intensity of the whiplash by lashing within his limits.
Willing To Do Anything
When I was done, I said, "It wasn't so hard on you today, was it my submissive pet". I went back to the table to grab cream. I walked to the bed and uncovered his eyes. There was pure devotion in his eyes."You've been a very good boy. Now you get to rest for a little while before I give you a reward, yes?" "Yes, Mistress". I untied his wrist and ankles and offered him a glass of water.
He was excited, docile, and willing to do anything I told him to do. It was a wonderful sight to contemplate while I massaged his ass with the cream that I had on the table. He moaned with pleasure while I gave him the massage. Soon, he noticed the smell of the cream I was using on him, "May I ask a question, Mistress?" I nodded sweetly as I continued to massage him. "Is that ginger I smell?" I finished massaging him, exchanged the cream for the piece of ginger that was partially peeled, and approached him where his head is at. "You have good senses, like a bloodhound," I said winking.
I Don't Have To Mention What Toy Comes Next
As I was walking back, I grabbed one last toy from the table. It wasn't necessary to say what it was. He knew very well what followed the ginger would be a strapon dildo. Without making him get back on all fours, I ordered him to open his legs. I licked my lips just thinking about what was coming next.
When you introduce a couple of centimeters of ginger into a person's body, the reaction is not immediate, but rapid. Immediately he noticed it and wanted to shudder but it was forbidden. That was our game. While he wanted to be able to do more than a whimper, I would shake my hand in a way that emitted almost a vibration, causing the ginger to vibrate inside of his anus, touching him everywhere inside. The heat and itching were unbearable. "Mistress, please," he managed to beg. "Sshhh!" He looked at me as I accompanied my response with my left index finger over my mouth.
Letting My Saliva Fall On It
Two minutes later the whining was more than a muffled sound. I took the ginger out and started putting my harness on. "Calm down, I'll turn the fire off now." He could not help but look to see what I was going to do and I took advantage of the situation by spitting on the rubber dildo or rather letting my saliva fall on it. It drove him crazy to see this! I saw more precum dripping from his dick.
I smiled devilishly while spreading the saliva all over the dildo. "Enjoy." It was the last word I said to him. A word that made him moan waiting for the introduction of the dildo in his anus. It was gradual, like all first entries. He laid on his back while I continued to move my hips gently. "Let me know when you can not take anymore."
The Ruined Orgasm
His belly was wet with his precum. His whimpers of pain became moans of tranquility, calm, and enjoyment. He had been longing to cum and the moment was finally there. I do not know if it took three or five minutes, but it didn't take long for him to start reaching an orgasm. "Madam …", he wasn't able to finish his sentence before I pulled away and interrupted his orgasm.
"Ooooh noooooooo ..!!." A ruined orgasm. Not everything was going to be enjoyed by him in this session. I took the strapon off while he was still lying on the bed. When he turned to his side he saw the puddle of precum that was half stuck on his belly. I passed a towel over his belly, looked into his eyes, caressed his cheek and I whispered, "You've been great little one."