The Property Of A New Femdom Goddess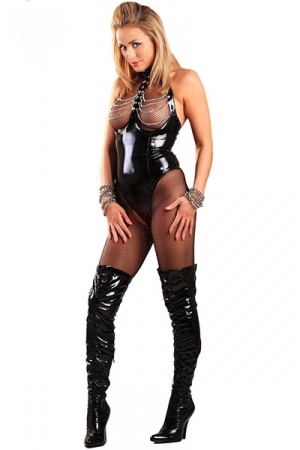 My owner of 2 years went to work in the States and rather than leaving me alone, She gave me to a friend. I'm 60 years old and my new Femdom Goddess is 19! It's one thing being ruled by someone near your own age but being ruled by someone a third your age is very strange. My new Femdom Goddess is very new to the lifestyle but a quick learner. We discovered early on that she has a sadistic side and that she is also very bratty at times which makes me bite my lip often.
Trouble is, my last Owner ordered me to serve Femdom Goddess Kim, my new Owner in whatever way She wants. So I have no other option but to be Kim's bitch until Mistress returns and takes Ownership of me again. My new femdom goddess is starting to find Her way as She learns more about being my Owner. Goddess also speaks to my last Mistress when She wants advice on different ways to make my life hard. She loves showing me off to Her Friends and they all have a lot of fun ordering me around, using me, and making me perform like a pet dog. The shame and humiliation at being at the beck and call of someone so much younger than I am are incredible! I have an almost permanent erection.
Play Session In Her New BDSM Room
My young and beautiful femdom goddess told me that She was having some Girlfriends over last weekend and She expected me to be on my best behavior or else! I left work early on Friday and went to help Her prepare for Her get-together. As usual, when I arrive, I am stripped and made to crawl to where Femdom Goddess is and She fits my collar and leash. I have then plugged either laying across Her lap or standing with my legs apart and Mistress looking into my face and laughing as I wince when She forces my butt plug in my anus. Mistress is not a gentle Owner and I always leave feeling used and sore after our sessions together.
Once all the preparations for the get-together were done, Mistress decided to have a little play session with me. She had me fix up Her spare bedroom as a BDSM room with various hooks fitted into the ceiling and walls. Tonight She decided to bend me over the bench and face fuck me with a strapon while She flogged my arse. I was then allowed to lick Her to orgasm. After, I ran Her a bath and washed Her hair, back, and feet. Once we were done, I dried Her off and then had a quick shower before She chained me to the bottom of Her bed and we both went to sleep.
The Mistresses Humiliate Me Together
The next day my femdom goddess had me doing various chores around the house and had me wash Her car. I had my remote cock shock ring and butt plug fitted and She took great delight in shocking me at the most awkward moments.  Later She showered while I stood with Her bathrobe and towel. I dried Her off and helped Her put on Her robe and then showered myself.
My Femdom Goddess was dressed in a black nightie that left nothing to the imagination. I, as usual, was totally naked apart from my collar and a butt plug with a black furry tail. As Her Guests arrived, I greeted Them, took Their coats, and served drinks. As the night progressed, the Girls became more and more adventurous and I was used in ever more demeaning ways. I hated it but loved it too. They decided that it would be fun to each have a length of string tied to my cock and balls and proceed to pull me around, much to Their delight. My Femdom Goddess then decided that I should have my hands cuffed behind my back and my legs placed in a spreader, which made me fall over several times, much to the Girls delight.
The Humiliation Continues
This went on all night until Everyone left apart from one Girl. Mistress then led us to Her Playroom where She took my cuffs off and chained them to a ceiling hook and blindfolded me. I heard drawers being opened and whispering amongst each other. I then felt the sting of my Femdom Goddesses' hands across my face. They both started to slap me with Their hands and various toys. All of a sudden, I felt my legs being lifted up.
Mistress had attached the spreader bar to another pulley and I was now dangling mid-air, totally helpless. I felt a pair of soft lips around my cock as my butt plug was removed, only to be replaced by something bigger. While Her Guest was sucking me and shoving whatever it was up my arse, Mistress removed my blindfold and started to gently slap my face, telling me what an insignificant worm I was and spitting in my face. They kept this up for what seemed like ages, never letting me cum. They eventually got tired of this game and Goddess asked Her Friend if She'd ever fucked someone with a strapon?
Fucked With A Strapon
Well, tonight was going to be Her chance because They were both going to make me Their bitch. I was lowered to the floor and ordered to help put their strapons on. I was dragged to the bench and had my legs and torso strapped down and my arms placed in the spreader bar behind my back. Mistress started to face fuck me while She instructed Her Friend on how to fuck me. Her Friend wasted no time getting me ready and started to fuck me like a possessed woman.
She grabbed the spreader and used it to enable Her to fuck me even harder. At the other end, Mistress continued to make me gag on Her cock and insult me. I was being fucked senseless like a dirty whore and I was loving it. They then put me on a table and continued to fuck me. After that, They sat down and made me sit on Their cocks and bounce up and down fucking myself as They both laughed at Their bitch. Eventually, They had enough of raping me and Mistress asked if I'd like to be allowed to cum? Of course, I would.
Denied An Orgasm
She then produced a dildo that She stuck to a chair. She told me to sit on it and bounce up and down again fucking myself as I wanked. As I was nearing my climax, I asked Their permission and They both said yes. The feeling as I was about to climax was unbelievable! Then, just on the verge of cumming Mistress slapped my hand away!!!!  She then threw me to the floor, rammed Her cock up me again, and fucked me like a maniac, pulling on my leash so hard I almost choked.
All of a sudden, She stopped, got to Her feet, and ordered me to kneel at Her feet. She knelt down in front of me, pulling my face to Hers by my collar. Spitting in my face she told me I would never be allowed to cum again unless She gave Her permission and spat in my face again. She ordered me to tidy up the mess from the party while They went to bed.
My new Owner is treating me like a dirty little whore and degrading me more than I ever thought possible and I'm loving every moment of it.