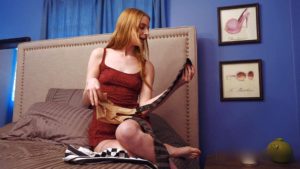 The Cuckold Gets His Mistress Ready
Wednesday began just like another day, I woke up earlier than Mistress Ashley. Got Mistress's bath ready and then went back to her bedroom and knocked on the door asking if she was ready for her bath. Mistress Ashley called out,
I walked in and Mistress Ashley told me to roll down her covers. I extended my hand to help her out. Mistress tells me to follow her into the bathroom, instructing me to remove her nightgown and panties. Mistress then steps into the bath and tells me to wash her clean.
She then tells me to go into the bedroom and lay out her business suit with the short skirt since today is hump day. I return to the bathroom to dry Mistress off and apply her body lotion.
"Doesn't this lotion smell pretty? Maybe if you are a good pet I might let you use a little bit of the lotion," she says.
We move into the bedroom and I dress Mistress Ashley for her day and Mistress Ashley gives me my chores for the day.
Mistress Brings A Few Guests Home
Mistress left for work and I started on her laundry making sure I took extra care of her panties. The phone rings and it is Mistress Ashley telling me she is bringing home a couple of guests for dinner. She requested I prepare dinner with the menu she gave me. I began to prepare the dinner and set the table.
Mistress Ashley texts me to let me know she will be arriving soon. Oh no, I lost track of time and did not clean up! I must be at the door to greet her guests on time and ready to serve them. Suddenly, I hear the sound of Mistress's car arriving. I open the door and notice Mistress Ashley is not happy with me as I try to apologize. Mistress Ashley tells me that we will deal with this later, and then introduces her two male guesses.
I let them in and ask Mistress,
"Can I get you and your guests something to drink?"
I hand Mistress her drink and she hands me her Blazer and says,
"I have been waiting all day to take that off. How long until dinner is ready?"
I say,
"just a few more minutes."
Mistress Ashley tells me to hold up serving dinner for a little while. I go to the kitchen to make the change. Mistress calls me to her,
"We need to deal with your being such a mess when we have guests."
Mistress takes my hand and pulls me towards her and then over her knees, as I am saying,
Mistress Ashely motions to one of the men to come over and she tells him to tear my panties off.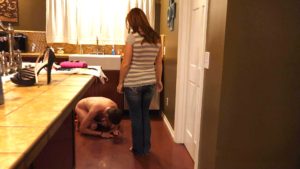 The Cuckold Eats a Bowl of Cum Soup
Then Mistress Ashley spanks me and hands the man a dildo to sodomize me as she spanks me. When she is done she tells me to stand up and go tell each of our guests that I am ashamed for being a mess. The men laugh at my tiny dick and make comments.
Mistress Ashley tells me to go to the kitchen and get a soup bowl and as I return she tells me to stand in the middle of the room and hold the bowl over my tiny dick. She then instructs the two men to get up and jerk off shooting their loads into the bowl. When they were done Mistress Ashley tells me that the bowl of cum soup is my dinner and orders me to take my dinner to the kitchen.
"Now, go and get dinner on the table for us," she says.
After dinner and a few more rounds of drinks, Mistress Ashley tells me to go to her bedroom and get it ready. I then hear Mistress Ashley and the two men coming ups upstairs and entering Mistress's bedroom. I turn and notice that Mistress is wearing her lacy bra and panties.
Mistress tells me to sit in the chair and restrains me. She turns around and says,
"Okay boys… let's get naked."
Mistress tells one man to lie down on his back so she can straddle him. She takes his big cock in her hand so I can see how big it is and slips it into her hot pussy. Then the second man pushes Mistress down and thrust his cock into her ass.
Once The Men Satisfy The Mistress It Is Time For Them To Leave
It seems like they were fucking forever. When they are done Mistress says,
Mistress has one of the men release me and she calls me over to the bed and orders me to lay down in all this wonderful man cum. She has each of the men fuck her again in her pussy and ass as she tells me how wonderful ass fucking feels and how it is so much better to be fucked by two men at the same time.
"Too bad you will never know….okay boys ENOUGH!! You can both leave now and my pet will walk you to the door. See you in the office tomorrow."
Mistress calls for me and I return to her bedroom. She tells me that I would sleep on the floor and that maybe I may be allowed to wear panties tomorrow maybe not, goodnight.