Mistress enjoys keeping her slave on edge and craving her every attention. Usually, she has her human pet masturbate while looking at her images and thinking about her to the point where he attains an erection but is not permitted an orgasm. Mistress enjoys teasing and torturing her adoring slave.
The human pet at his Mistress's feet!…
When he entered her domain Mistress was dressed in a pretty yellow skirt and white blouse. The slave was completely under her spell immediately upon meeting her gaze. She had teased and kept him on edge. She ordered her slave to strip down to his shorts. He was then naked except for his undies. Mistress handed him a pair of pink frilly panties and ordered her slave to change into the panties.
"You may now worship my feet, I enjoy that my pet".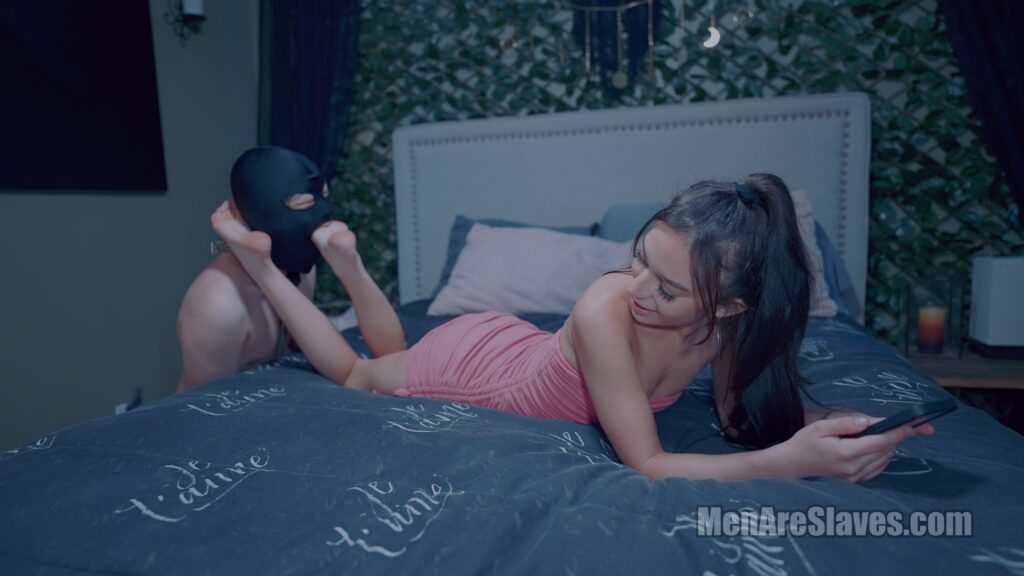 As ordered her human pet began to worship the feet of his Mistress. First, he placed his lips on her soles and gently kissed the bottoms of Mistress's feet; inhaling her sweet scent and smelling her feet as he kissed them. He gently and with practiced hands massaged her feet; releasing tension and feeling Mistress begin to relax. Then he licked and sucked each of her toes. Kissing and licking up and down the bottom of her feet; worshipping his Mistress.
"That's enough slave; come up here"
Mistress guided the slave's head to her lap held him against her lap and tenderly stroked his hair.
"Would you like to smell Mistress?"
"Oh yes Mistress, please may I".
…Then, the slave kissed her pussy, her breasts…
With that Mistress lifted her skirt exposing her pussy. He could immediately smell her.
"You may smell and kiss but then stop"
"Yes Mistress, thank you".
He gently leaned over inhaling her sweat fragrance and softly kissing the pussy of his beloved Mistress.
"Come up here and worship my breasts!"
The slave kissed each nipple. Then began to suck on one then the other. Sucking and kissing as Mistress directed. Her pet whispered,
"Now my sweet pet I'm going to allow you a special treat to orgasm with me. I'm going to fuck your ass with my finger while we both masturbate. After I have had my orgasm and you have had yours; you will come and clean me. If you're a good boy and do a good job perhaps I will fuck you next time."
First time with his new Mistress!…
It was the new first time with his new Mistress as the slave and he was both excited and apprehensive.
Mistress greeted the new slave in her leather harness. The slave stripped, dropped to his knees, and kissed the feet of his Mistress to show his respect, submission, and adoration of his Mistress.
Mistress had the slave rise at which point she attached her collar securely around the slave's neck explaining,
"You are mine now human pet and you will do all that I ask of you! Now, put on these pretty pink panties my pet! "
Mistress then attached a leash to the collar and led the slave into her room.
"Slave I want you to worship my pussy and get it nice and wet I have a surprise for you"
The slave went about his task licking, sucking, and worshiping the sweet pussy of his adored Mistress.
He knew how to pleasure Mistress by very carefully listening to her breathing, observing her body movements, and following any instructions given. He licked up and down her pussy; licking around her labia. Then gently kissing and sucking her clit. The slave licked and sucked getting his Mistress wet and excited. Mistress was moaning softly and seemed to be enjoying the attentions of her slave. The slave could smell her sex and taste her nectar as she became excited.
"Keep doing a good job slave".
Mistress called out,
"oh cock you may enter now".
In walked another naked man.
"Slave this is cock and I want you to get him hard and wet for me!"
…And another slave!
The slave turned and began sucking cock. He took the cock into his mouth and gently at first sucked the cock and licked it up and down. Sucking the cock in and out of the slave's mouth getting the cock hard and wet.
"Now don't get the cock too excited slave I want cock to fuck me".
The slave licked down the cock shaft making sure it was nice and wet; for extra measure, the slave sucked the cock balls causing cock to moan.
"Come fuck my cock and slave you remain close".
The cock went about his nature and fucked Mistress; slow at first then harder and faster as Mistress and cock got excited. The slave knelt beside the bed. Mistress was enjoying the fucking and pulled the slave closer so she could play with his mouth and fuck it with her fingers and hand. Occasionally Mistress would slap the slave. The slave loved any attention from his Mistress. The slave could smell their sex; both cock and Mistress were animated and sweaty.
When cock had cum and he withdrew from Mistress.
"Slave clean off the cock and do a good job!"
The slave went about gently sucking the cock cleaning off the mixture of pussy juice and cum. The cock was then dismissed.
"Now come here and clean me!"
The slave was delighted to have the privilege of cleaning out his Mistress. He could taste the salty mixture of cock's cum and Mistress's nectar. The slave licked around the labia, cleaning up any stray and dripping cum. Then, he sucked the cum from inside his Mistress. As he cleaned the slave worshiped her pussy, the temple of his desire; the addiction which holds the slave captive to his Mistress. Mistress stroked the head of her treasured pet as the new slave; softly kissed her pussy and the insides of her thighs; resting his head against her thigh and kissing and inhaling the scent of his adored Mistress's pussy.