As we came home that night from the restaurant Mistress Claire ordered me to follow Her to the balcony. As we sat there in the dark summer night She told me in a soft voice, that one month had passed to Her satisfaction.
"I like what I see so far ", She said,
Her eyes sparkling and a smile on Her face.
"You are more than a sub like me could ever dream of," I said looking at her with calm happiness growing inside me.
She nodded.
"Yes joe, that's right, but I want to test you a little more. Tomorrow morning you will go back to your normal life until Sunday at 6 pm. If you still are sure you want to be Mine, you just come back and show Me".
I was stunned.
"But I know You are my perfect Mistress Claire," I said, worry showing in my face.
She smiled at me and led me into her bedroom, where She let me give Her a full body massage. Ohh how I enjoyed being near Her, my hands over Her beautiful body, proud that She seemed to enjoy my massage. She got upturned at me and said:
"Now show Me you worship Me," She said.
I knelt and bowed to kiss Her feet, and kept my head down face touching the floor. Silence. After what seemed hours
"Follow Me on your knees, "She said.
In the bathroom She let me have a golden shower just like that.
"Clean the mess, " She said and left.
That night I didn't sleep at all, really I was afraid that once I was out of Her house She would forget me.
She kissed me, gave me a Divine smile, and sent me away that morning. 3 days!!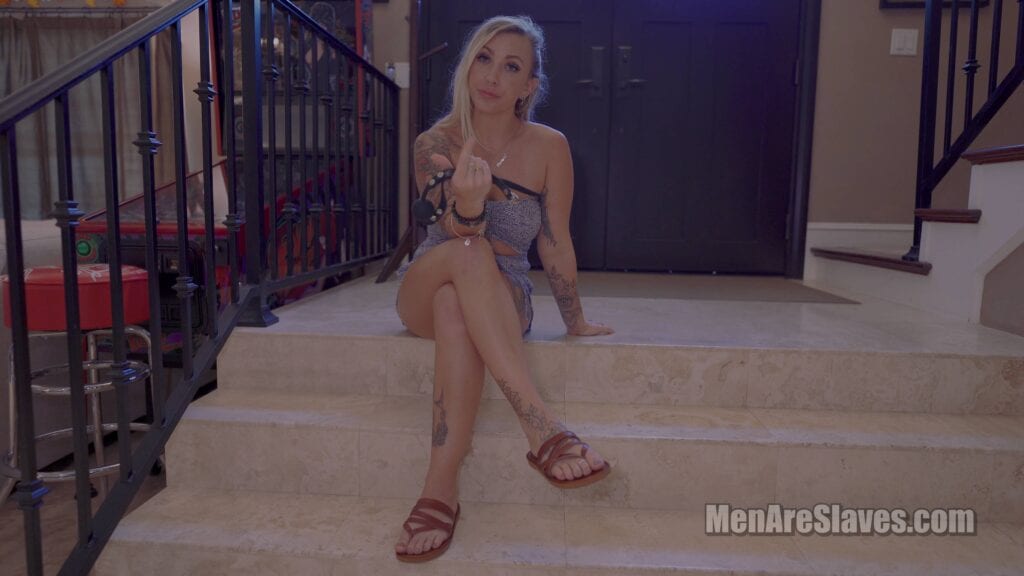 FLR with no restrictions was for me the answer to Her challenge.
It turned out to be the longest 72 hours I ever experienced. I went to my apartment, but there was nothing there I had missed! I went to the supermarket where I first met Her hoping to get a glimpse of Her, but of course She wasn't there. To sort out my thoughts I took a ride on my road bike 30 miles down the coast. Had a coke and coffee and watched people on the beach before I rode back. Deep in my mind, I was aware that life without being near Her was not an option. One night I went to a bar I used to like just to realize that it was an empty shell. My decision was made, it would only make sense if I could go back to Her. FLR with no restrictions was for me the answer to Her challenge.
At 6:00 pm Sunday I rang Her doorbell. On my phone, a text: U go to the living room 😊.
My heart was beating as I entered the room. She was sitting on the sofa looking even more beautiful in a red dress clinging to Her body.
"So you came back joe, "She said.
I rushed to the sofa and threw myself at Her feet, kissing them, and then I said:
"Mistress Claire, life to me is being here. To please You, to serve You, and to obey You no matter what".
Tears in my eyes as I looked up at Her not able to speak anymore.
"I was afraid to send you away," She said in a husky voice, "but oh I'm so happy to have you back."
A dog tag "property of Goddess Claire" for me!
That night we made love for hours and hours, She was in control and my focus was on making Her happy. A leather hood over my face She put a mouthpiece connected to a dildo in my mouth, and then She rode on me, having several orgasms from the dildo. After that, I had the privilege of licking Her pussy, enjoying the dripping from Her and the scent of Her. In the end, She lowered down on my dick and rode me for what seemed hours. Just as I was about to cum She would freeze, then after a minute or so She would go on.
She bent over me and kissed me, Her tongue possessive in my mouth and She allowed me to cum. I came with a long roar and shivering in my body. We lay there just enjoying the moment, then She turned and pressed Her pussy down over me.
"Clean up joe," She said as I licked

Her to clean my cum from Her pussy.
We took a shower, where I soaped Her body, then after that drying Her with a large towel.
As we went to bed She put a collar around my neck. It was new and with a dog tag "property of Goddess Claire". Again I had tears in my eyes and bowed my head. As She ordered me on my back She put my chastity device back on.
"From now on you belong to me joe, and the training will begin tomorrow"
"Yes, Goddess Claire" I whispered…
To be continued