My Dominant Ex-Girlfriend And Her Sexual Power Over Me
For over 20 years, I've kept a relationship with my dominant ex-girlfriend. We have always remained more or fewer lovers depending on our situation. She has always yielded a sexual power over me which she used to take advantage of me and she loves dressing provocatively around me. Sometimes, my dominant ex-girlfriend would give me an erection just to give me blue balls.
When we saw each other, we usually ended up in public places. She was always very sexy and quite honestly, always very horny. She loved wearing high heels, stockings, garter belts, or corsets, which accentuated her very attractive chest. I remember vividly, one of the times I saw my dominant-ex girlfriend, she was wearing a leather dress with thigh-high stiletto boots, red lipstick that matched the color of her nails and her hair was loose over her shoulders and she wore glasses. I never knew if she was wearing panties when I saw her. She did not go unnoticed, as men were always looking at her.
I Never Knew What Would Happen When I Saw Her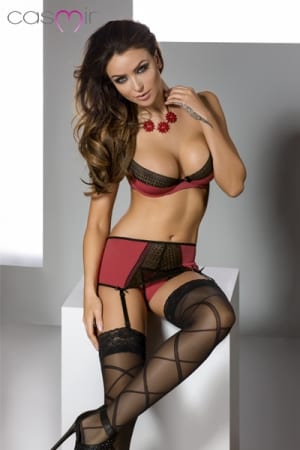 I never knew what was going to happen when I saw her. My dominant ex-girlfriend could kiss me or just whisper dirty talk in my ear. We had an agreement, she could do whatever she wanted to me as soon as she tied me up. So are meetings took place in different locations. Sometimes we would get together for vanilla sex or just a blowjob. Sometimes it happened at a hotel or where each of us lived. During some of our rendez-vous, I spent most of my time tied to a chair or bedposts. I just let myself go and let her do whatever she wanted to do to me.
Our relationship lasted 5 years. Then we both moved to different parts of the country for work and kept in touch by phone. During these phone conversations, we remembered our memories and tried to maintain the excitement in our relationship.
Sally liked sexting me telling me how she would dominate me when she saw me. She loved going into detail about how she would punish me and what toys she would use on me. Her words would make me very hard then she would tell me I wasn't allowed to cum unless she was there to do it for me.
Reconnecting With dominant ex-girlfriend After A Few Years
Fortunately, after we moved, we saw each other sometimes and as time passed, she became more sexually attractive to me. As for me, I found myself tied up to a chair or bedposts more and more often when I saw her. It amused her a lot to control my orgasm and drive me crazy.
Unfortunately, we lost contact in 2012 until about 2015. Thanks to the internet, in late 2015 we were able to reconnect on Twitter. In the beginning, we exchanged small talk, but little by little we started talking about our naughty past and it awakened those memories and my excitement slowly took over.
I confessed to my dominant ex-girlfriend I missed our female domination sessions. She said that she changed and she wasn't interested in dominating me anymore and I was just a dog that only thought about sex. I reminded her of how much she enjoyed dominating me during those sessions. She agreed and told me she was flattered that years later I still desired her. So I told her not to hesitate if she ever wanted to dominate me again.
Do My Heels Still Make You Crazy?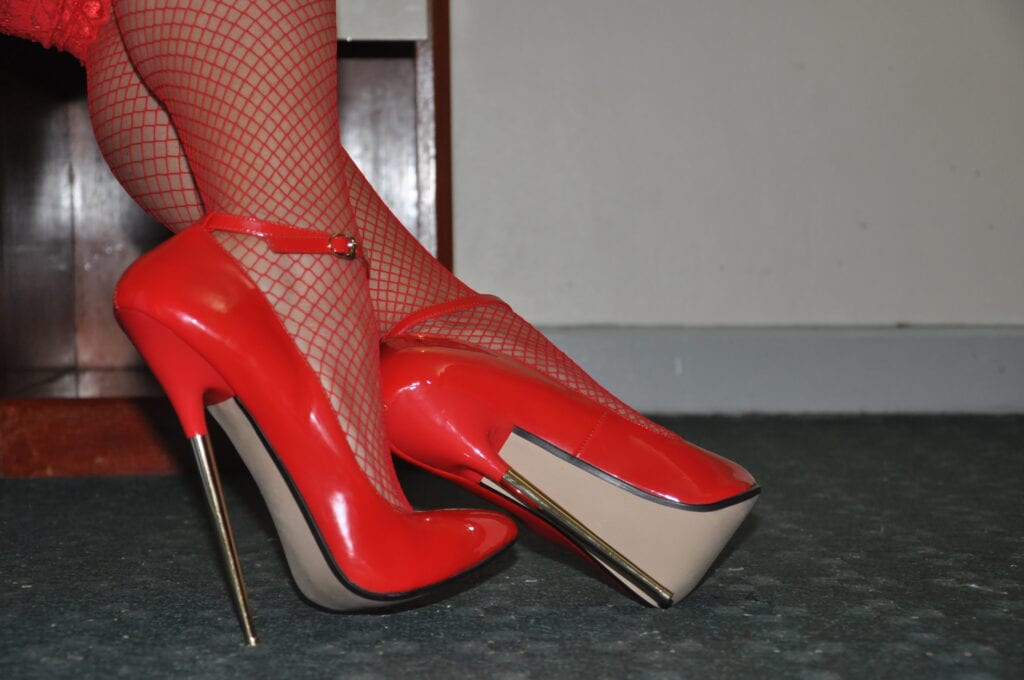 We exchanged numbers and email addresses and I sent her a discreet email because I'm in a relationship with another woman right now. The next morning, I received a text message from her saying, "Check your inbox!" I opened my inbox and saw two emails she sent me. The first one said, "Yes, I thought of you or rather I had some memories of you when we started talking again. I was wondering what would happen if I tied you up again."
The second email had a picture of her wearing stiletto heels and latex black pants and the caption under the picture said, "I have a huge collection of high heels..do they still make you crazy?" I immediately got a raging hard-on after seeing her picture and sent her a text message saying, "Yes I still love high heels and I'm aroused just the way you want me to be!" I didn't receive a response from her all morning. Later in the evening at the local hotel where I worked as a bartender, I finally received a response from her saying, "That's exactly how I want you to be..don't cum unless I tell you to." I knew then this would be the beginning of a very steamy love affair.