When we were seated at the restaurant, the waiter came and Mistress ordered a glass of Chardonnay. Then, before I could speak, she ordered the same for me. She smiled waiting to see my reaction but I didn't say a word.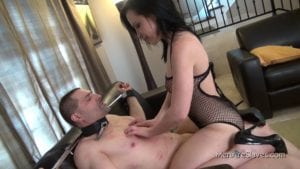 Questioned by this beautiful Mistress!
"Yes Mistress I do, thank you for ordering it for me."
She was staring at me knowing how uncomfortable I was. After a few minutes, she said,
My first thought was to tell her because I need to know who I am. Instead, I said,
"Because I need your help, Mistress."
"I want to find out why I am so attracted to Dominant Women, why vanilla Women leave a feeling of emptiness inside of me."
She said,
"I can guide you boy but you will need to pay attention and be all ears! So, you can understand the BDSM world where Dominant people and submissive people need each other."
"I will do anything to find happiness and fill this emptiness that's consuming me inside. Would you be my Mistress?"
She smiled and replied,
"Are you worth it boy? Because I am sure there are so many things you do not know and it will take time for you to understand."
"Please, Mistress, I am willing to do anything, just please be patient with me, I need this so bad."
"How much do you know about BDSM, boy?"
"I have read some BDSM stories, Mistress."
"So what are your limits?"
Ordered to make a list of my limits
Before I started telling her, she asked for a shit of paper and a pen.  Then, she told me to write them and give the list to her. She said to think hard and take your time. The wine was served and she started sipping it looking at me. I was trying to write but I was shaking. My brain was blank and it took me some time before ideas started flowing about what I wouldn't want to do.
When she saw that I was finally writing she stood up, took her glass of wine, and went outside to make a phone call. I know she was giving me time alone so I could do the task in a more comfortable way and I was grateful to her. Twenty minutes passed and then, she came back. Everyone in that place was looking at her! There was something about her that attract everyone's attention.
She stood beside the chair and looked at me. I didn't know what she was waiting for until she said,
"Stand up and pull the chair for me to sit, boy! Where are your manners?"
In one second, I was pulling the chair for her and feeling like a perfect idiot. After she was comfortably seated, I went back to my sit and handed her the list.
She said,
"Is this all? Are you sure?"
I started sweating, questioning myself, what did I miss, should I write more? But what popped from my mouth was,
Next day, an invitation for another date!
She read as if she really cared and that made me feel good. Forever reason I trusted her and mostly, I needed her. She didn't say a word called the waiter and asked him to bring some appetizers. After the food arrived, we had a friendly time. She asked me about my family, my work, and my past and she listened carefully. When we finished eating, she decided it was time to go so I asked for the check.
By now she knew a lot about me but I didn't know anything about her. I walked her to her car, opened the door for her, and asked,
"Mistress, am I going to see you again?"
She nod and said,
"You will see a lot of me."
I was so happy. In fact, I haven't been that excited for ages, now. She was perfect and I knew she was the one, the Mistress I will serve, follow and obey without hesitation.
I went home and that night I couldn't sleep so I read a lot about Femdoming and the different BDSM kinks. After all this research, I knew why she was surprised by the small list of my limits. I wished I could rewrite it but she took it with her.
The next day very early in the morning I received a message on my phone saying "Hello boy I will see you Friday at 6 pm and an address."
Instantly I got aroused, nervous, and excited at the same time.
I replied: "Thank you, Mistress!"
To be continued