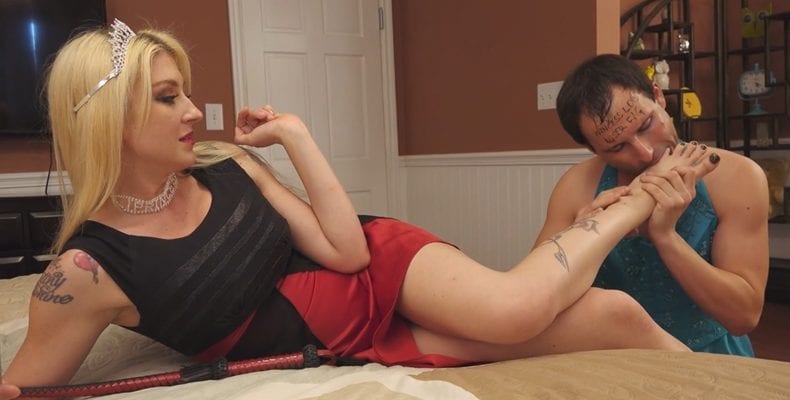 This is a true event of serving a Dominant Woman I met on femdom.dating.  I was instructed to come to Ms. Lucy's apartment at 4:30 pm and not a second later.  There I was to clean her apartment and serve her wine as she relaxed and read.  I was very excited to see and obey Her, as it is my nature to obey and serve Dominant Women. I fantasized about worshipping and kissing Her feet as I was on the long drive from work to Her apartment.
As I was on my way driving, Ms. Lucy instructed me via text to bring Her a specific type of water in a certain size of containers only available at one store.  She told me that She still expected me to be at Her apartment at 4:30 pm and there would be no excuses for being late.  Quickly realized this would require me to quickly find the store and purchase the water; so I put the address in my phone to know where to go without wasting any time.
While parking I could feel myself getting excited as I was doing a task to please a superior Woman. My cock got hard as I ran through the parking lot and then through the store, I so needed to make sure I wouldn't be late.  Finally, I got the water and as excited as I was my cock started rubbing my pants while I was driving to Her.   As I was getting closer to Her apartment, I received another text from Her instructing me to get $5 in quarters so I could do Her laundry. Again she reiterated that I could not be late for any reason.
I panicked knowing that this would be impossible in the time left. My excitement was turning into frustration when I saw a coin laundry beside a gas station right in front of me. There  I was able to get change and sped to get to Her, however, I was 5 minutes late!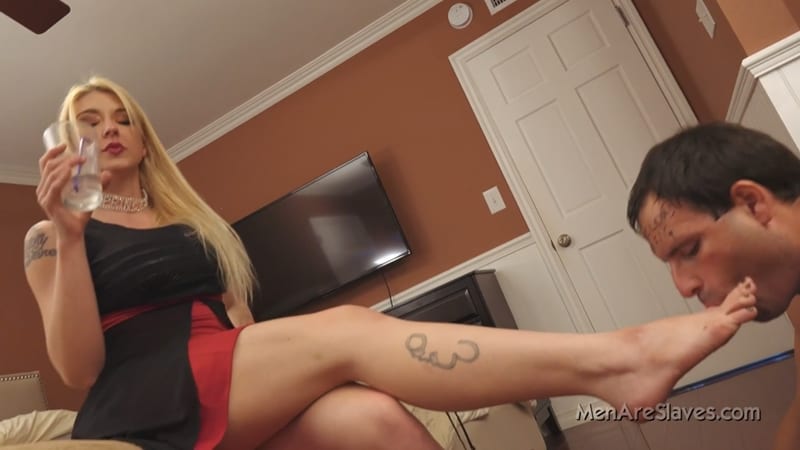 I was very concerned that She would be upset with my tardiness and send me away or yell and belittle me as she always did. However, as I entered Her apartment, She pointed to the floor and I instinctively fell to my knees and showered kisses on to her sandaled feet.   I spent the next few minutes making sure Her foot was properly worshipped until She was satisfied.
I placed the quarters on the counter together with the bottles of water and quickly served Her a glass of wine; kneeling as I presented it to Her. I scurried to the kitchen, cleaned all the dishes, pots, and pans that were in the sink.  I continued cleaning the counters and floors as Ms. Lucy was on Her phone, looking at me from time to time making sure I was working none stop.
She raised Her glass for me to refill Her glass so I knelt and began pouring, She placed Her feet on my shoulders and kept me in place using Her strong legs and making me serve as a BDSM footrest.  I struggled not to look at Her feet; after a few minutes She dismissed me to clean the bathroom. Thoroughly after cleaning the shower and the tub I moved on to the sink and mirror, working hard to make sure She would be pleased with my service. I could not stop myself from touching my cock. I was extremely excited knowing I was Her maid and started stroking myself. She would be really mad and disappointed with me if she found out, so I stopped.  Ms. Lucy came in and inspected the bathroom and was pleased!!
Then told me to place the water I brought in Her bedroom on the floor beside the closet and as I finished She sat on a chair in front of me.  She placed Her feet on my mouth and I licked Her soles and kissed Her feet; I felt my erection pushing against my pants as I devoured Her feet, kissing up Her legs.  After several minutes, I crawled behind Her, back to the living room where She told me to remove my pants and stroke my cock in front of Her.  I moved up and down on my cock furiously, thinking I was going to cum at any moment, I asked Ms. Lucy's permission: DENIED
Quickly She told me to put my underwear back on and bend over the sofa.  Exposing my ass by hiking underwear up to my ass, She then used a crop to hit me.
A BDSM PUNISHMENT
She was punishing me for being late!!  Quickly She snapped my bottom quickly, as each blow stung my ass while she was using Her foot to secure me to the sofa.  I promised Her I would never be late again as She punished me but She didn't care. When she was done and my skin was extremely red and burning She stopped and instructed me to get dressed, but first to kiss her feet. I kissed each one and woke out the door, learning my lesson of never being late.
I left and drove home…
[amazon_link asins='B00SNUTV0O,B074YY4Y25,B07R4NJXGW,1890159190′ template='ProductCarousel' store='shopandco20-20′ marketplace='US' link_id='ca358c92-fdcb-42d5-ad08-1a527807ab3c']