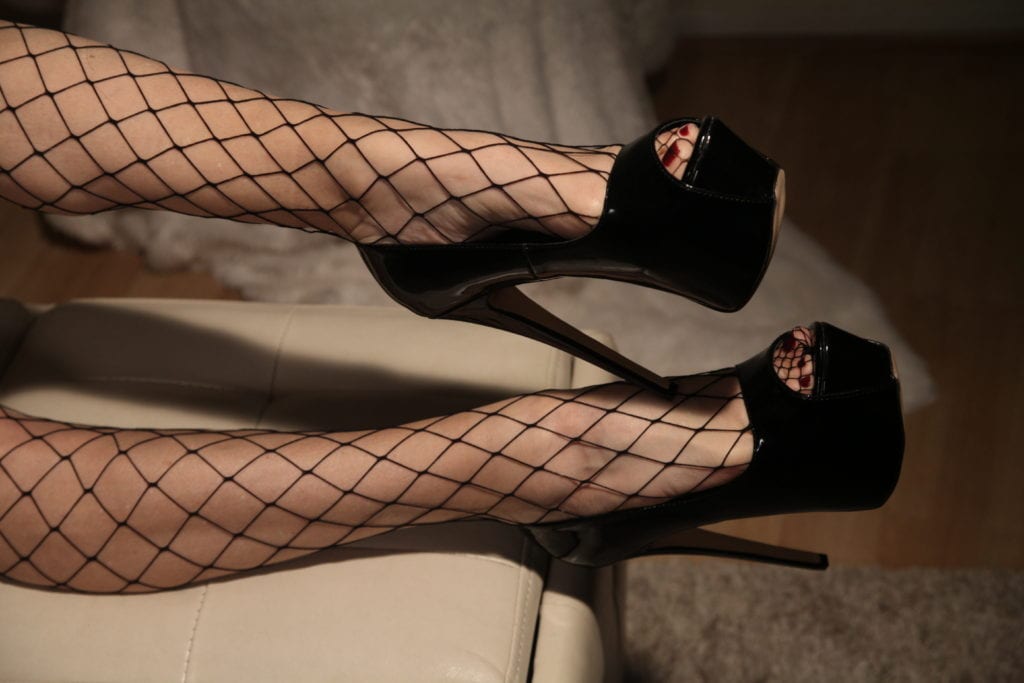 the local farmer's market
She had always thought of Thursday as the perfect day of the week to set the stage for a long weekend of entertainment and relaxing. Everything would need to be tidied to perfection. Laundry would have to be done, floors cleaned, and groceries shopped for. Fortunately, she had found the perfect solution to this weekly bore called chores. She surely didn't want to waste her valuable time on such tasks, but with a special someone around, there would be no need for her to lift a finger.
It was on a swelteringly hot summer's day in Dallas, that she met Karlo. While leisurely shopping at the local farmer's market, he caught her eye. Standing over 6′ tall, with the body of an Adonis, there he was, working at the pressed juice stand. A tight t-shirt featured his sculpted arms and abs beneath. She walked towards him, wearing a long sheer pale peach dress. Her silky long blonde hair up in a casual top knot; the kind that looks like it might just slip out at any moment. She knew he could see that she wasn't wearing panties or a bra. Of course, he didn't stand a chance. He would be "all in" within seconds. Stepping forward eagerly, he offered her a sample of fresh juice. She let her hand linger on him as she took the small cup while pushing her dark glasses up to reveal crystal blue eyes. Sipping it, she licked her lips, gazing at him, casting her spell. Of course, he asked for her number, and she told him he could contact via text, but only between the hours of 5 and 7 pm.
Like clockwork, he messaged her the next day at 5:00 pm. Eager to please. They engaged in some basic chit chat, which ended with a plan to meet at a local wine bar. She selected her favorite sexy little black dress, the sheerest black thigh high lace top stay-up stockings, and a simple pair of high heeled black pumps. Tossing a short hot pink sweater over her ensemble, she grabbed a small Gucci clutch and headed out to the curb. A town car was waiting, and she slid in, inhaling her own intoxicating fragrance which immediately permeated the interior of the car. Applying red lipstick while on route to the bar, she noticed the driver watching her in the rearview mirror. "Typical", she thought to herself, rolling her eyes. Entering into the velvet-lined lounge, she saw him sitting in the back, smoldering eyes glancing up to watch her head his way. He stood up, politely waiting for her to reach the table. Upon greeting each other, her hand "accidentally" grazed his pants, feeling the bulge which was all too obvious. She smiled. He blushed. In her mind, all she could think of was one word, "Ruin."
They shared a bottle of cabernet, some olives, bread and cheese. All very civilized. He was a gorgeous specimen, but not the sharpest tool in the shed. Kind of a basic "dude". Karlo had been a star football player, but injuries had sidelined his scholarship, so now he was thinking about becoming a personal trainer. Until he made that move, he had decided to work at the farmers market stand to fill in the gaps. A certain lack of volition seemed obvious, along with a limited imagination. That would need to change, and it would have to change fast. She had plans for him.
He walked her to the car, at which point, she gripped his bicep firmly, and invited him to come over to her place. Of course, he happily agreed to go along with her, and they made their way through the slick city streets uptown to her posh neighborhood. He exclaimed how he had never been to this part of Dallas, and that she was such a classy lady. He lived across town, with roommates of course. He had no idea what she had in store for him. She reached over and eased her hand up his thigh, moving it with more pressure until she reached his hard cock. She started to rub it over his pants, and he leaned back with a groan. "What are you doing to me?", he asked. She smiled. "All mine", she repeated like a mantra, over and over again.
The car stopped in front of a doorman building. She took his hand, and led him towards the entrance. A man holding the door solemnly greeted her, "Good evening, Miss Swift." She smiled a knowing smile. He gave Karlo a stern scolding look. A look that spoke volumes. Karlo felt a tingle of fear, shame and excitement surge through his body. Once in the elaborate lobby, an elevator came down and opened, revealing ornate gold mirrored panels, which reflected the good looking couple. As soon as the door shut, she reached over, pushing him against the glass wall with one hand,  gripping his ass in her other. She began to slide down to the floor in front of him, and unzipped his pants. "I need to see what you have for me." He moaned. A thick, swollen cock emerged and she took it in her hand, stroking a few times, before pushing it back in, and zipping up his pants. The elevator door opened, and she walked swiftly ahead of him down the hall, her ass switching back and forth. As she opened her apartment door, Karlo pressed up against her back, teasing her, and breathing heavily. She raised her voice and commanded,  "Stop it now. Wait for later!" Shrugging, he loped along behind her like a big kid, and gasped with awe at the fabulous interior. The furnishings were all white, from the leather sofas to the lamps and credenza. A wall to wall zebra carpet set everything off perfectly. Two abstract paintings decorated the walls in graphic red and black tones. She told him to sit down, and kicked off her pumps, before heading to the bar to make a couple of drinks. He watched her as she bent over, revealing the lacy tops of thigh high stockings peeking out from beneath the black dress. As she leaned down further, he caught a glimpse of her soft smooth plump perfect pussy. He sighed. She walked back over towards him, passed him a glass, and told him it was a special cocktail she's invented. Letting her long blonde hair slip out, it cascaded down to her waist, and she turned to start down the hall. She told him she was going to change, and that she had something for him to wear as well. He sipped his drink, laughing awkwardly. "Okay, bring it on!" She came back after a few minutes wearing a black silk ultra short robe with sky-high red stilettos, looking exquisite. In her hand she held a red lacy item, which she tossed at his lap. He picked it up, and unrolled a one piece lace bodysuit. He blushed. "Put it on!", she told him. "Do it." He wanted to protest, but something in the drink she had given him, seemed to be making him weak. He stood up, and she walked over to undress him. He felt her hands sliding his clothes off, and suddenly he was completely naked, his hard cock springing up and down with anticipation. She smacked him hard on the ass, and told him to put the catsuit on. He sat down, dutifully pulling the legs up over his strong calves and thick thighs. Surprisingly, it stretched to fit, and he stood up, pulling it so that it eased up over his powerful chest. The straps slipped over his arms, and there he stood, head to toe in the red lace catsuit, which hugged his body from every angle, especially his hard cock. She giggled and smiled.
"Now, I need you to do something for me. It's Thursday, which is cleaning day. I need you to clean my floors. You'll find a Swiffer, bucket and mop in the closet, and a vacuum for the carpets in the closet. There's a lot of work to do, so you can start now." He dutifully walked into the kitchen and started to get to work, as she shadowed him, telling him to do a perfect job. Karlo worked fast and furiously. She sipped her drink, nibbled on some strawberries, and perched herself up on the kitchen counter. Parting her legs, she gave him commands. As she leaned back,  her robe slid open, and she reached her hand down to slipped her fingers between her legs. She began breathing heavily. "Come here now!" She reached over to pick up a pair of kitchen shears, holding them ominously. Karlo approached, and reached to grip her parted thighs, positioning himself between them. Taking the scissors, she pulled the red lacy fabric away from his body between her lacquered long nails, and gently clipped the cloth, so that it tore open. She dropped the scissors, and reached in with her hand to pull his throbbing cock out from the tight catsuit. He was so hungry for her pussy. He pulled her ass closer. She put her hands on his shoulders, pressing him down, so that his face was between her thighs. He inhaled her scent and she pulled him close, smothering him. She pulled him even closer, wrapping her taut thighs around his neck, gripping tight, so that his face was buried against her hot damp lips. She moaned and started to grind, as he sucked, and licked, and moved his tongue in and out and in and out. Just as she was on the verge of cumming, she told him she wanted him to fuck her. "Do it now!" She shouted, as she shoved his head away from her drenched pussy. He stood tall, his hard cock ready, and she wound her legs around his waist with a powerful grip. "Give it to me now! You are mine to do with as I please."  He throbbed with anticipation, pressing the head in slowly, then easing his thick shaft inside, until all of his 9 inches was buried deeply inside of her. He slid in and out slowly at first, but she gripped so hard with her thighs, yanked his hair in her hands, and gripped him through the red lace catsuit, so that he let go with abandon, fucking harder and faster, as she commanded him to do so. At the same time, his balls were slamming into the cold marble counter, and his cock buried deep inside her warm wet tight pussy. She cried out in pleasure, and he gave her everything he had. As she felt his cock begin to pulsate and hum inside of her, she shivered, moaning loudly, "I'm cumming, now, I'm cumming!! Fuck me, give it to me!" "Pull out and cum in this glass!" She reached over picking up a small crystal glass from the counter next to her. With that, she wriggled and moaned, and he felt her pulsating against his cock. She cried out with sheer pleasure. He pulled out obediently, and let loose a thick stream of cum into the glass, filling it more than half way. She smiled, tipping her head back with a sinister, sexy laugh. Small beads of sweat decorated her flawless skin. Suddenly serious, her blue eyes sharp and penetrating, she told him,  "Now drink up baby. Need you to keep your energy for next time." With that, he dutifully followed her instructions.
She pushed him away, and slipped gracefully and catlike off of the counter. With that, she headed to the bathroom to clean up, and returned wearing a pink t-shirt and shorts. He stood there, looking down at the cutout on the red lace catsuit, laughing with embarassment. She smiled, "I have another outfit for your next chore day. You can go now. See you Thursday Karlo."