The Drive Towards The Ranch
It was the end of March, and I hadn't seen Lillian for a month. She was living in one of the cottages on the farm while I finished out my contract. I had left Mistress Hunter's home in Alexandria only an hour ago, a free man for the first time in a year. It seemed strange to be driving, Jetta's steering wheel like a foreign object in my hands. It wasn't until the traffic-clogged outer rings of the D.C. Beltway fell behind me and the rural Maryland landscape unfolded ahead that I was finally able to relax, navigating the unfamiliar route via voice commands from my phone.
I had to chuckle. I might be a free man, but it was still a woman's voice giving me directions. And I needed them: the two other times I had made the trip had been as a slave, once in the back of a meat truck and the second time hogtied in the trunk of Mistress Hunter's Lexus. It was a beautiful drive, especially once I left the freeway and traveled the winding country roads through hills and dale.
The route passed through numerous tiny hamlets, some no more than a four-way stop sign with a bevy of clapboard-sided houses on the corners, others with a general store, post office, antique shops, and signs for the nearest B&Bs. It was hay, horse, and dairy country, picturesque hillsides dotted with cattle, the arable fields in the valleys mowed to stubble and awaiting spring planting of beans and corn; here and there a fast-running creek paralleled or crossed under the road.
Mistress Hunter's Parting Gift
Traffic was light, mostly pickup trucks and junker sedans, some even older than my own. Looking at them, for a few moments I entertained the notion of buying a fancy new car to go with my new life—lord knew I now had more than enough money to buy one outright, thanks to Mistress Hunter's astute management of my savings. Not only that, I now had clear title to my house—Miss Hunter's parting gift, I think her way of thanking me for not pressing charges against Mr. Thompson, who had vanished from the face of the earth in any case.
The Google Map lady instructed me to turn off the double-yellow-divided state road onto a narrow country lane, and after a few miles, she announced I had arrived. I turned under an arched, rust-red steel sign with the Circle-S brand spanning two stone columns, passed over the teeth-rattling cattle guard, down a gravel lane for half a mile until the mustard-yellow main house came into view on the crest of a knoll, the old main barn below it. I passed between them, tires crunching gravel, and continued up the lane until I spotted the modern steel building where Mistress Hunter hosted weddings and kinky parties.
I parked and walked a cinder path to the great house, then made my way out on a spoke trail, following the sign to the "Heath Cottage," where Miss Hunter told me I would find Lillian. As I stepped up on the front porch and reached for the cast-iron knocker, I realized my body was trembling. I paused, my hand on the heavy knocker, noticing where the black paint had flaked away, wondering where I might find paint, suddenly frozen with indecision. I could hardly breathe.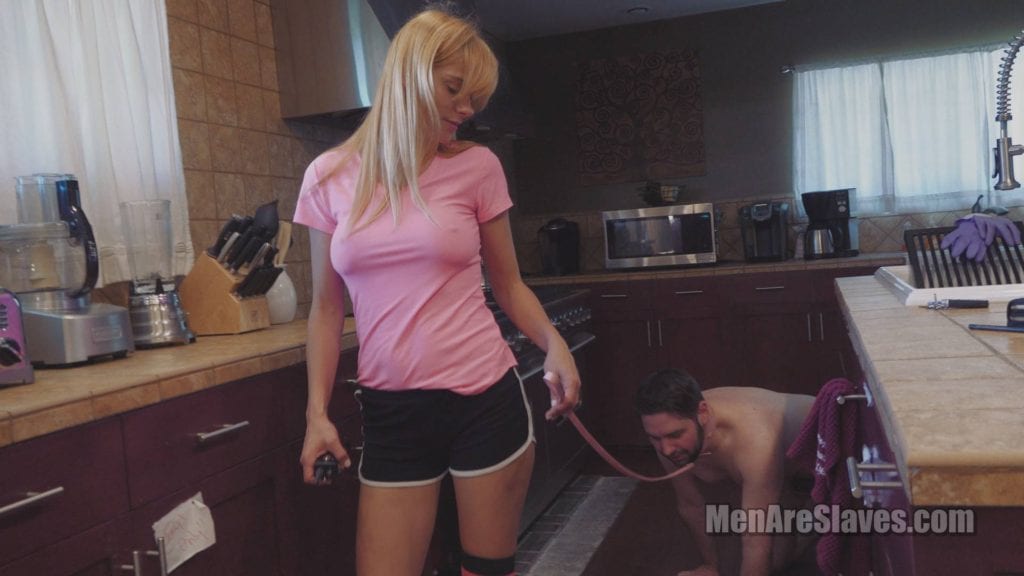 last submissive
A Free Man
Miss Hunter's parting words floated up to my ears. I had been naked, kneeling with my forehead on the floor at her feet, a file folder with papers in her hand, a riding crop in the other. She had lashed me on the ass, hard, twelve times while I counted out the blows and thanked her. Then she put the folder on top of my hands. "These are your papers, Mr. Green. When you leave my house, you are a free man, unencumbered by debt, with substantial savings and an offer of employment."
"I . . . I don't understand," I had stammered. Whack! The riding crop came down hard on my ass. "Already forgotten your training, Mr. Green?" I flinched and corrected myself, "I don't understand, Mistress." "Better. Mr. Green, in that folder you'll find an offer of employment as manager of the Circle S Ranch. You'd be replacing Mr. Thompson. I think you'll find the terms most generous."
For a moment I was speechless. "There's something else, Mr. Green." "Yes, Mistress?" "There's a letter from me. Read it alone, please, before you make the drive to the farm." "Yes, Mistress. Thank you." "Your belongings are in the trunk of your car, which you'll find parked outside in the alley. You'll find a change of clothes and shoes in the closet. Wait here until you hear me drive away, and then you may get dressed and let yourself out."
Kiss My Boots
"Yes, Mistress." "Now kiss my boots." I stretched my neck forward and tenderly placed my lips first on one polished black toe cap, and then the other. Unexpectedly, I felt my eyes well with tears. This was the last time I'd ever kneel before Mistress Hunter, and suddenly, I felt empty, purposeless, like the proverbial lost puppy.
Mistress Hunter's boots slid out from under my lips and she swung the front door open, letting in a bracing gust of cold air. She walked through the doorway without closing the door behind her. I heard the beep of her unlocking the Lexus, the engine start, a brief pause, and then the car drove away.
Rising to my feet, I  reached out to grasp the knob, catching a glimpse of pink and white cherry blossoms on the trees across the street, sunshine glinting on the Potomac River beyond. I closed the door. In the hall closet, I found jeans, a shirt, sweater, socks, shoes, and my favorite leather jacket.
I dressed, then picked up the manila folder, leafing through its contents while I leaned against the windowsill nearest the front door. The mortgage to my house was paid in full; the deed in my name. My life savings almost doubled. A six-figure offer of employment. And a dusky-pink envelope, the flap sealed with red wax, embossed with Mistress Hunter's initials, ESH, the same initials branded on my rear. I slipped my finger into the corner of the flap, popped the seal, and opened the envelope. I fished out a single sheet of paper, with Mistress Hunter's elegant script on both sides.
Mistress Hunter's Letter
"My Dearest Mr. Green," the letter began. Somehow, I couldn't read it standing with my butt resting on the windowsill. I dropped to my hands and knees on the hardwood floor, Mistress Hunter's slave for a few moments longer, if only in my own mind, as I read her parting message. I unfolded the sheet of stationery and pressed it flat on the floor, then began to read.
My Dearest Mr. Green,
You were to be my crowning achievement, my last submissive. Alas, love has a way of foiling the plans of men and women of every persuasion, kinky and vanilla. As the French philosopher, Blaise Pascal wrote, 'The heart has its reasons, which reason does not know.'
However, as a woman, I understand your reasons for loving Miss Packard. I came to love her, too, and wish you all the best in your life together. You should know that I have offered Lillian employment, directing wedding operations at Circle S Ranch. If you take the job as ranch manager, you will find the main house a comfortable place to begin your new life together. I shall be happy to stay in one of the cottages or the great house when I visit.
You will find Miss Packard in the "Heath Cottage." Just follow the signed path from the great house. You'll find directions to the farm already programmed into your iPhone, which is in your backpack, in the trunk of your car. The vehicle has been recently serviced and is fully fueled. You'll find the drive most pleasant, taking a little over two hours, giving you plenty of time for you to dwell on my final gift to you, a piece of advice.
You Were To Be My Crowning Achievement
Mr. Green, as you most assuredly know, I have grown quite fond of you, and would've loved you as my life partner, had you chosen to surrender you're being entire to me. You would've made an exquisite submissive, my crowning achievement. Even though you have chosen to not follow this path, I want you to consider your true nature, which I believe is a submissive man, one who adores and honors the sacred feminine. What I am saying is that I don't think you will ever be truly happy unless you are kneeling at a woman's feet.
So, go to Miss Packard, go to your beloved Lillian. She is now five months pregnant, and I am most confident that it's your child she carries. When you first see her, when she opens the door to receive you, think carefully of how you will present yourself, what you propose as the basis for your life together. I know you love her dearly, so honor her and give her the full measure of your manhood, in its most authentic, truthful expression. Anything less, and your relationship will be fraudulent, and unlikely to endure.
I am certain our paths will cross again soon, Mr. Green. When you see me next, please remember that while I am a friend for life, my brand is on you, and I expect the training I have given you to endure for your lifetime. I will be honored and pleased if you continue to proffer the respect due to your first Mistress.
With affection, Mistress Elisabeth S. Hunter
————
Waiting For Lillian
Standing outside Lillian's door, recalling Mistress Hunter's admonition, I suddenly knew what I had to do. I stripped naked, folding my clothes into a neat pile to one side of the doorway. I slammed the knocker against the door with conviction, three times for good measure. Then, shivering a little in the cool spring air, I dropped to my hands and knees, stretched out my arms, placed my forehead on the porch slats, and prostrated myself in the position I had been trained to assume before a Mistress. And then I waited . . . waited for Lillian Packard to open the door and begin our life together.