I Am Completely Exposed With Nowhere To Hide
"You got five minutes to get naked in front of my fucking door whore. Keep your stockings on." Those words resonated in my head. I'm naked, or almost naked wearing my stockings and my cock cage. I'm devastated." Incapable of rational thinking. Anyone can climb the stairs and see me naked in front of her door. A neighbor of Femdom Mistress Michelle might see me in front of her door. What will I do if someone sees me?
Nowhere to hide. Get dressed? Don't even think about it. I'm here on Mistress's doorstep feeling terrified, subdued, humiliated, and on the verge of tears. In those few minutes, I made an assessment of my life. I thought about what I lost or stand to lose. The pleasure, the realization of my most shameful fantasies, my love for Jessica, Mistress Michelle, and the unfathomable desire she inspires in me. I no longer had my dignity – but could I find it again, or would I have found my dignity in another mistress submitting me? At the end of the day, does my dignity still matter? For who would I have this dignity for? – I feel broken.
Femdom Michelle's Fury
I think I will never be able to explain this feeling of ambivalence. The more I sink deeper in this situation the more I am reborn. The more I get lost, the more I find myself. The less I exist, the more I live. I hear a noise from behind the door. Mistress Michelle is watching me. She must have noticed the anguish on my face. Enough to feel some pity. Mistress opens the door and slaps me. I fall to her feet and explode in tears.
"Mistress Michelle… I beg you!" But the fury could not be appeased by the whining of the humiliated submissive that I am at that moment. Michelle slams the door and yells at me: "Dirty whore!!!! Dirty Bastard! How dare you? Who do you think you are?" The blows of the whip started raining on me. I'm huddled on the ground trying to protect myself as much as I could. The first strike was random. Her whip became more precise after the first strike. My ass, my back, my thighs. Mistress Michelle circles around me continuing like a lying about to attack its prey insulting me and lashing me at the same time.
Michelle Punishes Me
I scream when the leather whip smacks my balls. Chloe who had witnessed the scene from the beginning holds Michelle's arm back. "You're doing this a little too loud, aren't you." "This slut, this dog is only getting what he deserves!!!! Never, never has a whore humiliated me like this before… Does Professor want to play the little teacher??? Fuck that!!. I'll hurt you, trust me. Hey, I have an idea. I'll invite the whole class for a small private viewing party. A little trashy movie where a slut gets fucked … you think they'll like it???" "Forgive me, Mistress Michelle, please, not that! I won't do it anymore, I'll do anything you want my femdom mistress, I beg of you."
I throw myself at her feet and I kiss them as if my life depended on it. Mistress Michelle can do anything to me. I am her submissive, her whore, her bitch, or whatever she wants me to be. I have no other option but to humiliate myself and belittle myself as low as she desires. Go as far as she requires. Obey, endure silently, offer me, accept, progress, give in. That's my only option. I am crying begging at the feet of Mistress Michelle. Without Chloe intervening Michelle would have really hurt me.. "Dirty whore, stand in the middle of the living room, hands behind your back, thighs spread out …. Right away!!!"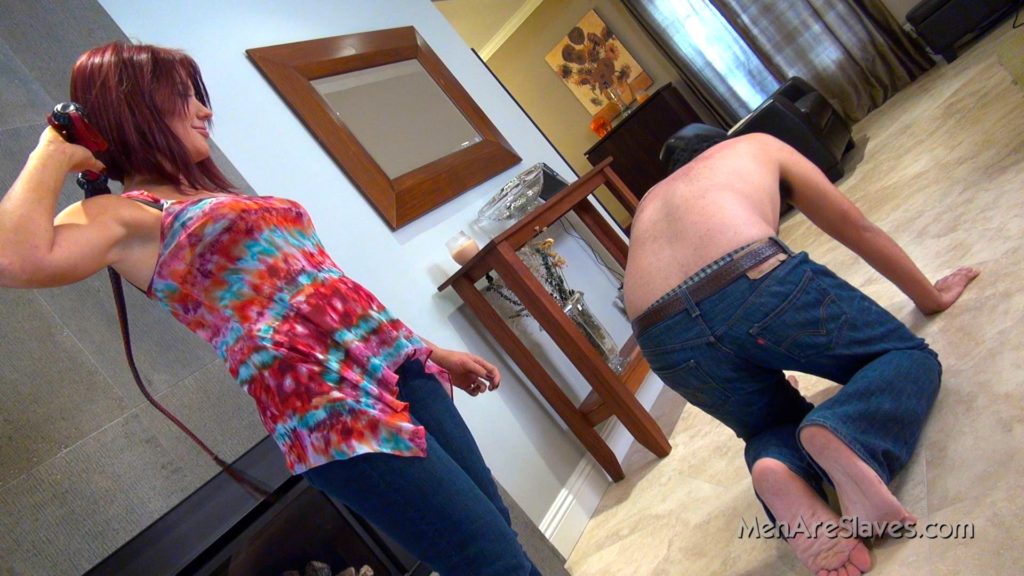 Get In Position Slut
I run as quickly as possible to the living room being joined by Femdom Mistress Michelle. She immobilizes my arms behind my back with a pair of handcuffs. Then she puts two bracelets on my ankles and attaches a gauge bar. "Now I'm going to be able to punish you quietly. You're going to take it like a nasty whore. Here is the key to his cock cage. Free IT and. … you want to get him hard, Chloe? In my opinion, you're not going to have to do much.
Well, what did I tell you?! He's already hard." Chloe barely released me and I was already very hard. Mistress Michelle approaches me and grabs my balls. She presses them and I scream. "Shut up bitch! Your balls are mine and I do what I want with them. You get it, slut?" "Yes mistress, I am yours." Now in position, on the coffee table … and you better offer your ass to us!"
I got in a position like a good humiliated submissive and then put my torso on the table. My thighs are kept open by the bar and I arch my back as much as I can. "Chloe, smack his ass while I go get the toys …." Mistress Chloe smacks my ass lightly. Michelle returns, "Did you forget what this filthy whore did to us???". Let me remind you he kicked us out of class … He has to pay. So go ahead and smack him hard. I want to hear the snapping sound on his slutty ass … Go ahead, don't hold back, he loves it!"
Chloe Gets Excited With Each Erotic Spanking On Professor
Chloe spanks me harder. I try to contain my moans, but I have more and more trouble containing them with each smack. I can't hold back the cry of pain when she smacks my balls. This scream excites Chloe and she takes on the identity of the Femdom Dominatrix. "Dirty dog … you like it eh?? Hmmm If you knew how wet I get the training you. I'm crazy wet now……and you're going to lick me clean my whore … Here, take this …" She spanks me again and again. I no longer feel my ass. I moan without stopping when Mistress Michelle makes her comeback in the living room.
"Hmmm you got him nice and hard! Bravo … this pig is only getting what he deserves. We will punish  him past his desire to want more …." The blows continued and gave me a hard-on. Mistress Michelle who donned leather gloves grabs my cock and starts shaking it. "Go my whore, get hard for your mistresses, that's an order. Chloe, I think he needs to be fluffed. And I know nothing better for a whore like him to get hard than to lick your wet pussy. I heard you say you're wet, don't you want a good face-sitting session?" Michelle said.
Suck Your Mistress's Pussy
"Come on you dirty dog. You're going to stick your tongue in my pussy and suck it. Lick me good whore, lick your mistress!" Chloe knelt down on the table and grabbed my hair to stuff my face between her thighs. Her wetness literally ran down my face and soaked it. I lick, search, aspire, and drink her wetness …. Mistress Michelle was right. The perfume and the taste of Chloe made me hard immediately.
Mistress Michelle had walked behind me and began to tie my balls and cock with a thin cord. Very tight. I'm getting hard, I think I've never been that hard before until that point. She takes advantage of it and jerks me off without any care while she presses and twists my balls at the same time. I moaned in pain. My moans are stifled between Chloe's thighs while she quickly approaches an orgasm.
Chloe Cums On My Face
"Filthy whore! You can eat her pussy better than that, make her cum!! … You're only good for eating our pussies and fucking you in the ass. I" ll make you a cum dumpster! You're going to swallow miles of hard cocks, believe me. I'm going to make you fuck big black cocks. …. Hmmmm make my friend Chloe cum!!!", Femdom Michelle said.
Chloe explodes with pleasure by flooding my face with cum. I feast on it despite the pain that Mistress Michelle inflicts on me by torturing my swollen balls. I heard everything she just told me … but in this sexual state, I was just focused on Chloe's pleasure. I know that she is capable of making me suffer. I also know that deep within me, in the darkest parts of my perverted consciousness, I desire it. I want to be all this for Mistress Michelle. I want to be her humiliated submissive. And she knows it.