I had followed Lady Rose's instructions to prepare for the 3 hour drive to go meet her for the first time. Meeting her was going to be my first Femdom experience!
When my small penis was not hard, I had squished it into a Dixie cup, pressing the cup firmly down into my pelvis and up against my balls. To hold the cup in place, I took rubber bands and crushed the base of the cup around my privates. I then took more rubber bands and intertwined them around my balls and the cup several more times.
 It was a temporary, but firm, home-made chastity device. I put my pants on without underwear, as she had ordered. Pants with the thinnest material I owned, as she commanded.
Once on the road, Lady Rose called me on my cell.
 She teased me sexually, relentlessly, describing sex acts with "real men," which she said I wasn't. She asked if my small 4-inch penis was straining to break free. I said yes and begged for relief. Numerous times.
 She laughed, said some more humiliating things, and suddenly hung up in the middle of me begging again.
I arrived where she had told me to go: A shopping mall's parking lot.
Then, I parked near the store she had instructed. I checked one last time to make sure I had everything she had demanded I bring: handcuffs and sunglasses with large lenses. As instructed, I had placed think gauze behind the lenses, making them like a blindfold, but one no else could easily see.
I got out of my car, walked around the parking lot until I saw the car she had described to me – a late model sedan, silver, red interior. The license plate had the first two numbers she said it would. The car was empty and the passenger side was unlocked, as she said it would be.
My orders were simple:
Get into the car. Lock the passenger door. Place the handcuff keys on the driver's seat. Put the sunglasses on so I couldn't see. Then handcuff my hands behind my back.
And wait.
 And when someone else got in the car, I wasn't to speak unless given permission to do so.
Five minutes went by. Then ten. Maybe 15? Who could say, at that point? I shivered with anticipation and fear. What had I gotten myself into?
I heard the driver's door unlock. Someone got in. Deduced it was a woman. She started humming, and I smelled perfume. She leaned over and said,
Then, she told me to enjoy the ride as she teasingly nibbled on my ear and ran her nails firmly down my thigh.
 We drove a few minutes and stopped. She got out, went to my side of the car, and helped me out.
Blindfolded and handcuffed, Lady Rose started to play with me!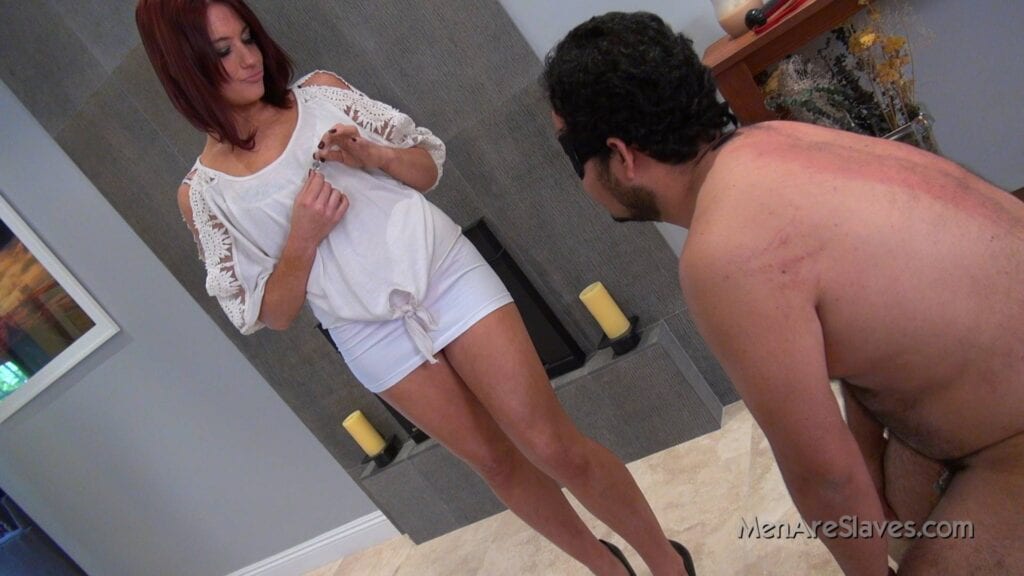 She led me inside to what seemed like someone's house. Me being blindfolded, I couldn't tell for sure.
 She bought me into a room, and gently pushed me to my knees. I remained handcuffed and still couldn't see anything.
She sat down in front of me, on what seemed to be a couch. Then, she kissed my cheek. She unbuttoned my shirt, pulled my zipper down. One of her hands played with my nipples, the other reached for my crotch.
Lady Rose laughed when she discovered the Dixie cup. She reached lower and cupped my balls.
As her hands worked, I smelled her breath on my lips. She seemed about to kiss me. Just as she did, she whispered with a laugh:
"You know, you are pretty fucking stupid for getting yourself in this spot."
 Suddenly in the middle of the passionate French kiss, her sharp nails cruelly dug deep into my nipple and my balls. My scream was swallowed by her throat.
Finally, I could see her! She was breathtaking!
She pulled back. Took my sunglasses off, and looked at me as I blinked. With her red hair and bewitching green eyes, she was breathtaking. She had a beaming smile on her face.
"Can I trust you to be a good boy?"
"Yes, Lady Rose, you can."
"Then beg me to take off the handcuffs so you can take that thing off you and MAYBE get some sexual relief."
  I begged. She laughed. I begged some more.
Finally, she took off the handcuffs. She ordered me to get naked. After I took off my clothes, I removed the rubber bands and Dixie cup, and it hurt like hell as the blood flowed back into my privates. As I took in her beauty, my penis then stood up at attention, all four inches of it.
She let go with a belly laugh.
"Look at that thing!! My fingernails are almost longer than! Boy, God has played a cruel joke on you!"
Eventually, she stopped laughing and looked at me very seriously.
"I hope your tongue is at least good for something," she said. "Here is what I am going to do. You get to eat my precious pussy. You have 10 minutes to give me at LEAST one orgasm."

After you are done, I will tease your silly little cock and balls of yours with these gorgeous nails for 10 minutes. If I had a quality orgasm, you MIGHT get released."If I didn't, well, I won't be gentle. You will scream. You will cry. And you certainly won't get to cum!"
 She led me to a bedroom. Then, she had me lay down face up on a bed. She sat on my face.
"All right boy, time's a-wasting. Show Lady Rose what you're good for!…."
To Be Continued…