The Toughest Punishment
There is always an excuse to punish Michelina, my human sex toy, and let her know I demand absolute devotion and there is no room for error on his part. A stain on a wine glass not perfectly wiped or a badly ironed blouse translates into twenty to thirty lashes on his butt, belly, thighs, and cock. Normally, it's every two or three days that Michelina finds himself naked, butt in the air, face down, waiting for my correction with the whip. Normally, when I punish Michelina, I am angry so the blows are intense and after a few minutes, Michelina's belly is covered with lash marks. It excites me to see my human sex toy suffer, begging me to stop, watching him hold back tears. I also felt that he enjoys our punishment sessions as he always got hard during them.
His toughest punishment, the one he clearly doesn't like, is to deprive him of my presence. One evening, my human sex toy was upset with me because I was going out with a bull I met at a fetish party a few weeks ago. I sent him a text message saying how dare he be upset with me for being with one of my bulls and he would be severely punished when I got home. Also, I sent him a long list of items to buy at the grocery store which he brought me the next morning, giving me an apology and begging me to forgive him.
Your Education Starts Now
I had him put the groceries away in the kitchen, do the dirty dishes in the sink before giving him the order to leave. I would see him again when I calm down. He had a worried look on his face before he left. He sent me several text messages apologizing to me and asking me for forgiveness. On the fifth one, I told him to stop writing me or I was going to answer one of the many propositions I received on Slave Selection. That calmed him down.
I left him alone to think about what he had done for three days before sending him a text message when he was at work telling him I was ready to start the next phase of our slave training: to turn him into a true human sex toy. When he arrived from work, he undressed and became Michelina with his black stockings, garter belt, and matching bra and panties. He still had his cock cage on. I ordered him to bow down on his knees while I explain to him the next phase of his training as my human sex toy.
"The hardest part of your education will begin now," I tell him authoritatively. "I advise you to apply yourself and do everything to succeed. Starting today, you will live at home 24 hours a day. You will only go out to work and do food shopping unless I say otherwise. You will always wear your cock cage so you do not touch yourself. You're forbidden to get a hard-on unless I say otherwise, so I'm going to take this opportunity to educate you on how to control your urges."
My Human Sex Toy Gives Me Pleasure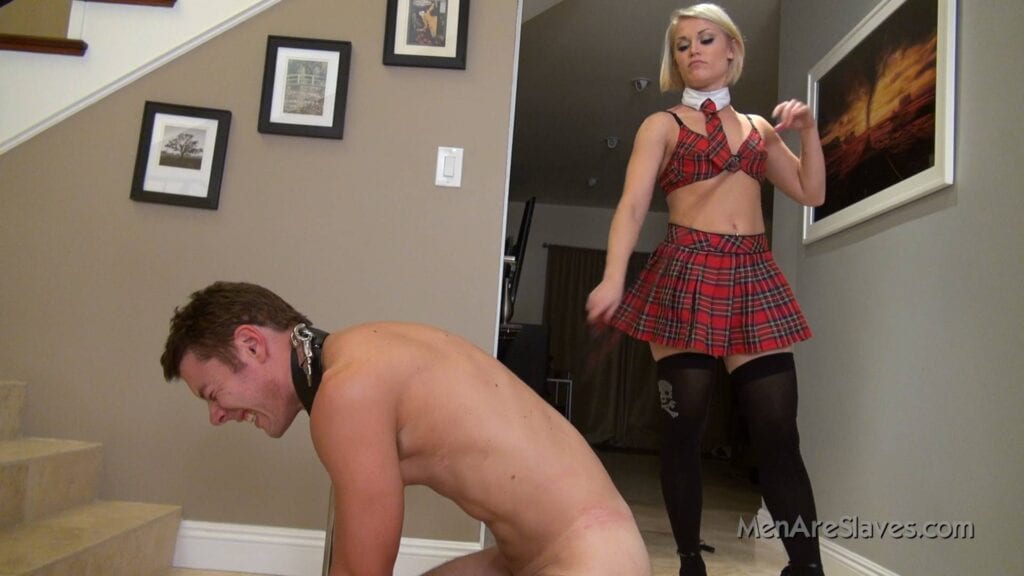 I removed his cock cage and as planned he started to get hard.
"Put your back against the wall, arms wide apart! I'm going to teach you how to control yourself!!"
I took my whip out and started lashing him, increasing the intensity which each lash. After a few lashes, his cock started to get soft. A few more lashes on his thighs and stomach to remind him of who's in charge before we finish our session.
On the first day, I had to lash him with my whip on three separate occasions until I finally had enough. I changed my method. I told him to kneel in front of me and masturbate with his eyes fixed on his cock.
"And don't take your sweet time masturbating. Cum fast!!" I said.
Michelina was happy to oblige and came in record time. A beautiful and abundant ejaculation appeared, Michelina grunting while the last drops of his ejaculate came out. Then Michelina looked at me with a satisfied look on his face.
I immediately slapped Michelina in the face.
"I didn't tell you to stop masturbating. Continue!!"
Michelina was having trouble getting hard again. I removed my panties and started fingering myself so Michelina can get a hard-on again. Michelina got hard again and ejaculated a few minutes later while staring at my pussy. I ordered my human sex toy to start sucking my clit and penetrate me with his tongue so I can cum all over his face. When we were done I ordered him to clean the cum off the floor with his tongue and swallow everything. Michelina is on his way to becoming my well-trained human sex toy.