Corinne, a young and pretty assistant
Eva, the strange Femdom secretary, had first conquered Amaury, and then Julien. It was quick for the first, almost immediate for the second. But her conquests did not stop there in the small firm where she had been working for almost two months.
Corinne had been hired shortly before her. Eva immediately had a cordial relationship with her young and pretty assistant. But during the first few weeks, they had scarcely been frequented. Corinne had begun part-time and had to attend different formations outside the firm. And when she was present, she was very unavailable because she had a lot to learn in a short time. On the rare occasions when they had been able to stay together for a while, Corinne had always been eager, helpful, and attentive to Eva. She had noticed and was sensitive to it.
Over time, the context changed. Corinne had gone full-time, her formations were over and the heavy investment she had had to make on entering the company was behind her. She became much more present and available. The two women were able to get closer, and this was all the easier as all the occasions were good for Corinne to try to please Eva. She was somewhat surprised but did not discourage her. What left her especially in the expectation was that she read in Corinne's eyes, not only admiration but also something that resembled a carnal desire for her person.
"Would she be a lesbian?", Thought Eva, half-curious, half-amused.
A gift for the Femdom secretary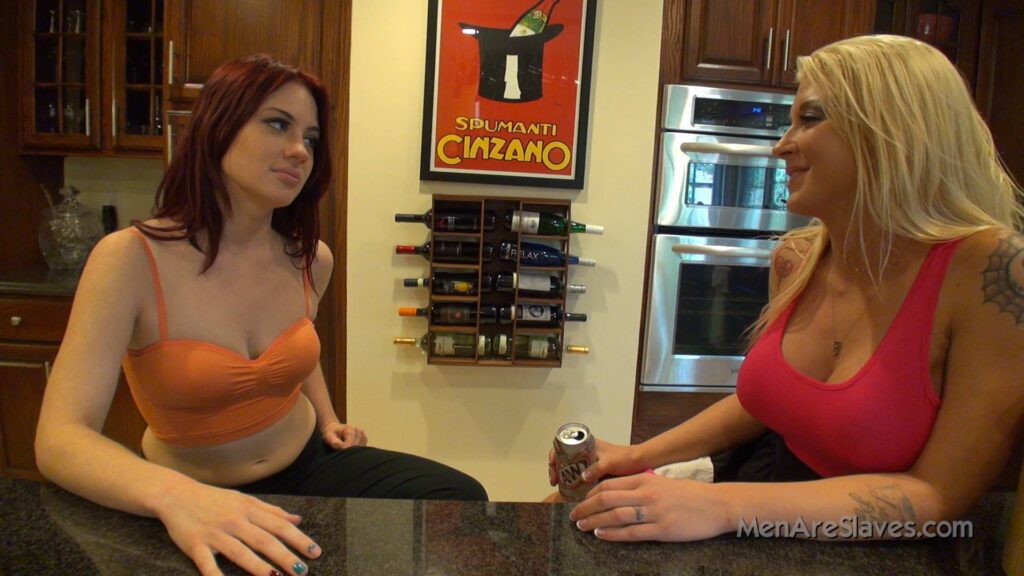 The reply came a few days later. One morning, Corinne came to greet Eva as she did every day. She was wearing a gift package, visibly embarrassed.
"Well, I … I wanted … it's for you," she finished, at last, confused and blushing, before turning her heels and going out apologetically.
As surprised as she was curious, Eva unfastened the string and opened the package. It contained a superb silk blouse, the same she had shown to Corinne two days earlier when they had done a little window-shopping together on the noontime. Without a second thought, Eva had confessed to her that it was quite to her liking, but that she found it too expensive.
Eva was delighted and deeply touched by Corinne's gesture. But she was not at the end of her surprises, for the package also contained a sheet folded in four. She unfolded it. It contained a note.
The nice gift and the unexpected proposition!
"Dear Eva,
Deign to receive this modest gift. You told me that You loved him very much, so I wanted to please You by offering Him to you.
I humbly request you to receive it as a testimony of my admiration and desire to become your humble and respectful friend.
Corinne"
Things cleared up! To the full tone of deference of the message, if it was not an offer of submission, it resembled much!
Eva closed the package and went to work. A little before noon, she sent an email to Corinne asking her to come. A few minutes later, she knocked at her door. Seated behind her desk, the Femdom secretary greeted her with an engaging smile, the package again opened before her.
"I … I … did you like it?", She stammered.
"Yes, yes! What a beautiful gift and what a nice note!
Corinne was red with confusion.
"Approach," said Eva, extending her arm horizontally, her hand relaxed.
Corinne's Declaration of Love for the Femdom secretary
Corinne executed, fell on her knees before Eva, and covered her hand with her kisses and tears. It was like a declaration of love, without words. Eva was touched. She had already received several statements in the past, but it was the first one from a woman. And this had a very peculiar and unexpected effect, for she believed hitherto to be insensible to the charms of her like.
Eva withdrew her hand, dried Corinne's tears, kissed him on the forehead, then led her to lay her head on her legs. They remained for a long time thus, Eva tenderly caressing Corinne's hair as she kissed it through her dress with adoration. She was overwhelmed with happiness and infinitely relieved, as she had feared to appear ridiculous and to be repulsed!
Eva gave in to this new tenderness but did not know what to think. The veneration, the kisses of Corinne were quite explicit, but how to receive them? She decided to give herself time to reflect, without hurrying her answer.
She invited Corinne to stand up and kissed her again on the forehead.
"Leave me now, darling. I must think of all this, "she said gently.
Corinne had an immense joy when she heard herself called "my darling." Tears rose to her eyes again, a sob escaped her, but she could control herself. She humbly kissed the hand that Eva handed him, then stood up.
Arriving near the door, she glanced at Eva, the strange Femdom secretary, and then went out.